Nancy Pelosi Is Unrecognizable In Her Yearbook Photo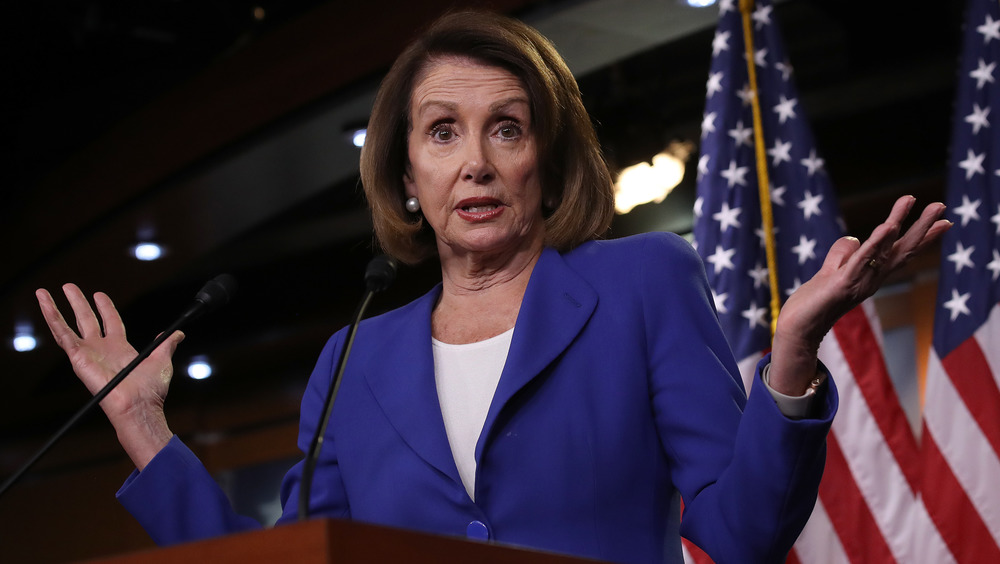 Win Mcnamee/Getty Images
Throughout the Trump presidency, House Speaker Nancy Pelosi has alternately been heralded for standing up to him — including the slow clap heard 'round the world — and criticized for not doing enough to quell unrest. In a stunning move, she called out the former commander-in-chief for inciting a violent resurrection in the first days of 2021. Speaking to MSNBC's Joy Reid, Pelosi described his speech to supporters as "disgusting," noting, "Presidents' words are important. They weigh a ton. ...And they used his words to come here." Solidifying her point, the House Speaker implicated Trump in the crimes committed during the riot. 
As she explained, "the crime, in some cases, was murder." Pelosi added, "And this president is an accessory to that crime because he instigated that insurrection that caused those deaths and this destruction." Politico confirms Trump is being investigated for his role in the insurrection, but there's nothing to suggest he'll be considered an accessory to the five deaths yet. Pelosi's words are the clearest from any Democrat on the topic thus far, as well as the strongest from her overall. 
She might be a controversial figure, but the House Speaker's political bonafides were evident throughout her career. And while we know her best from her years spent working in Washington DC, a recent photo of her has surfaced that gives us a small peek into Pelosi's life before she was ever known as the Speaker of the House.
The House Speaker was a glamorous student
As Pelosi's bio on her official site notes, the Baltimore native's father and brother both served terms as the mayor of their hometown. Her Dad was also a Congressman, meaning the young Pelosi was heavily entrenched in the political world essentially since she could walk. She attended John F. Kennedy's inauguration in 1961 (via Business Insider) and graduated from Trinity College (now Trinity Washington University) in D.C. the following year, earning her bachelor's degree in political science. Pelosi subsequently interned for Democratic Senator Daniel Brewster, of Maryland, and future House Majority Leader Steny Hoyer. 
After getting married and moving across country to San Francisco, Pelosi befriended Phillip Burton, then one of the heads of the Democratic Party in California (as per Britannica). She was elected to the DNC in 1976, remaining there until 1996. Pelosi also served as party chair for Northern California and the California Democratic Party from 1981 to 1983, and Finance Chair of the Democratic Senatorial Campaign Committee, from 1985 to 1986. Although her college years are long behind her, the accompanying photo of Pelosi from back in the day showcases a glamorous, fresh-faced student who's clearly looking to make a difference. 
Pelosi also bears a striking resemblance to Emily In Paris star Lily Collins in the classic old photo so, if anybody is considering doing a biopic of the House Speaker's life in future, they know who to call.