Inaugural Poet Amanda Gorman Has Presidential Plans In Her Future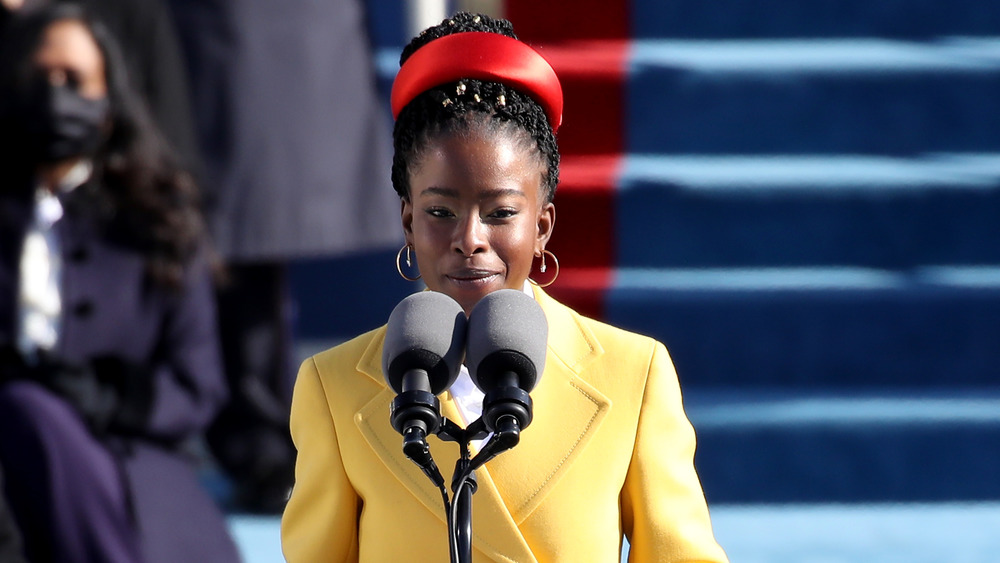 Rob Carr/Getty Images
Amanda Gorman, the 22-year-old who became an instant global star upon reading her poem "The Hill We Climb" at Joe Biden's presidential inauguration, is having an incredible couple weeks. From being chosen to speak at the Super Bowl to signing with IMG Models, and seeing her upcoming books sell out on Amazon before they're even released, evidently there's no limit to what this young lady can achieve — consider, too, that she's also the first ever youth poet laureate (via Los Angeles Times and New York Times). 
Gorman's social media followers went through the roof after her speech but, as the poet admitted during an interview with Ellen DeGeneres, she didn't realize how big of a hit it was at first. She revealed, "Just my apps, my phone [were] not functioning ...all the apps that I typically use had crashed," (via Today). She certainly knows now and, as a result, Gorman is rightfully setting her career aspirations increasingly higher. In fact, she's got her sights on the highest office in the land. 
The youth poet laureate has dreamed of the White House her whole life
During an appearance on the Ellen DeGeneres Show earlier this week, Gorman revealed her desire to become U.S. President someday. The host put her on the spot right away, stating simply "let's talk about you running for president," before asking whether that was always the goal, to which a widely smiling Gorman replied, "This was a dream that I think came into existence around sixth grade." She first got the idea from a math teacher who told her, somewhat jokingly, it would be a smart move because, as Gorman herself attests, "I was a very passionate, feisty girl, as I am today." 
It made total sense to the tween, who decided to put it "on the bulletin board for the future." Her family supports the idea of Gorman taking office completely, with her twin sister even refusing to take photos at college parties because it might affect Gorman's presidential run. "We really all hold ourselves accountable to the dream," the youth poet laureate joked, with DeGeneres quickly advising she and everybody watching at home is fully behind her, too. Fake campaign memorabilia made it seem like more of a reality and, if anybody can do it, it's the youngest inaugural poet ever.