Why Jazmine Sullivan's Super Bowl Performance Has Some Fans Upset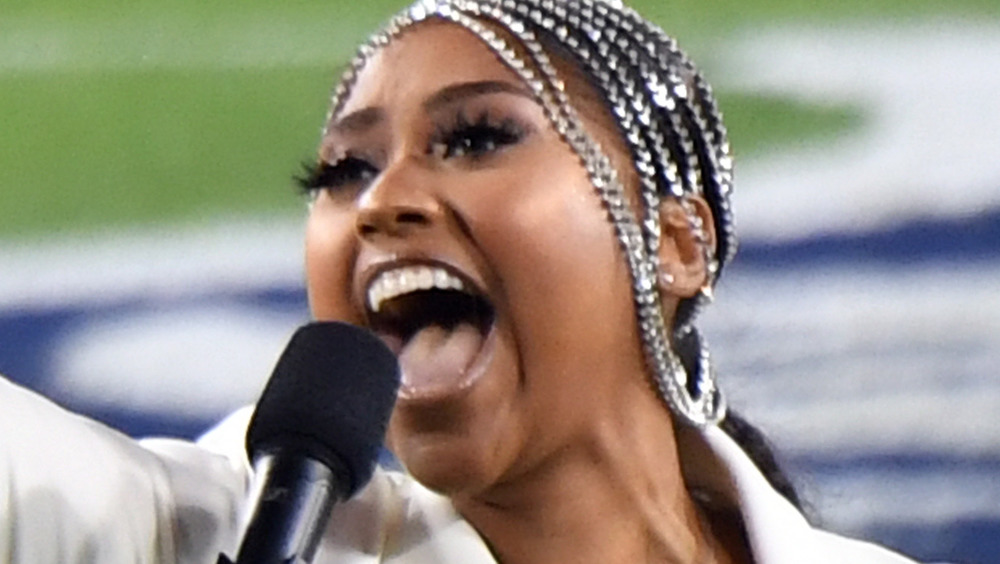 Kevin Mazur/Getty Images
Jazmine Sullivan's mom and dad were two of the 22,000 fans allowed into the sitting area at this year's Super Bowl LV. They had to be, as their daughter was one of its undisputed stars. Sullivan stepped into Raymond James Stadium on Sunday decked in white and with a crystal Area headpiece, an homage to Super Bowl XXV's Whitney Houston, who famously wore a similar headpiece in her iconic film The Bodyguard (via Allure). And that's how the 2021 Super Bowl started — as a love story, of sorts. As it turns out, Houston was also a fan of Sullivan: Missy Elliot once introduced Houston to a song Sullivan sang when she was 15 years old, and it blew Houston's socks off (via the Tampa Bay Times).
It's hard to imagine country superstar Eric Church not having the jitters before his duet with Sullivan. In the lead up to performing the national anthem with the "Bust Your Windows" singer, he gushed to Variety that Sullivan "may be the best singer" he'd heard. He's not exaggerating. Because while Church may have started singing the national anthem (country twang delightfully intact), it was Sullivan's entrance that had us, and the rest of Twitter, holding our breath.
To quote one astonished listener: "In lieu of watching the Super Bowl, I'm going to spend the next 3 hours pondering the miracle and mechanics of @jsullivanmusic's vocal cords." (Which is, doubtless, the reason why Eric Church told Variety that he'd listened to every single song that Sullivan recorded after finding out he'd be singing with her.) Not everybody on social media was as positive though.
Why some fans think Jazmine Sullivan's Super Bowl performance wasn't enough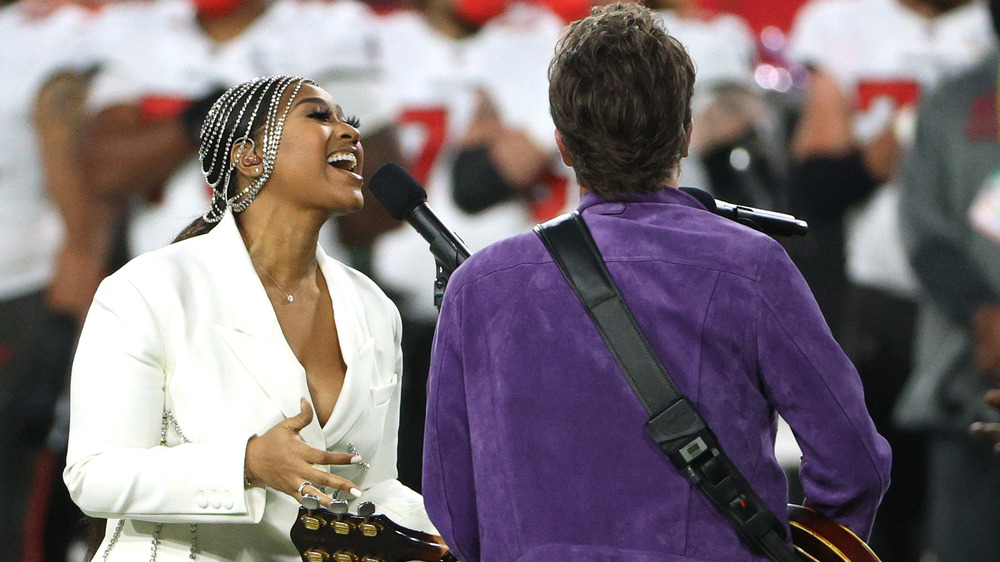 Patrick Smith/Getty Images
It's not that Sunday's national anthem critics wanted less of Sullivan; they were clamoring for a whole lot more. Not without reason. Consider the solo screen-time that Eric Church got opening the anthem: roughly 16 seconds (via YouTube). When it was Sullivan's turn for a solo shot, a full 35 seconds into the performance, she garnered roughly ten. And yet, her voice dominated. As HuffPost editor Philip Lewis was quick to point out, "Jazmine Sullivan should have done this by herself." Or, as another upset fan virtually screamed: "I don't like that Jazmine Sullivan has to share her moment."
Jazmine Sullivan herself may have a different take on the Super Bowl performance, however. "We come from two very different backgrounds, (but) I find beauty in blending different lifestyles and different music (and) different art and making something special," she recently told The Associated Press of her collaboration with Church. "I definitely think that's what we accomplished and I think it'll be really good," she added.  
Eric Church wanted similar things out of his duet with Sullivan. "Basically, if I can stay out of her way, we're golden," he joked to Today. Church agreed to perform at the Super Bowl in the wake of the U.S. Capitol riot, in order to send a message of togetherness. "We're unifying," Church reflected. "And it's a time in our country when we have to do that."
Jazmine Sullivan's and Eric Church's Super Bowl duet is only the second in history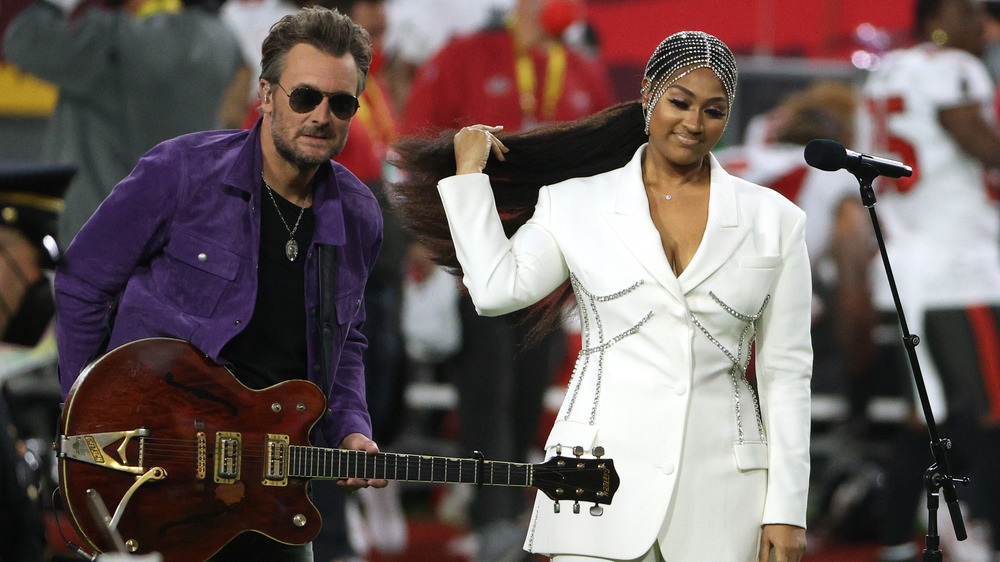 Patrick Smith/Getty Images
Sullivan may well have been able to belt out a show-stopping national anthem on her own, but nothing can take away from the fact that in performing a duet with Church, she's following in the footsteps of giants. There's the fact that, as per Today, Jazmine Sullivan and Eric Church are only the second pair in Super Bowl history to team up to sing the "The Star-Spangled Banner." They follow the 2006 performance of Aretha Franklin and Aaron Neville.
And then there's the fact that Jazmine Sullivan's Super Bowl performance marks the 30th anniversary of Whitney Houston's, who also sang in Tampa, Florida. The similarities between Sullivan and Houston's performances don't stop at the city either. Like Sullivan and Church, when Houston sang in 1991, she was performing the national anthem at a time when the country was fiercely divided. "We were in the Gulf War at the time. It was an intense time for our country. A lot of our daughters and sons were overseas fighting. I could see in the stadium, I could see the fear, the hope, the intensity, the prayers going up," Houston said in describing her 1991 moment in front of 74,000 fans (via People).
Houston's Super Bowl XXV performance (which she styled after Marvin Gaye) would become remembered as one of the greatest renditions of the national anthem in history. It seems likely that Sullivan's with Church will be honored similarly in time.