The Truth About Teresa Giudice's New Home With Her Boyfriend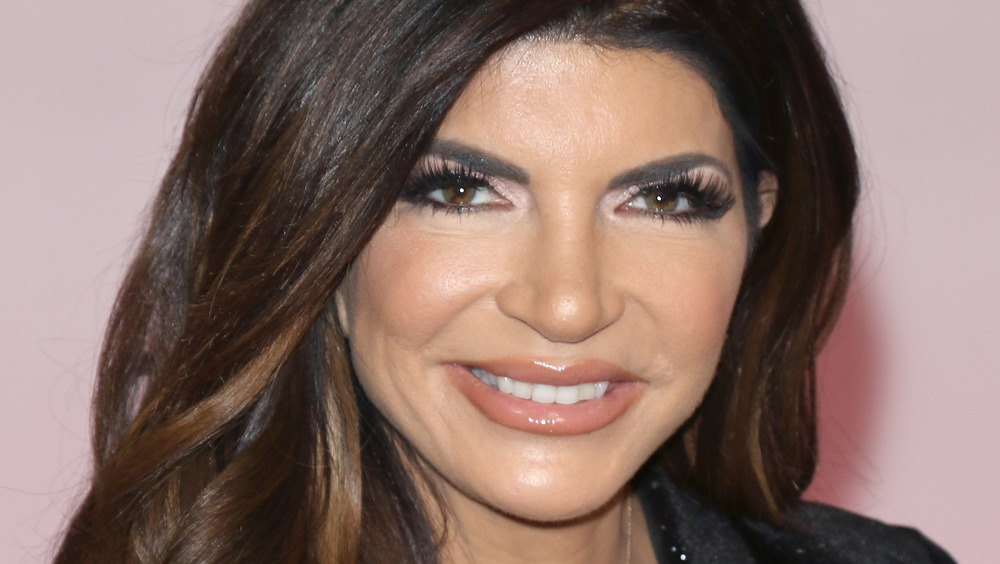 Jim Spellman/Getty Images
With the premiere of the 11th season of The Real Housewives of New Jersey, Teresa Giudice continues to share big family news. After filing for divorce from her husband, Joe, Giudice moved in with boyfriend Luis Ruelas shortly after the case was finalized in September 2020, the Daily Mail reports.
The reality star recently listed her Montville, New Jersey, mansion and cut the price from $2.5 million to $2.25 to encourage more bids, per Realtor.com. Now, she's reinvesting her TV and business earnings into a new Montville home with Ruelas, who works in real estate. According to the New York Post, Giudice and Ruelas recently purchased a $3.35 million home, known as "Clarence Manor," complete with seven bedrooms, a six-car garage, home gym, library, and movie theater. Ruelas likely put up the money for the purchase, while Giudice will carry the title of property manager on potential leases.
It's not entirely clear whether the couple plan to live in or rent out the new home, but both Giudice and Ruelas are said to be listed as owners of the 7,728-square-foot abode. Along with a swimming pool and driveway gates, the new investment certainly offers the privacy and luxury Giudice is known for. Meanwhile, TMZ cites a source that suggests the new mansion is indeed a business investment, an extension of Ruelas' real estate ventures
RHONJ fans can expect to see more of Giudice and her new beau interacting in season 11. The Daily Mail notes that Ruelas also co-owns a company called Digital Media Solutions, a firm that helps companies track the performance of their online ads.
Teresa Giudice met her new boyfriend, Luis, at the Jersey Shore
A classic New Jersey love story, Teresa Giudice's new relationship started on the infamous Jersey Shore. Taking her time to share some details about her romance with Ruelas, the mother-of-four recently revealed some specifics about when they first hit it off — months before they became the new co-owners of Clarence Manor.
Speaking to Extra, the housewife said, "We met, believe it or not, at the Jersey Shore. I was walking and that's how I met him, exercising. That week, he rented a house at the Jersey Shore. He ran past me that week a few times. One morning he was packing his car to leave to go back home and that's how we met."
Luis Ruelas ran past her sans his shirt, turning Giudice's head in the process. They spoke that night and conversed "for hours," she told the outlet. After going Instagram official in December, the reality star gushed about her new flame. She recently captioned their photo together, "You show me a whole New World, your kindness, creativity [and] love shows in everything that you do. I am so happy [and] I thank my mom and dad in heaven above for sending you. Thank you for loving me and showing me that it can be Valentine's Day every day when I'm with you," Bravo TV's The Daily Dish reports.
Teresa Giudice has another venture in the works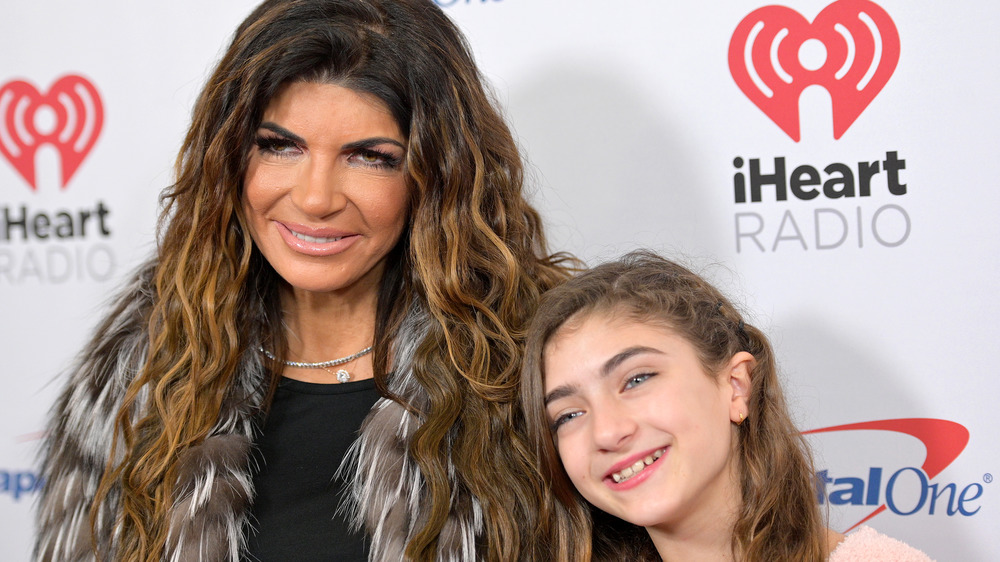 Michael Loccisano/Getty Images
While viewers wait to see what Giudice and Ruelas ultimately do with Clarence Manor, Teresa is moving ahead with her clothing line. The ever-entrepreneurial Teresa Giudice is always looking ahead. To her credit, she has written four cookbooks and multiple memoirs, marketed a line of sparkling wines, and tried to break into the restaurant business with her brother and sister-in-law, per Women's Health. Now, her newest venture includes a yoga clothing line called The Love Collection in partnership with Electric Yoga, Page Six reports. As fans well know, Giudice became a "true yogi" while serving time, with Andy Cohen giving her the nickname Namaste Teresa in 2016.
The line is geared toward those looking to accentuate their hard-earned assets, with Giudice explaining that one's derrière "is the best part of the body." But otherwise, the new items focus on comfort. "I'm all about comfort," she told Page Six. "My workout line is really comfortable, really soft. You want to feel good in it because I feel like when you look good, you feel good." Giudice's four daughters also offered their input on the new pieces, telling their mother the highs and lows of the collection in their opinions. "They're going to be wearing it, so I wanted to hear what they had to say," she said.
Fans can don Giudice's collection later on this year. And maybe they will also get a peek into her new property, with Teresa and Luis giving a grand tour on an episode of RHONJ — only time will tell.