Gayle King Reveals More Details About Oprah's Chat With Meghan And Harry
Just this week came the announcement that Prince Harry and Meghan Markle are officially no longer royals — perhaps to the surprise of many who thought this had already happened last year. After all, wasn't this the whole point of Megxit? Well, one detail that may have slipped our minds over the course of the past year (2020 being overall a fairly eventful one, as years go) was the fact that they'd be serving a probationary period as former royals before the status was confirmed.
While the couple may have been upset at losing some of their patronages, they'll remain involved with charitable organizations even without the royal imprimatur. They also appear to be taking advantage of what they may perceive as a newfound freedom to speak out and tell their own stories as a counterpoint to the negative press they've received from the British media. (U.S. media is much more forgiving — after all, Meghan's a member of our homegrown nobility: TV stars.)
Harry recently appeared on The Late, Late Show With James Corden in an interview where he aired his views on such controversial topics as the Netflix series The Crown — unlike the rest of the royals, he thinks it's ok. Next on tap: the couple's sit-down with Oprah that's already got the royal knickers in a knot. Although it's yet to air, Oprah bff Gayle King is teasing (via the Daily Mail) that this interview may be "the best she has ever done."
King thinks the interview should be an interesting one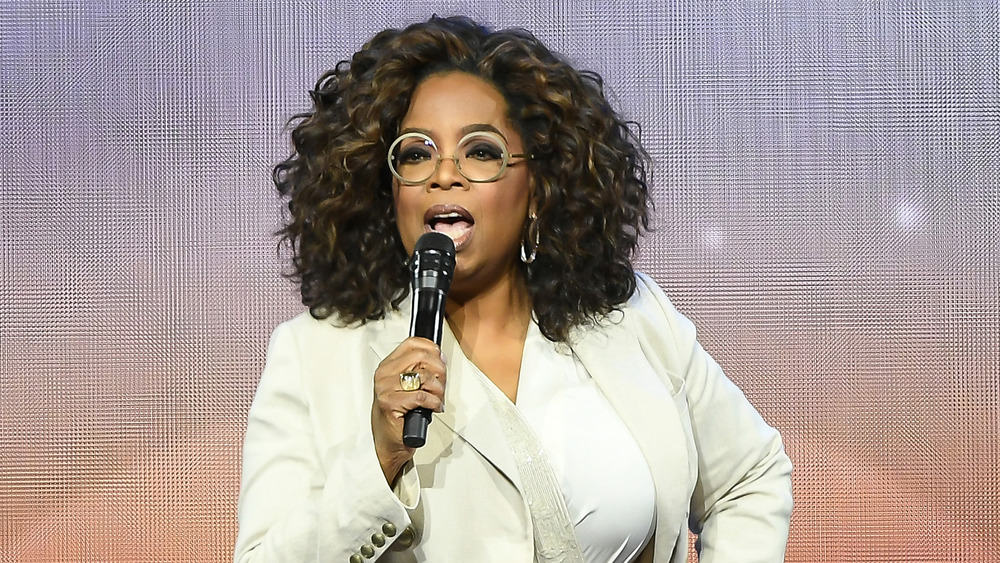 Steve Jennings/Getty Images
While we won't be able to watch the infamous Oprah interview, which is drawing the ire of such notables as Prince William and future Queen Kate, until March 7, the Daily Mail reveals that it was filmed between Feb. 17-18. King says that the couple told Oprah she could "ask anything she wanted," and that "nothing was off limits," conditions that could lead to all kinds of revelations coming out. After all, neither Harry nor Meghan has been particularly reticent when it comes to revealing their real feelings about life in the royal fishbowl that was Buckingham Palace and environs.
Gayle King, a CBS anchor, spoke on This Morning (via Twitter) about her friend Oprah's upcoming tête-à-tête with the no-longer-royal couple and called it "their first major broadcast interview since giving up their senior royal duties." Supposedly the two-hour interview will feature Meghan detailing how she adjusted (or didn't) to marrying into the royal family, with Harry chiming in on the couple's post-Megxit lives and what they envision the future might be like for them and for their family.
While King did not have any specific details to tell, either because Oprah hasn't spilled the beans even to her bestie or because she's sworn to secrecy, she says that Oprah's enthusiasm over how the interview turned out has got her "curious" to see the results... something that goes double for the rest of the world, royal or not.