Harry Styles' Chest Tattoos Explained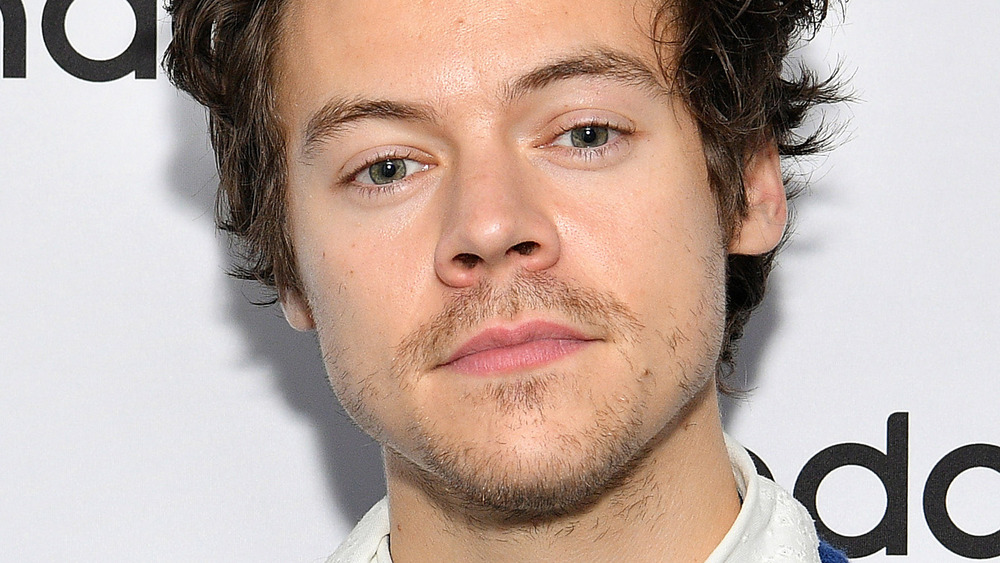 Dia Dipasupil/Getty Images
Harry Styles kicked off the 2021 Grammy Awards with a rocking performance of his hit song "Watermelon Sugar," which also won Best Pop Solo Performance at the show (via the Recording Academy). When Styles started his performance, he could be seen wearing a large green scarf that was very reminiscent of something Mick Jagger would wear, along with black-leather trousers and a matching jacket (via the Los Angeles Times). However, by the end, the scarf was removed revealing that Styles was not wearing a shirt underneath.
While host, Trevor Noah, joked that he would have worn a shirt for his first Grammy performance, you'd find no complaints from fans online who admired Styles' style (via Deadline). The lack of shirt also gave a clear view of Styles' many chest tattoos, which each have their own meaning. According to Refinery29, Styles has nine chest tattoos and you might be wondering what each of them are now.
Some of Styles' tattoos represent his family members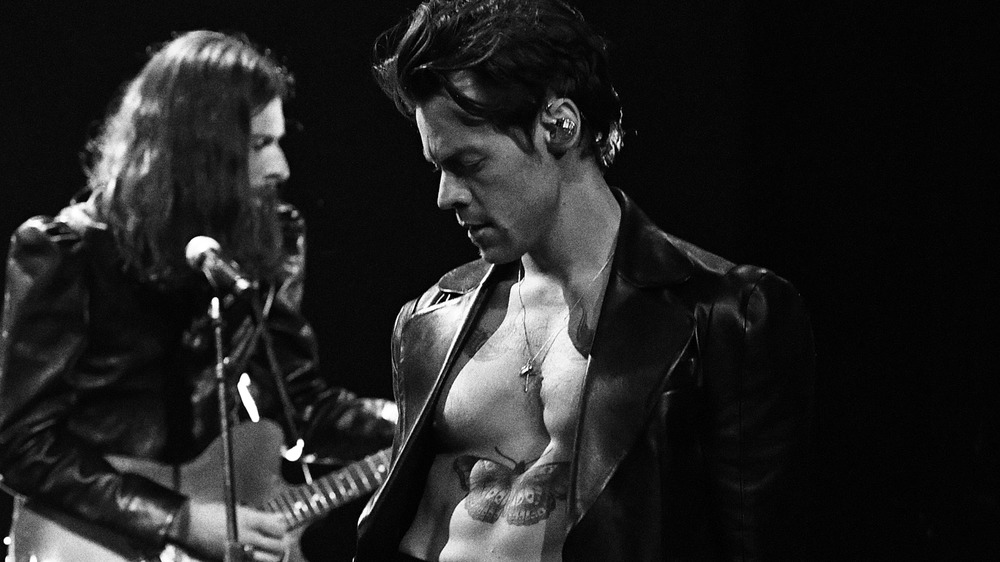 Kevin Winter/Getty Images
One of the most prominent of Harry Styles' chest tattoos is his butterfly at the center of his torso. According to GQ, the artist who gave Styles the butterfly said it was inspired by the French film Papillon, and symbolizes transformation. Other tattoos you can't miss are the two swallows on each of his pectoral muscles. In 2012, Styles revealed to Us Weekly that the birds were representative of traveling, because as an artist, he does that a lot. He also said that he just likes that style of tattoo, because it's very "old sailor." 
Two of the cutest tattoos are the years 1957 and 1967 near his shoulders. According to Body Art Guru, those are the birth years of his mother and father. He also has a 'g' on his right shoulder that represents his older sister, Gemma. Along with sweet nods to his family, Styles also has a reference to another famous Brit, James Bond, near his left armpit. In bright bold letters, you can find "17 BLACK," which is the lucky bet of 007. But according to GQ, that bet's not-so-lucky to Styles who got the tattoo after losing money while gambling in Australia. Perhaps, it's a reminder that some luck doesn't come so easy. 
Those are just a few of the over 50 tattoos on Styles' body, and whether they're a nod to his family or his favorite character, he should feel free to show them off more often.