Fans Have An Interesting Theory About Robopine On The Masked Singer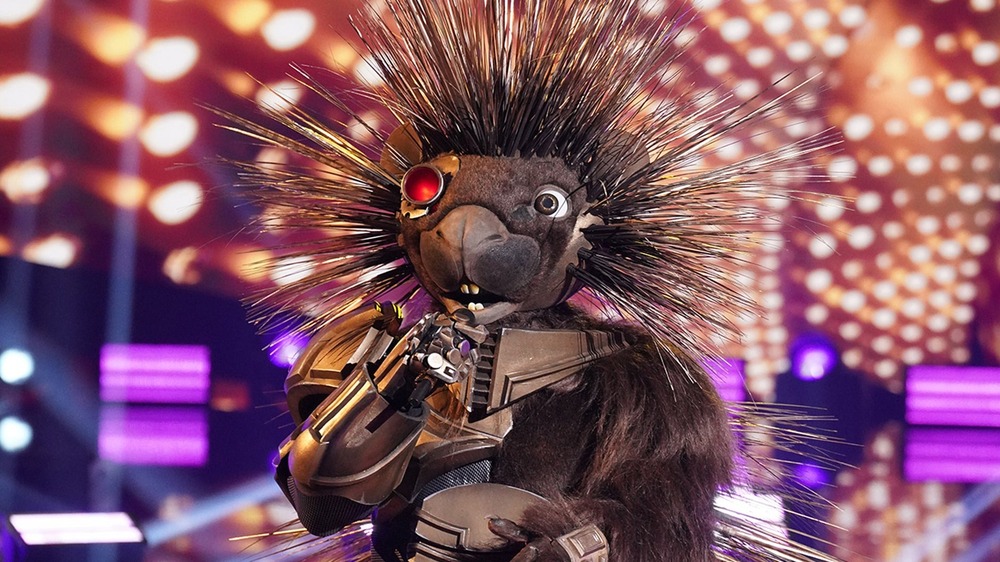 Fox
Season 5 of The Masked Singer is in full gear, and it seems like there's no shortage of cool costumes (or wild fan theories!) this time around. The innovative singing competition show has fans and judges guessing the identities of celebrities every season as they sing on stage — but the twist, of course, is that they're all donning some masterfully concealing costumes (per People).
Luckily, fans of The Masked Singer have some expert-level sleuthing skills, and this season is no exception. So far, season 5 of the show has featured Group A contestants like Black Swan, Russian Dolls, and Orca (via The Wrap). But perhaps the most mysterious (and coolest) costume of them all is Robopine, a mechanical porcupine with sharp quills and a glowing red eye who has wowed audiences with his silky renditions of Luther Vandross' "Never Too Much" and John Legend's "All Of Me."
So, who is Robopine on The Masked Singer? Popular guesses for this prickly contestant have ranged from The Fast and Furious' Tyrese Gibson to actor and singer Jamie Foxx (a guess from Masked Singer panelist Nicole Scherzinger herself), but a closer look at the rodent's clues has led fans to one especially interesting — and clever — theory of all.
These clever Robopine clues point to game show host Steve Harvey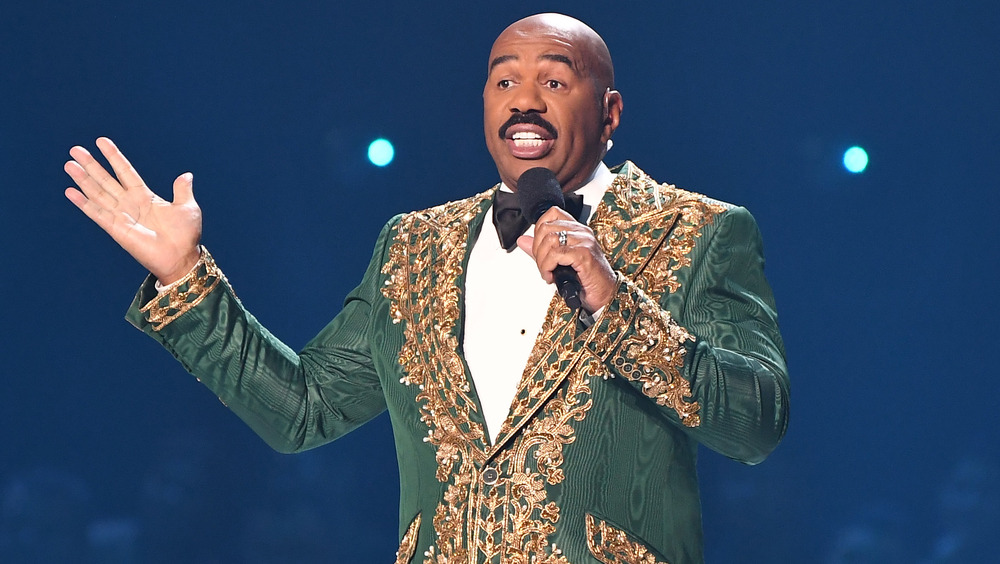 Paras Griffin/Getty Images
Masked Singer fans are guessing that Robopine is none other than Steve Harvey, comedian and Family Feud host. Not only has Harvey shown plenty of dance moves and singing chops in the past, he's also in fact sung a Luther Vandross song during a past stand-up comedy performance. Plus, Robopine made the shocking reveal that he's 60 years old and has grandkids — which certainly matches up with 64-year-old Harvey, who has five grandchildren!
There are other clues, too, that seem to fit with the game show host. In a clue package video, Robopine says, "Where I come from, I was forced to grow thick quills and I was left to fend for myself with nothing but dreams," and also mentions that a call from an "angel" changed his life (via EW). This could be a reference to Harvey's experiences with homelessness at the beginning of his comedy career, which all changed when he randomly received a call to go on stage at The Apollo.
But probably the most clever clue of all might lie in the costume itself. One of Harvey's most famous moments on Family Feud occurred when he asked a contestant "Name something that follows the word 'pork.'" The contestant said "upine" (as in "porcupine"), which prompted Harvey's viral reaction as he exclaimed, "This is the greatest answer I've ever heard."
Seems like we'll have to wait and see for Robopine to finally be unmasked, but our bets are definitely with Harvey!