Trisha Yearwood Goes Without Any Makeup On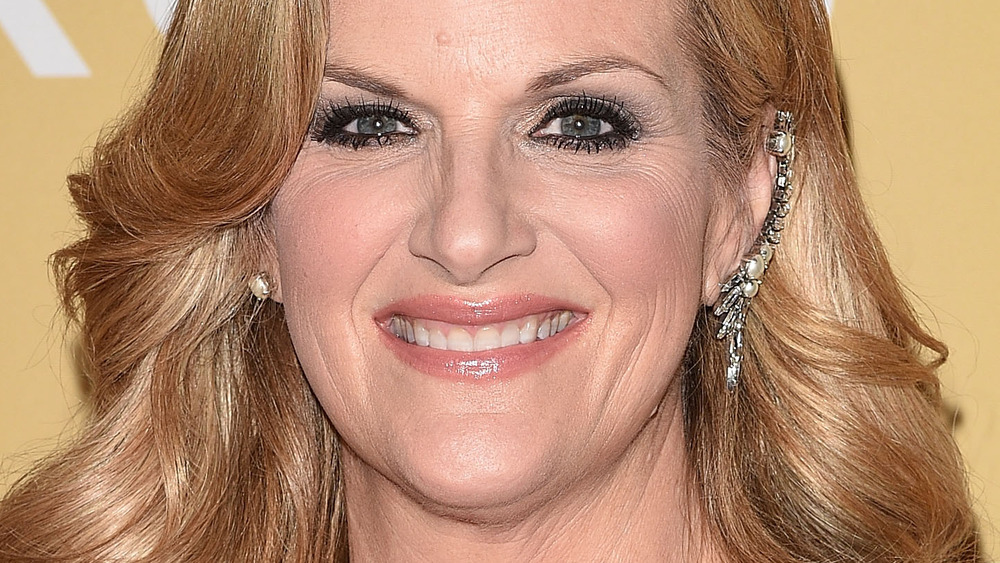 Shutterstock
Trisha Yearwood is country royalty. The singer known for hit singles like "She's In Love With The Boy" and "XXX's and OOO's (American Girl)" is not just a country superstar either. She's also an author, actor, and host of Trisha's Southern Kitchen on the Food Network (via IMDb). She's even married to fellow country legend Garth Brooks. 
In fact, the couple recently said that they've gotten closer than ever thanks to COVID-19. Recently, the two isolated themselves at home after Yearwood tested positive for coronavirus, and Brooks said, "We used it to work on ourselves because we were by ourselves for two weeks, almost three weeks," while on the Ellen DeGeneres Show (via Fox News).
Brooks also said that Yearwood is "one of the greatest voices in all of music, so the possible long-term effects on her concern me as her husband and as a fan," but he also said she is getting the best care she can. And it seems Yearwood has officially recovered from COVID-19 and looks as great as ever (via Good Morning America).
Trisha Yearwood posted a no-makeup selfie to show her fans the 'real' her
On Tuesday, April 6, 2021, Trisha Yearwood posted a glamorous selfie of herself on Instagram with the caption, "I have a lot of exciting announcements coming up." Fans immediately praised the singer for looking gorgeous. Even author Jen Hatmaker commented on Yearwood's post, "Does it include a beach wave tutorial," referencing the singer's wavy hair.
But the "Walkaway Joe" singer wanted to keep it real as well. On Wednesday, she posted another selfie of herself, but this time, it was all-natural. In response to all the wonderful comments, Yearwood wanted to say thanks to her fans, but also show off her "real" self. In her Instagram post, she said, "It's important for you to know that I have dream days" with glam hair and makeup, but she also has "real" days. Yearwood even said in a recent interview that if she "showed up at [her] local grocery store with makeup right now, [her] neighbors wouldn't recognize [her]," because her go-to is a no-makeup look (via People).
It's refreshing to have someone as iconic as Yearwood being honest and a true role model, so that more people can feel comfortable posting their real selves on the 'gram.