Lauryn 'Pumpkin' Shannon Has Harsh Words For Mama June's Boyfriend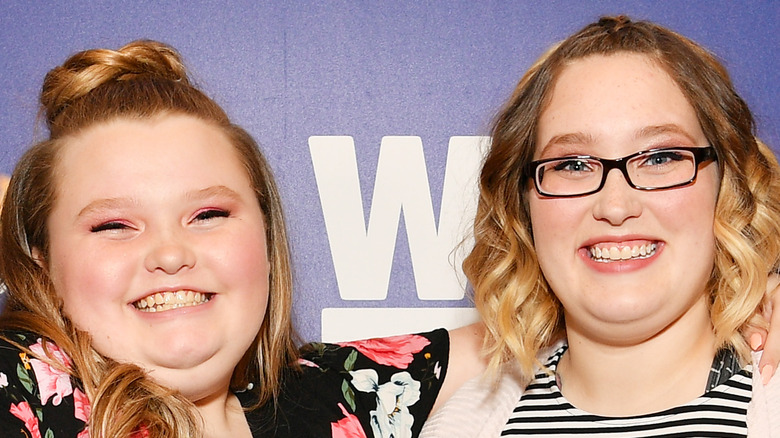 Dia Dipasupil/Getty Images
Addiction is a many-headed monster: It affects not only the person involved, but also the people around them. This sad truth is being played out on reality TV, courtesy of TLC's Mama June: Road to Redemption. The show follows "Mama" June Shannon, who went from child-pageant mom to weight-loss inspiration to crack addict in just a few years' time. Her habit cost her dearly — not only in terms of money (an eye-popping million dollars), but also in the loss of custody of her youngest daughter, Alana "Honey Boo Boo" Thompson, and the loss of trust from her entire family.
Among them: Lauryn "Pumpkin" Shannon Efird, who stepped up and took over Alana's care when June and her boyfriend Geno Doak went into rehab. She has done an admirable job of giving her sister a happy home life while also keeping up with her own daughter, 3-year-old Ella. Lauryn also recently announced that she and her husband are expecting their second child, which she calls "a blessing." Still, she never anticipated taking on so much responsibility, and she has confessed that she harbors some hard feelings toward her mother for putting her in this position.
In the latest episode of Road to Redemption, Lauryn also confronts Geno for the first time about his contribution to the family crisis.
The men in the family are trying to make amends
In this preview clip of the April 16 episode, Lauryn listens to Doak as he admits he and June went to rehab when they realized "we weren't really living; we were just existing." Then she has her say, telling Geno, "I need y'all to understand how much y'all did hurt us." She adds that one of the most difficult parts of the last two years has been trying to ease her younger sister's worries that she was somehow to blame for June and Geno's addiction.
Alana's father, "Sugar Bear" Shannon, has been out of her life as well, and Lauryn says her sister also feels responsible for that. "I was really angry. At myself, at y'all, literally everybody," she shared. Before he and June turned to drugs, Geno was a caring father figure to Alana, giving her gifts and joining in family activities. "Then two years later, Geno dropped her, and him and Mama really didn't give a [damn]," Lauryn said.
In response, Doak apologizes for the pain he and June caused, saying, "We love you all." He isn't the only one re-entering Alana's life; another preview shows Sugar Bear and Alana sharing a father-daughter moment. "I know my daughter isn't my hugest fan," the dad tells the camera. "I hope this'll help her and my relationship."
Can this fractured family truly heal? Fans are watching closely.