The Queen Wouldn't Let Prince Andrew Wear This At Prince Philip's Funeral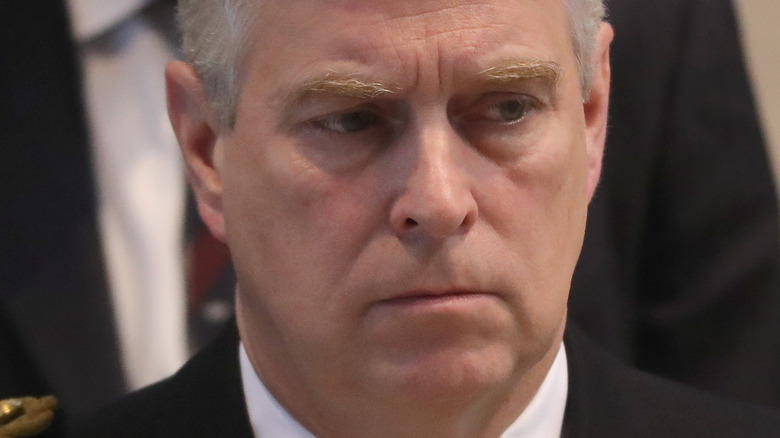 Christopher Furlong/Getty Images
Prince Andrew requested to wear an admiral's uniform to Prince Philip's funeral on April 17, according to the Daily Mail. The Duke of York was made an honorary vice-admiral in the Royal Navy in 2015 and The Independent reported he was due to be promoted to admiral in 2020. When he stepped back from royal duties due to his connection to Jeffrey Epstein in 2019 he deferred his promotion. However, the queen said that he couldn't attend Prince Philip's funeral in military uniform.
According to The Times, Prince Andrew had already asked tailors to start making him a new uniform for Prince Philip's funeral before it was ruled that he'd be wearing a black mourning suit. Like many other senior royals, Prince Andrew holds promotions and is treated as serving members of the military, explains the Daily Express. However, since Prince Andrew isn't currently a working member of the royal family, he didn't get the promotion of admiral and it was called into question whether he could wear a military uniform if he wasn't a working royal at the time of his father's funeral.
According to The Independent, a source close to Prince Andrew said, "The Duke of York will do what is appropriate to the circumstances — he remains stepped back from royal duties." Sky News reported that the queen approved the move to break with the tradition of uniforms, so that the family would display unity and no one would stand out (for not wearing one). The decision did not only affect Prince Andrew.
Prince Harry wasn't allowed to wear military uniform either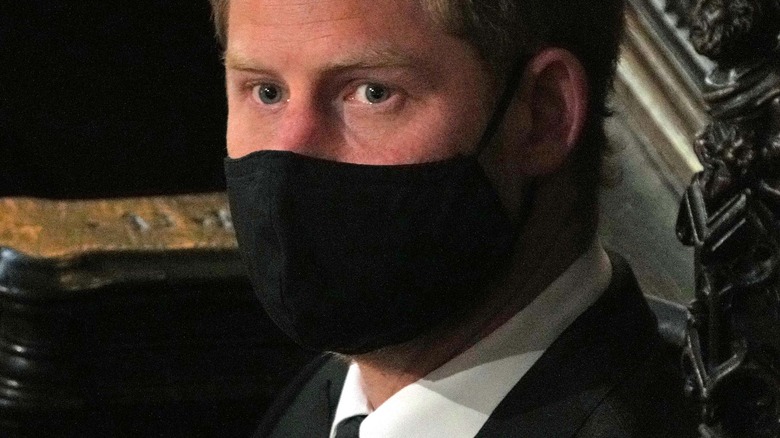 Wpa Pool/Getty Images
The New York Post explained that Prince Andrew wasn't the only royal who wouldn't have been able to wear a military uniform. As Prince Harry moved to the U.S. in 2020 and stepped back from his royal duties, he had to give up his military appointments. The Daily Mail explained that, despite the fact that Prince Harry has served in the Army for a decade, he wouldn't be able to wear a uniform as he no longer holds his military titles.
As many of the other royals, like Prince Charles and Princess Anne, do hold honorary military titles, The Times reported that the queen made the decision on the family's funeral attire to save the Duke of York and Duke of Sussex from sticking out. A source explained to The Sun that by not allowing royal family members to wear their uniforms but still exhibit their medals, "It's the most eloquent solution to the problem."