Will Prince Harry Return Home Without Having A Heart-To-Heart With Prince Charles?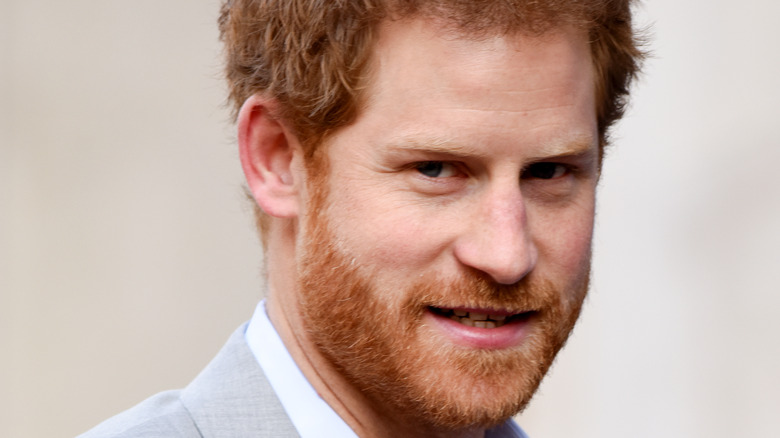 Shutterstock
Prince Harry bought an open-ended ticket to get to the UK for his grandfather's funeral and has no intentions of traveling home to California, yet. He has unfinished business in the UK. Specifically, The Sun reports that he's hoping to attend his grandmother's birthday party, first. Queen Elizabeth turns 95 on April 21, 2021, and per Harper's Bazaar, is holding a low-key get-together to mark the occasion. Prince Harry and his grandmother are, apparently, tight. They're so close that the queen famously sent Archie a waffle maker for Christmas (via Town & Country).
We can only speculate, but Prince Harry sticking around is probably good news. It means that the Duke of Sussex is on good enough terms with at least some of his relatives to want to attend family events. If you were watching closely, you might have noticed, like the press did, that after Prince Philip's April 17 funeral, Harry and his brother, William, chit-chatted. Of the occasion, a body language expert told US Weekly that it did not look like that was "the first time those two brothers had a conversation with one another." Don't hold your breath, but Harry and William just might be on the way to patching things up! The road to reconciliation with his father, Prince Charles, is, however, likely to be much, much longer.
As an insider recently let slip to Telegraph, although members of their family had hoped the two would find time to meet alone, it now seems like Harry will travel back to the United States without doing so.
Inside Harry, William, and Charles' two-hour conversation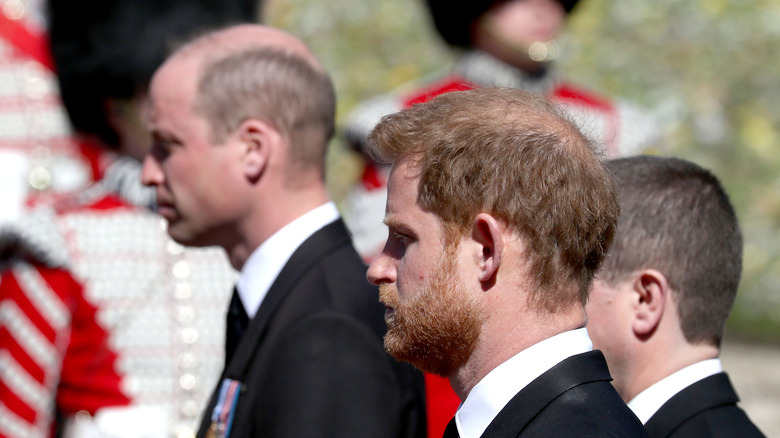 Wpa Pool/Getty Images
The Times reports that it was probably Kate Middelton who eased tensions between the royal brothers during Prince Philip's funeral. A lip-reading expert since confirmed to Express that the two likely exchanged pleasantries publicly, commenting on how "beautiful" the service was and that "it was as [Prince Philip] wanted." Something is something, right?  And if the Duchess of Cambridge played intermediary between Harry and William, it was perhaps her husband, William, who played intermediary between Harry and his father, Prince Charles, when the three met privately together after the funeral.
What, exactly they talked about remains a mystery. The Sun says the three held a two-hour conversation at Windsor Castle. The gossip column's source further noted, "It's unfathomable to think Megxit and Oprah did not come up." There is one, perhaps revealing clue as to the conversation's productivity. The three apparently talked for so long that Charle's wife, Camilla, left Windsor by herself, leaving Charles to keep conversing with his sons. 
Page Six's sources tell it a little differently, however. As per the tabloid, Harry, William, and Charles held a "clear-the-air" talk at Frogmore Cottage, where Harry is staying with Princess Eugenie. Page Six additionally reported that Charles and William were hesitant to even take that step: for fear that Harry might leak or twist the conversation. As for whether or not the three succeeded in making headway? "It's still early days," a source told Page Six. "There's a way to go."
This is why Prince Harry and Prince Charles aren't expected to reconnect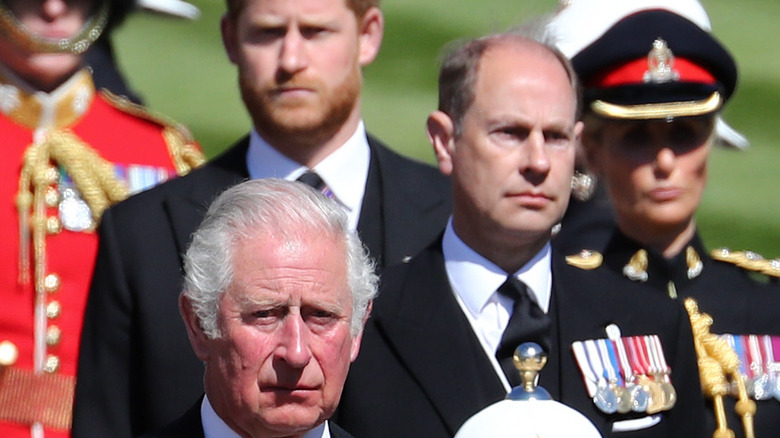 Wpa Pool/Getty Images
Even though Harry stayed on in England, there's a lot of physical distance now, between him and his father. Wales Online confirmed that Prince Charles left England for his Welsh, countryside residence "within a day" of Prince Philip's funeral. These travel plans have no doubt prevented any further, personal conversations between father and son.
Prince Charles' presence at his mother's 95th birthday get-together is probable. But even if Harry and his father do reunite for the occasion, no alone time is guaranteed. As for who is avoiding who? UK gossip columns think that it's Charles who isn't ready to patch things up with his son. If Mirror's sources are correct, Harry sent a letter to his father ahead of Prince Philip's funeral, and amid media reports that the pair's relationship had "hit rock bottom." The source clarified that Harry "wrote a deeply personal note to his dad to try and set things straight but tensions are still running high and things haven't exactly ironed out the way he had hoped." As per Page Six's sources, Prince Charles still doesn't trust his son enough "to speak alone" with him.
If Prince Harry and Prince Charles don't speak this time around, they may take a second stab at a personal conversation later this summer. Harry, per Evening Standard, will likely return to the UK to unveil a statue of his mother on July 1, a date that marks Princess Diana's would-be 60th birthday.