The Real Reason Chloé Zhao's Body Language Was So Different For Her Second Award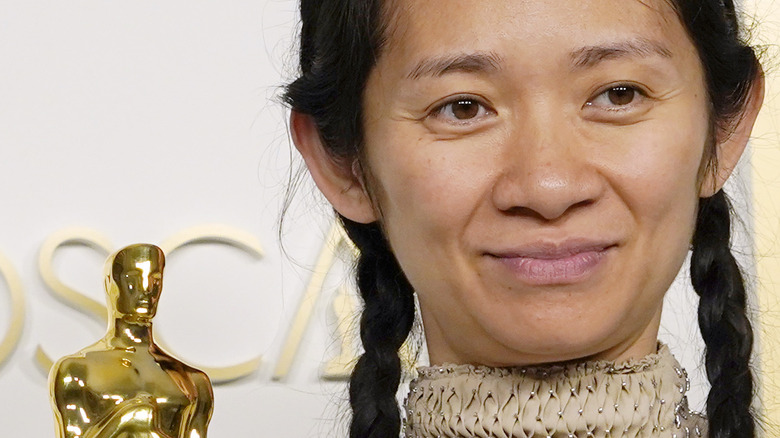 Pool/Getty Images
Chloé Zhao and her drama film "Nomadland" walked away the biggest winners of the 93rd Academy Awards. Zhao won the Best Director award early in the evening, which was also a historic win. By winning, Zhao is now the first Asian woman and woman of color to win the award. She is also only the second woman to ever win for directing after Kathryn Bigelow won in 2010 for "The Hurt Locker" (via ET). 
The director was a frontrunner for the Best Director award, according to Thrillist, but she still seemed a bit surprised to win. Even with her shock, Zhao remained calm when accepting her first Oscar. That was a little different than how Zhao reacted to her second big win of the evening for Best Picture. Body language expert and executive and career coach Lauren Cohen spoke with The List and noted that after Zhao stepped back to let Frances McDormand speak, the writer and director started "shaking a bit." That indicated it was an "emotional" win.
The Best Picture Oscar was a 'much more important' award for Zhao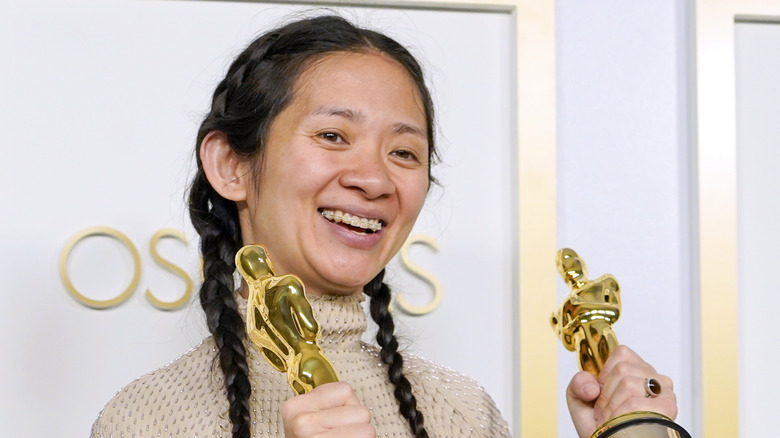 Pool/Getty Images
When first accepting the award, Cohen noted that Chloé Zhao was "super composed." However, standing in back, you could see "her body moving" and it looked like she was almost "crying from joy, elation, and relief." That is a similar assessment to what Mark Bowden, a human behavior and body language expert, noted. Bowden, who also happens to be a panelist on The Behavior Panel, spoke with The List and said that Zhao's "breathing pattern [was] very different from her acceptance of the first award." 
She was a bit more "breathless" which suggested that the Best Picture award was "much more important." This could be because the Best Picture award was not as predictable as the Best Director one. Even USA Today had "The Trial of the Chicago 7" as their frontrunner. The Best Picture is also usually the last award of the evening, because it is the biggest one. However, this year, the awards show saved the Best Actress and Best Actor categories for the end (via ABC News). Even with the switch up, it was a memorable moment for "Nomadland" and Zhao, who Bowden could tell was in "awe and disbelief in the situation."