The Unexpected Moment Kelly Rowland Just Revealed She Shared With Beyonce
Shutterstock
Destiny's Child legend Kelly Rowland welcomed her second son – Noah Weatherspoon, with her husband Tim Weatherspoon – on January 21, 2021, and she ensured her former bandmates, Beyoncé Knowles and Michelle Williams, were among the first people to meet him. 
"The girls were literally over here at the house just recently," the singer gushed in an interview with ET.  "And when they met the baby it was like another part of my heart just... Being able to share space with Michelle and Bey is truly a gift." Rowland got emotional reminiscing about how far the trio has come, as friends and sisters. 
The star admitted, "It's really a gift because we've known each other for so long and the industry doesn't really make friendships... It's the nature of it, and we still have each other after all these years." Destiny's Child officially called it quits in 2006 but the talented trio has reunited for several high-profile performances in the years since. They have remained key parts of each other's lives too, by all accounts. In fact, as Rowland revealed, her former bandmates were even there to watch her bring Noah into the world.
The magic of Zoom brought Destiny's Child back together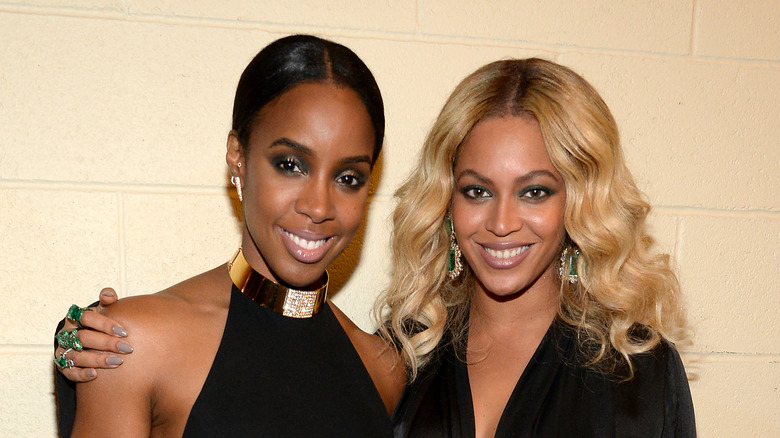 Kevin Mazur/Getty Images
During an appearance on People (the TV Show!), Kelly Rowland revealed her Destiny's Child bandmates Beyoncé Knowles and Michelle Williams were both present for the birth of her second child, Noah — although they weren't physically in the room with her, of course. "We had our family join on Zoom," Rowland explained. "They were able to see Noah come into the world. It was beautiful." 
Beyoncé's mother Tina Knowles, who memorably styled the iconic girl group throughout their chart-topping reign, and Rowland's mother-in-law were also watching over Zoom, among others. The pop star described Knowles and Williams as "awesome" aunts.
 Rowland's experience giving birth on Zoom will be familiar to many women all over the world, who have found themselves in similar circumstances amidst the ongoing COVID-19 pandemic. During an appearance on "The Ellen Show," the "Coffee" singer admitted, "The last time, when I had [my eldest son] Titan, my family was in there, and this time they weren't. Everybody was feeling a way about that, because we like to be at each other's births." However, they hopped on Zoom "and everyone was there," (via YouTube). She quipped that only "the proper angle" was used during the stream, but didn't go into any further detail.