What Really Happened To The Yogurt Shop After Demi Lovato's Controversial Statements?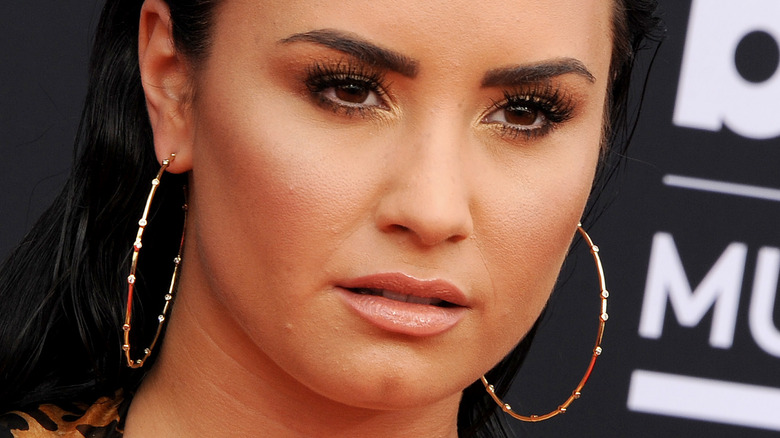 Shutterstock
Demi Lovato's feud with Los Angeles frozen yogurt shop The Bigg Chill was undoubtedly one of the most bizarre that 2021 had to offer. As Us Weekly notes, the trouble began when the pop star called out the store on Instagram for their "triggering" supply of "diet foods." The Bigg Chill offers dairy-free fro-yo, as well as fat-free and even no-added-sugar options, with over 400 flavors to choose from. Lovato took issue with having to walk past the various sugar-free and fat-free labelled foods to get her yogurt fix, describing it as difficult for someone who's publicly battled an eating disorder for years. She decried the store as "diet culture vultures." The Bigg Chill responded, advising they cater for vegans, diabetics, and celiac and lactose-intolerant customers and plenty more besides, noting, "We are sorry you found this offensive." 
Lovato then doubled down, criticizing the allegedly rude staff and describing the whole experience as "triggering and awful." "Real Housewives" star Leah McSweeney strongly refuted Lovato's claims, declaring them "disgusting," while actress Jameela Jamil rallied to her defense as a fellow eating disorder sufferer. Lovato subsequently apologized for getting the "messaging wrong" and disappointing fans, noting she didn't mean it as a personal attack. The pop star explained, "I walked into a situation that didn't sit right with me, my intuition said to speak up about this so I did and I feel good about that." Amidst the whole kerfuffle, how has The Bigg Chill's business been affected, if at all?
The Bigg Chill is feeling the effects of the feud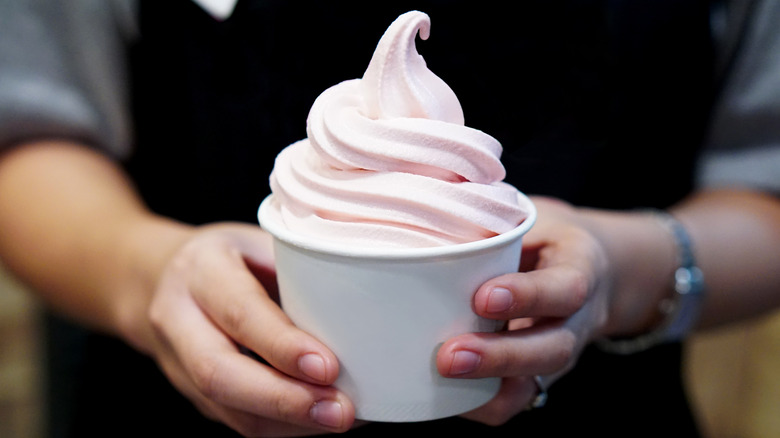 Shutterstock
As the LA Times reports, The Bigg Chill is a Los Angeles institution. Co-owner Cary Russell was shocked by Demi Lovato's comments, along with his customers, pointing to the thousands of supportive messages in the store's Instagram DMs in the wake of the scandal. The Bigg Chill's followers also ballooned to over 40,000 within a week. In-person lines have been wrapping around the block, too. One loyal customer, who showed up to support the business on foot of the controversy, suggested Demi Lovato should've considered "the big picture" before speaking out. Although the shop has been filled with regular clientele, many newbies were intrigued enough by Lovato's comments to patronize it for the first time. 
"I think [Lovato] was attacking the ... wrong thing," opined one customer, adding, "If you want to come for diet culture, maybe go for the corporations who make millions off of it and not the small, local businesses who are just trying to get by during a pandemic." COVID-19 has impacted The Bigg Chill, of course, which formed part of Lovato's complaint about bad service — although regular customers heralded the store's sweet family feel. Russell confirmed he hasn't been in touch with Lovato since her "apology that's not so much of an apology." He also criticized her public approach, explaining, "All she had to do is pick up the phone and call me." Luckily, business is booming regardless.
If you are struggling with an eating disorder, or know someone who is, help is available. Visit the National Eating Disorders Association website or contact NEDA's Live Helpline at 1-800-931-2237. You can also receive 24/7 Crisis Support via text (send NEDA to 741-741).