Here's What Keith Urban's Tattoos Really Mean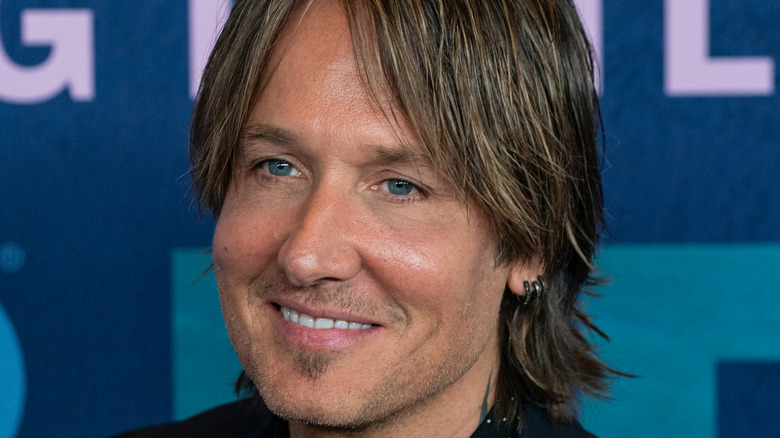 Shutterstock
Is it just us, or has Keith Urban rocked the same exact haircut since the last turn of the century? The combination of long highlighted locks, a windswept middle part, and an oh-so-subtle goatee never seems to go out of style, so he may as well soldier on with the look for another two decades. But one aspect of the country singer's distinct aesthetic that has been subject to change throughout the years is his collection of tattoos. He now has seven in total, each holding a special meaning (via The Boot).
Unlike other stars, Urban, who was born in New Zealand and raised in Australia (via Biography) is fairly tight-lipped about his body art, despite the fact that his tattoos are frequently put on full display at his concerts and all over his official Instagram account. Given the controversial nature of one of his tattoo coverups and the intimate backstories behind others, we can easily understand why. Here are the meanings behind Keith Urban's tats.
Keith Urban's tribal-inspired body art is noticeable from the nosebleeds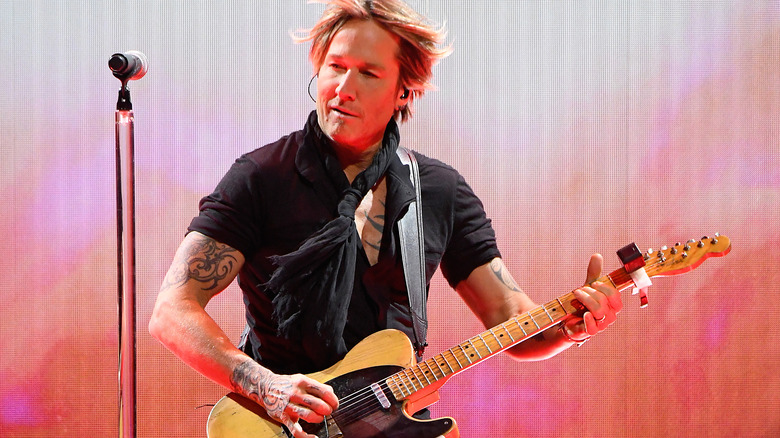 Kevin Mazur/Getty Images
Keith Urban eschews the tiny tattoo trend, opting instead for sizeable and bold works of art. One of his most visible pieces is a tribal-inspired sleeve covering his left arm. Lower down is a phoenix that takes up the majority of his forearm. The mythological meaning behind the creature is all about "what doesn't kill you makes you stronger." For Urban, this concept hits home. "I've always loved symbolism and mythology, the symbolism of the phoenix being something that succumbs to the challenges and burns in the fire, but then is resurrected from the ashes and rises up even stronger than before," Urban told Women's Wear Daily.
When Urban rocks his signature V-necks, you can see yet another tribal-inspired tat: a blazing sun on the left side of his chest, which Ellen DeGeneres famously mocked on her show in the form of a cologne commercial spoof (via YouTube). Don't worry — he was in on the joke! 
The tattoos that are less obvious but just as massive include an eagle and the word "love." "I got an eagle because I was in America," he told The Boot. "I had just been spending time here, I was single and I thought, 'It's my birthday; I want to give myself a cool gift. I thought the eagle just seemed perfect. It was American, I had my freedom, and it was something that would be on this journey with me for my whole life."
Keith Urban covered up a tat dedicated to this ex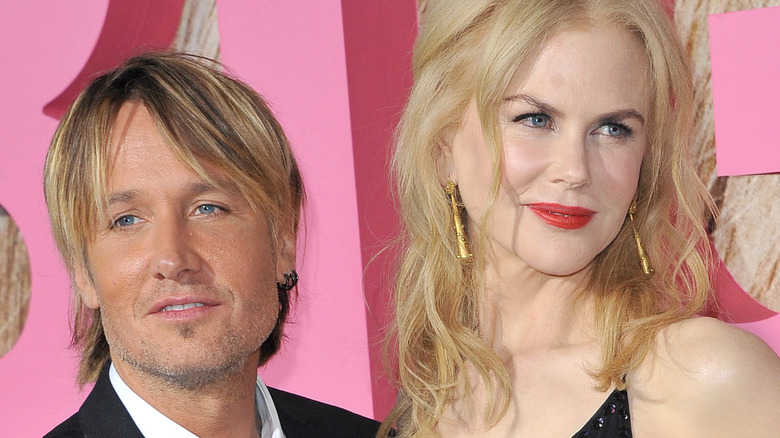 Shutterstock
The next time you binge Keith Urban's performances on YouTube, take a look at his right wrist. There, you'll find a bracelet tattoo that incorporates his wife's initials — "NMK," for Nicole Mary Kidman. What you won't be able to see, however, is the ink that graced that spot previously. According to Yahoo, Urban and his then-girlfriend Niki Taylor got matching script tattoos in 2002 that read, "Love conquers all." 
They both seem to regret the choice, as she had hers removed in 2012 and he covered his with a tribute to his current spouse and mother of his two daughters. For the former supermodel, it was a steep sacrifice. "I'd rather give birth than have my tattoo removed, that's how painful it is," she told Yahoo. We can only imagine how that relationship went if removing its evidence was worth that level of pain.
To his credit, Urban made up for the blunder by getting "Nicole" surrounded by intricate hearts tattooed on his right bicep. A big tattoo for a big mistake? We can only speculate. But considering the pair's 15-year-strong relationship, it's safe to say the new ink did the trick.