Inside Tawny Kitaen And Jerry Seinfeld's Relationship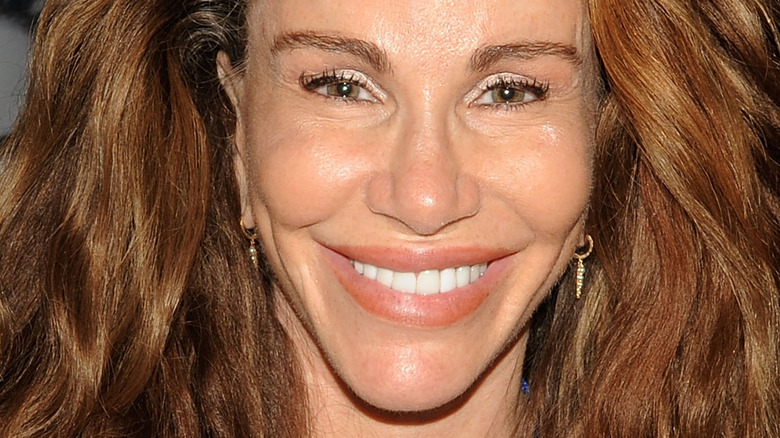 Bobby Bank/Getty Images
Tawny Kitaen, most known as being a "video vixen" in the 1980s, died May 7 at her home in California (via The Orange County Register). Along with starring in music videos for Whitesnake and Ratt, Kitaen also appeared in an episode of "Seinfeld" back in 1991. In the episode "The Nose Job," Kitaen played Jerry Seinfeld's girlfriend, Isabel (via IMDb). An on-screen romance was actually an off-screen love affair as well, because Seinfeld and Kitaen were dating IRL when the actress appeared in the show. 
However, it was a super-secret relationship, according to Fox News. When the actress guest-starred on the show, she said, "we'd be very low-key about it." Since everyone was watching them on the lot and on set, the two actors would keep their distance and seem cordial when interacting. But since her dressing room trailer and Seinfeld's office were right near each other, Kitaen remembers thinking, "How fortunate is that — to have your office right next door to your boyfriend's?"
Kitaen admitted that her first date with Seinfeld was 'really quiet'
Eventually, Jerry Seinfeld spilled the beans of the two being together. It was hard keeping it in considering the comedian felt like he was "in the presence of greatness" when around Tawny Kitaen, according to the Daily Mail. Despite being super-secret at first, once it was known, Seinfeld wasn't "afraid of telling anybody" and "he was so giddy about [their relationship being published]."
Kitaen even revealed what it was like going on a date with the "Seinfeld" star in an episode of the podcast "This Podcast Is Making Me Thirsty." Kitaen said the first date the two went on was to an Indian restaurant that was "really quiet" (via YouTube). Kitaen confessed that even though Seinfeld is an actor and stand-up comedian, he's actually an introvert who "observes" and takes in the atmosphere around him. She said that it was very similar to what happened in the sitcom, because he would "take things from his life" and "make something out of nothing." 
The "Bachelor Party" actress also admitted that even though Seinfeld was "giddy" about their relationship, he was also a cheap boyfriend (via Page Six). Seinfeld's love of cars isn't news, but apparently, as he drove a new Porsche to the studio lot every day, he only managed to get Kitaen a teddy bear and a Coach purse as gifts. It may not be a fancy car, but at least it was something.