Vanessa Bryant Gives An Emotional Tribute To Kobe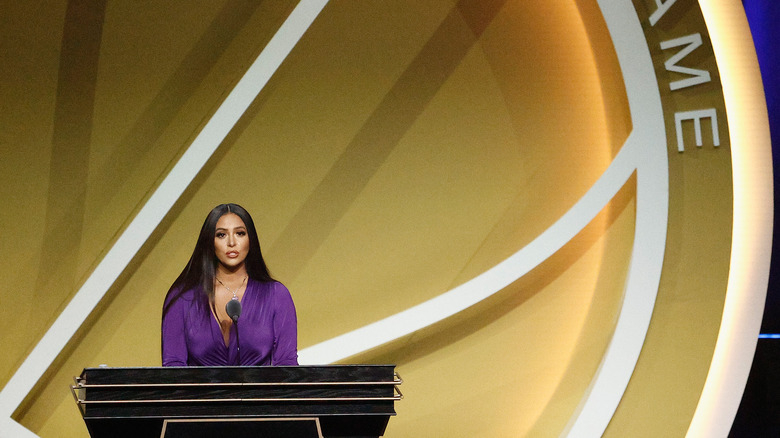 Maddie Meyer/Getty Images
Nearly a year-and-a-half after her husband, Kobe Bryant, and daughter, Gianna, died in a tragic helicopter crash in January of 2020, Vanessa Bryant gave a moving tribute to the iconic basketball player as part of his posthumous induction into the Naismith Memorial Basketball Hall of Fame on Saturday. Bryant was originally set to be inducted into the Hall of Fame's class of 2020, but the event was delayed due to the COVID-19 pandemic, according to People.
Fellow basketball player and legend Michael Jordan held hands with Bryant as she made her way to the podium to speak about her husband and his accomplishments — though she knew that he would find her praise amusing. "I used to avoid praising my husband in public because I felt like he got enough praise from his fans around the world and someone had to bring him back to reality," Bryant said at the induction ceremony (via CBS Sports). "Right now, I'm sure he's laughing in heaven because I'm about to praise him in public for his accomplishments on one of the most public stages. I could see him now, arms folded, with a huge grin saying, 'Isn't this some s***?' He's still winning."
Bryant spoke about how she wished for her daughter Gianna (who also went by Gigi) to be there. "He and Gigi deserve to be here to witness this," Bryant said. "Gigi would be so proud to watch her daddy get enshrined in the Basketball Hall of Fame" (via The Undefeated).
Bryant delivered a very personal message about her husband's legacy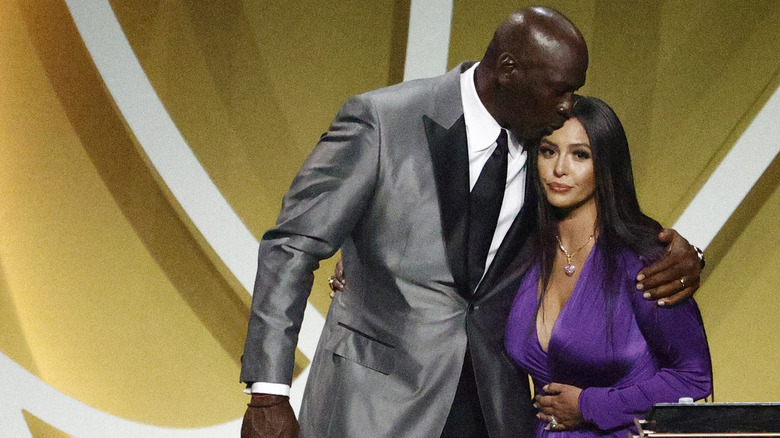 Maddie Meyer/Getty Images
After praising her husband for his legendary career, which included being a "five-time NBA champion, five-time New York Times bestselling author, 18-time All Star, a league MVP and two-time Finals MVP, [and] two-time Olympic gold medal winner," Vanessa Bryant read from a personal letter that she wrote to her husband of 19 years. "Thank you for putting your love for our family first," Bryant said in her tribute, according to People.
"Thank you for bringing so much joy to our lives and joy to the people around the world. Thank you for inspiring us to be better than we were the day before. Thank you for teaching me, and all of us, to put someone else's joy before our own. Thank you for being so selfless and loving with a heart of gold. Thank you for being the Mickey to my Minnie, the Noah to my Allie [from 'The Notebook']. Thank you for loving me enough to last lifetimes, and every lifetime I choose you." 
Other basketball players like fellow 2021 HOF inductee Tim Duncan, Ray Allen, Allen Iverson, and former teammates Shaquille O'Neal and Steve Nash also spoke of Bryant's charisma on and off the court in a video that played during the Hall of Fame induction ceremony. "On top of being the very, very top of the game, there is something in him that transcended basketball," Nash said in the honorary video, according to the Daily Mail.