Diamond Expert Reveals How Much Kat Dennings' Engagement Ring Really Cost - Exclusive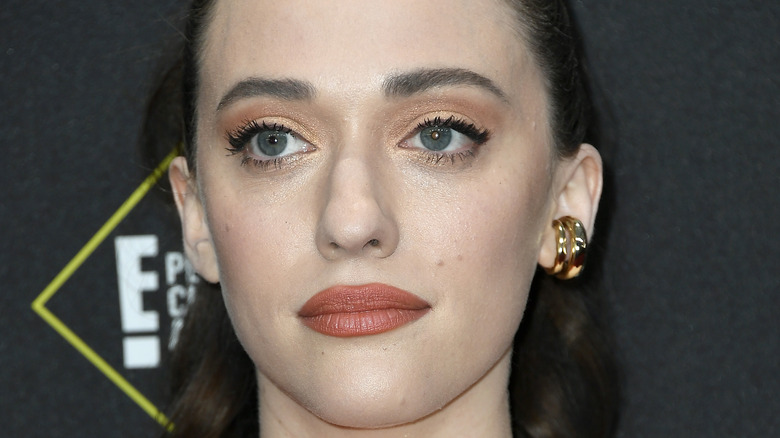 Frazer Harrison/Getty Images
Kat Dennings' new man was a choice that surprised many. Andrew W.K., one of the harder-to-figure out celebs. In his first public incarnation he appeared as the kind of rock star likely to appeal to frat boys with such hits as "Party Hard" and "Party Til You Puke." He then reinvented himself for a younger (if still puke-obsessed) audience, hosting Cartoon Networks' "Destroy Build Destroy" and coming out as a Brony, (via Collider). After that, he seemingly settled down as a middle-aged motivational speaker. What would be the next logical step in such an evolution? Why, getting hitched to Josh Groban's ex, of course.
Yes, it's apparently official, with Dennings tweeting a photo of her engagement ring so the whole Twitterverse can gawk at her rock. But how much did her millionaire fiancé drop on the beautiful diamond setting? 
Well, Dennings isn't so gauche as to share the price tag, but that doesn't mean fans are not all speculating. In order to get some answers, The List turned to our go-to gemologist, Kimberly Abruzzo. She's a GIA Graduate who works with the online jeweler Rare Carat, and she was able to give us her best analysis of the future Mrs. W.K.'s ring based on the pics that have been posted. While Abruzzo calls these photos "a little rough," she was still able to come up with a ballpark figure for the curious minds.
Kat's ring has a modest price tag by celebrity standards
While Kat Denning's diamond won't make the list of the most budget-priced celeb rings, it likely comes in at a much lower price tags than Bethenny Frankel's or even Kaitlyn Bristowe's bling.
"I think this is an antique or vintage diamond," says Kimberly Abruzzo, something she thinks has "sentimental value." While you can't put a price on sentiment, you can put a price on diamonds based on those 4 C's: color, clarity, cut, and carat weight
Abruzzo describes the center diamond as having "a slightly yellow hue," something that "support[s] the idea that it's an older diamond." She also notes that while the center stone looks like a "J diamond," the side diamonds – four or six in total – are likely "H diamonds." Jeweler James Allen explains that the higher up the alphabet, the less color and the more valuable the diamond, so you can gauge the value of Dennings' new jewel. 
The center stone's cut, Abruzzo says, "Looks sort of like an oval cushion hybrid," while the side stones are a graduated baguette cut. She estimates that the center stone weighs a respectable four carats. The ring is set in simple platinum band, and Abruzzo tells us, "I'd say they designed the ring around a family heirloom diamond." While she says the price of such a vintage diamond is hard to know for sure, she added, "I think it would be appraised somewhere in the ballpark of $100,000 taking into account both the center and side diamonds."