Royal Expert Breaks Down A Potential Reconciliation Between Harry And Charles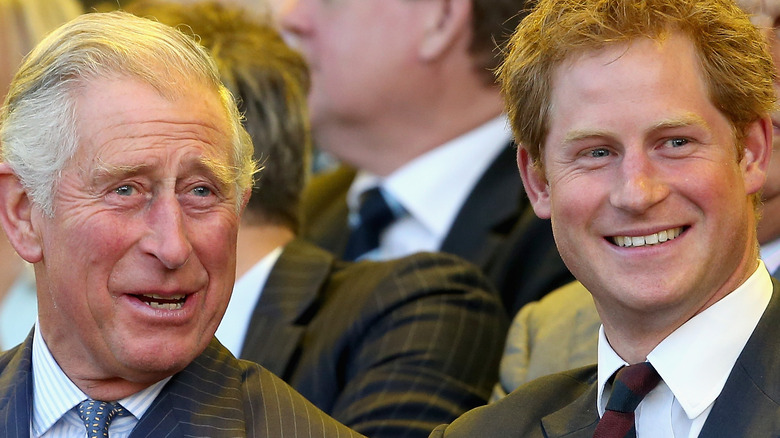 Chris Jackson/Getty Images
The royal family drama continues with the release of Prince Harry's Apple TV+ docuseries, "The Me You Can't See." The five-part series that Harry co-hosts with Oprah Winfrey discusses mental health with experts, and interviews public figures like Lady Gaga and Glenn Close, who struggle to overcome their very own mental health issues (via ET). 
This comes just two months after Harry and Meghan Markle's tell-all interview with Oprah in March, where the couple revealed that the Duchess of Sussex struggled with her own mental health issues while being a part of the royal family (via NPR). In "The Me You Can't See," Harry discusses not only his issues with alcohol in dealing with the death of his mother, Princess Diana, but criticizes the way he was parented by his father, Prince Charles. According to Vulture, Harry revealed, "My father used to say to me when I was younger, 'Well, it was like that for me, so it's going to be like that for you.'" 
This is the second time that Harry has mentioned Charles' parenting skills recently. The former royal appeared on Dax Shepard's "Armchair Expert" podcast where he said there is a cycle of "pain and suffering" within the royal family that he wanted to break (via Vanity Fair). This criticism has caused even more of a rift between Harry and his father, and people are wondering if a reconciliation is even possible at this point.
Harry needs to stop publicly talking about his family before bridges can be built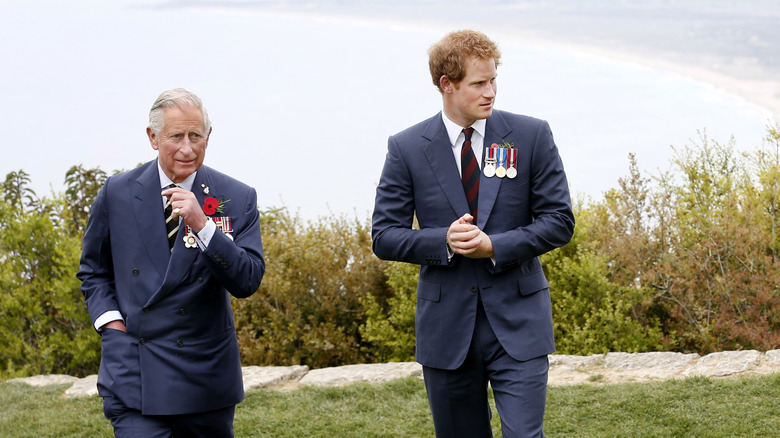 Pool/Getty Images
Royal expert Robert Jobson doesn't think a reconciliation is possible while Harry "wants to live it all out in the public domain" (via Page Six). The royal family has always been very private, and Jobson believes that currently Harry wants to "capitalize, or cash in, on his discomfort — or what he claims to be his discomfort." Whether that's true or not, it's definitely not easy to navigate mending a relationship when someone is still hurting and criticizing the other openly. 
In fact, it's been reported that the royal family has been so hurt by Harry's recent interviews that palace aides have been calling the Duke of Sussex and asking that both he and Meghan Markle give up their royal titles, according to The Independent. Jobson, who is the author of "Prince Philip's Century," said that, "There's a bit of disrespect regarding his grandfather, which hasn't gone unnoticed on this side of the pond," and only a month after his death. So, if Prince Harry really is as open "for reconciliation and healing," it seems he needs to stop criticizing his father and the rest of his family before that can happen (via The Daily Beast).