Palace Aides Reportedly Want The Duke And Duchess Of Sussex To Do This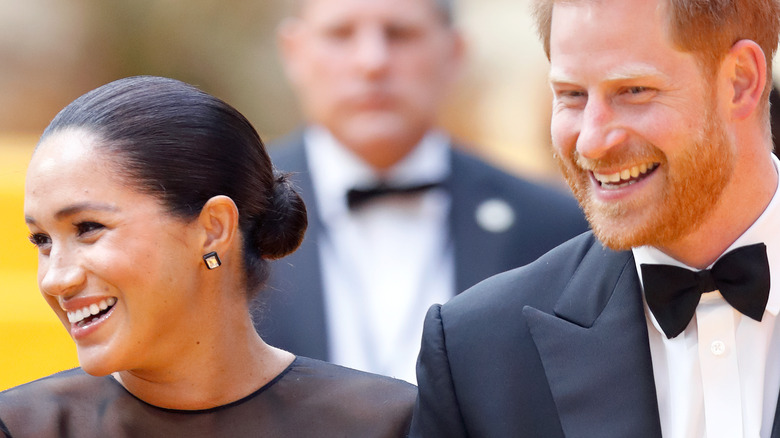 Max Mumby/indigo/Getty Images
Now that Prince Harry and Meghan Markle have left the royal family, they can say whatever they want, and they have. Their first tell-all interview with Oprah Winfrey in March — widely compared to the interview Princess Diana did with the BBC after her divorce from Prince Charles — revealed shocking truths. Markle's mental health issues and the royal family's concern over Archie's skin color (via Today) blew up the internet, spurring media pundits on the U.S. side of the pond to compare the interview's impact on The Firm to the Revolutionary War. After Prince Harry went back to the U.K. for his grandfather's funeral, select royal experts mused that, perhaps, he was beginning to regret his role in the Orpah interview. But his most recent press appearance suggests otherwise. On May 13, 2021, Harry sat down with Dax Shepard for his "Armchair Expert" podcast and revealed what it was like growing up as a royal. 
According to CNN, Harry said that as he grew up, he realized that he didn't want to be a part of the royal family. He even remembered thinking, "I don't want this job, I don't want to be here, I don't want to be doing this, look what it did to my mum." The former royal went as far as to compare his life to the 1998 film "The Truman Show," where Jim Carrey's character unknowingly starred in a T.V. show. He also said that he felt like his life was like "being in a zoo." It was those comments that really upset the royal family, according to ET.
There is even more tension between Prince Harry and the royal family now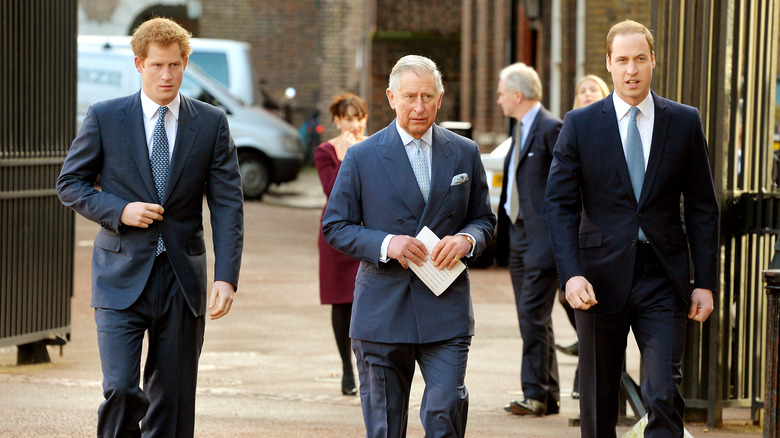 Wpa Pool/Getty Images
Harry, who has a baby daughter on the way, further opened up about his move to California to Dax Shepard. "It's a lot of genetic pain and suffering that gets passed on anyway so we as parents should be doing the most we can to try and say: 'You know what, that happened to me, I'm going to make sure that doesn't happen to you,'" he said (via The Guardian).
The Duke of Sussex's relationship with his father was already on thin ice. After Prince Philip's funeral, gossip columns whispered that Harry hadn't been permitted to meet with Prince Charles alone. Media leaks in the wake of the Oprah interview had allegedly obliterated Charles' trust in his son. Per insiders, the future king no longer felt comfortable with having a private conversation with Harry. Now, William and Charles are beginning to take on more royal duties (via Express). Harry, having returned to his California home, has distanced himself further from his U.K.-based family.
No one is exactly shocked by reports that Harry's brother and father — Prince William and Prince Charles — didn't take the "zoo" comment very well. In fact, they're so upset that palace aides have been calling Prince Harry and Meghan Markle, asking them to give up their royal titles (via Fox News). Followers of the family will remember that although Harry and Meghan gave up their royal duties in 2020, they kept their royal titles of the Duke and Duchess of Sussex (via Town & Country).
Will Harry cancel his upcoming trip to the U.K.?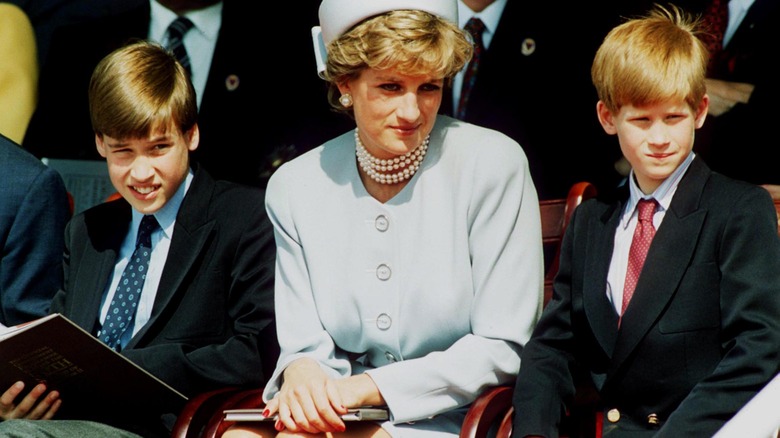 Anwar Hussein/Getty Images
It was "with the queen's blessing, the Sussexes [would] continue to maintain their private patronages and associations," according to Buckingham Palace's official 2020 statement. Now, things have changed. According to one palace aide, the family feels Harry's recent interview was "disgraceful." The firm, allegedly, felt that Harry's criticism over how he was parented was "shocking and disrespectful," especially to the queen "when the Duke of Edinburgh is barely in his grave" (via the Daily Mail). As per what sources told the gossip column, "There is a growing feeling that if you dislike the institution that much, you shouldn't have the titles."
At this time, there is no word on whether or not Harry and Meghan will give up their titles. Perhaps Harry will discuss the matter personally when he returns to the U.K. in July for an unveiling of a statue honoring his late mother, Princess Diana ... if he returns. With the tension between the family growing, British gossip columns have speculated as to whether even that trip is up in the air. Journalist Phil Dampier told The Sun that he doubted Harry would fly to the U.K. this summer. British socialite and royal gossip expert Lady Colin Cambell issued a similar warning in early May. "He knows that if he comes back he will be met with a wall of ice, not only by the family but by everybody connected to the family and the British public," she said on TalkRADIO (via Honey).