The Sweet Way Queen Elizabeth Honored Prince Philip During Her Latest Royal Outing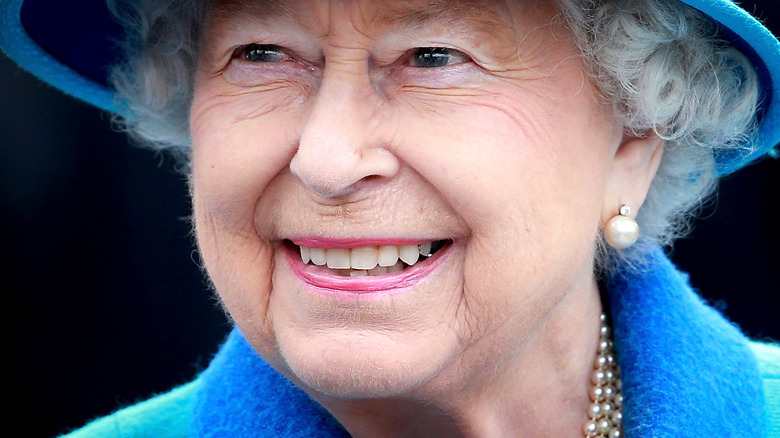 Chris Jackson/Getty Images
Queen Elizabeth is nothing if not resilient. At 95, the monarch has lived through major wars, national and global disasters, and personal crises, yet she has weathered them with grace and determination. Fully aware that duty comes before all else, she has continued to perform public duties following the recent upheavals in her life: the ongoing feud between grandson Prince Harry and the royal family; the death of one of her new dorgi pups; and above all, the death of her beloved husband, Prince Philip. Few who saw the funeral will forget the sight of the queen sitting alone in the chapel pew, her heartbreak apparent even as she maintained her composure.
Knowing that her husband would have wanted her to carry on, the queen was soon back at work following the official mourning period. Although the Duke of Edinburgh is no longer physically by her side, the queen makes sure to honor him in subtle ways. A recent public outing demonstrated that Elizabeth keeps her loving memories close to her heart — literally.
The queen wore a special piece of jewelry to a military event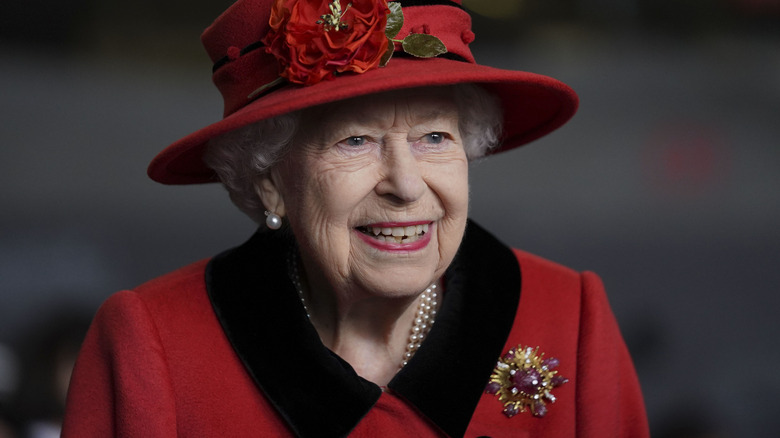 Wpa Pool/Getty Images
On May 21, the queen performed a duty that surely must have been difficult for her: She attended her first royal engagement on her own. (She has gone to other events in recent weeks, but always accompanied by one or more family members, such as son Prince Charles.) The HMS Queen Elizabeth, an aircraft carrier that the queen named for herself, is about to embark on a 28-week world tour. The queen came to greet members of the British military — the Royal Navy, Royal Marines, and Royal Air Force — and wish the ship well on its voyage. 
Looking smart as always, the queen wore a red dress coat with black trim, topped off by a wide-brimmed, rose-bedecked hat. As People reports, she also wore her gold "Scarab" brooch. Bursting with rubies and diamonds, the pin is a striking accessory — and in this case, a significant one. Prince Philip gave the brooch to his wife in 1966, and it clearly holds sentimental value for her. The prince was a naval veteran who frequently attended military events before his retirement, and the queen made sure that his memory was honored at the naval ceremony. When the queen commissioned the warship in 2017, she made a speech in which she noted, "I will always value my special link with HMS Queen Elizabeth, her ship's company and their families."