Why This Latest Pic Of Bill Gates Is Raising Eyebrows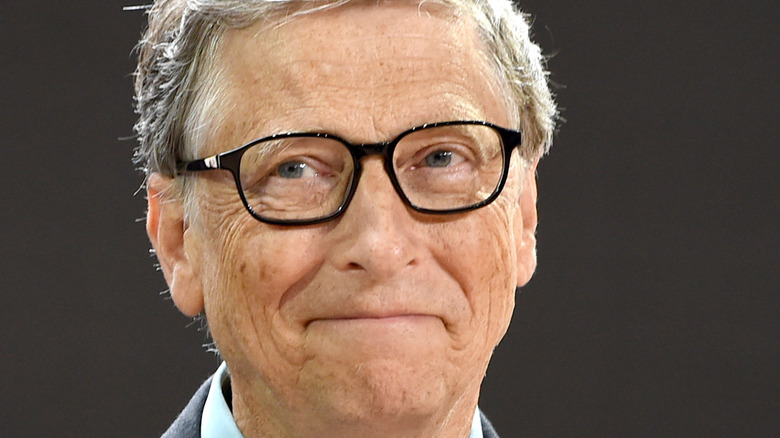 Jamie Mccarthy/Getty Images
Bill Gates has been staying out of the spotlight since the shock news of his divorce dropped earlier this month. The legendary Microsoft founder revealed in a lengthy Twitter statement that he and wife Melinda were calling time on their marriage after almost 30 years together, advising the duo would continue to run their foundation and co-parent their children as normal going forward. In the weeks since, rumors have circulated about infidelity on Bill's part, as well as his highly-publicized relationship with infamous businessman Jeffrey Epstein, which may have been one of the main reasons Melinda ultimately decided to leave him.
As Page Six reports, the billionaire tech giant was seen out and about in New York with his daughter, Phoebe, after holing up in an exclusive Californian golf club. According to sources close to Bill, he's been there for a few months at this stage. The Microsoft co-founder admitted to cheating on his wife with an employee at the company itself, although a spokeswoman confirmed to the Wall Street Journal that it happened "20 years ago" and "ended amicably." There are also allegations Bill made unwanted advances towards female workers at both Microsoft and his own foundation. However, he may not have given up on his marriage just yet.
The tech billionaire was rocking a noteworthy accessory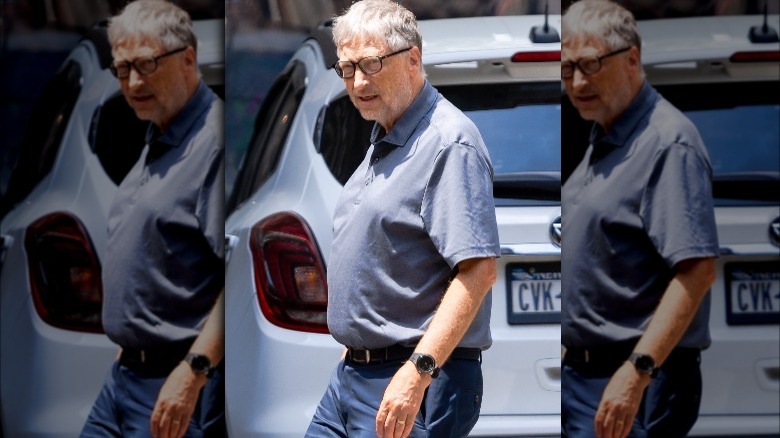 Backgrid
As People reports, aside from being spotted out in public for the first time since announcing his divorce, Bill Gates was also pictured apparently wearing his wedding ring. While leaving NYC's Greenwich Hotel, after flying into New Jersey the previous day, the tech billionaire was photographed in a laidback outfit of gray polo shirt, navy pants, black shoes, and his trademark specs. His wedding band was clearly visible on his left ring finger. Although the Gates' split came as a shock to fans worldwide, according to an insider, most people who know them personally were not surprised. The relationship has reportedly been in trouble for a while. "He could have treated Melinda better," the source opined to People, adding, "He's not a saint, but there isn't one thing that created the final split. It goes deeper than that." 
The couple allegedly had opposing views on essentially everything in life and couldn't find common ground, particularly as they grew older and realized there might be better partners out there for them. As for Bill's alleged mistreatment of female employees, a spokesperson claimed such reports are totally unfounded, noting, "The rumors and speculation surrounding Gates's divorce are becoming increasingly absurd, and it's unfortunate that people who have little to no knowledge of the situation are being characterized as 'sources'." Considering the Microsoft co-founder is still wearing his wedding ring, is it possible the relationship isn't fully over just yet?