People Can't Get Enough Of Lady Gaga And Lisa Kudrow's Duet On The Friends Reunion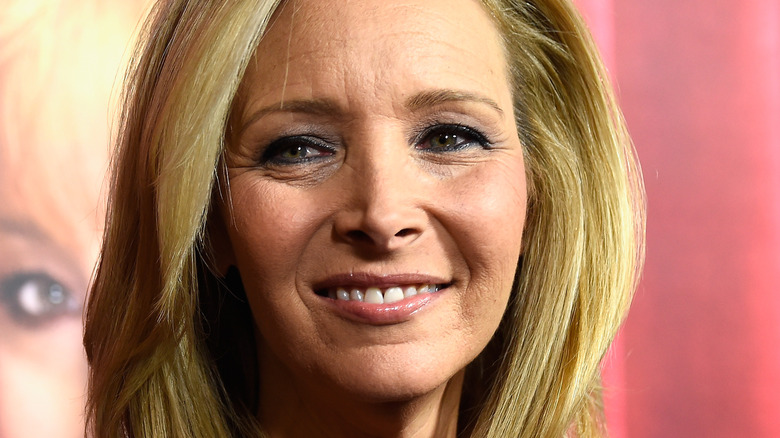 Frazer Harrison/Getty Images
As its title suggests, "Friends: The Reunion" is a one-off special broadcast exclusively on HBO Max that brings the cast of the beloved sitcom back together for the first time in almost 20 years. The original run of the show took in ten seasons from 1994 to 2004, as per IMDb, and although the show is syndicated, which basically means it's playing non-stop on one if not several TV channels at any time, fans have been clamoring for more from the core cast ever since the final episode aired. 
There was plenty to love about the reunion special, with Decider calling it "the best cast reunion of all time," and CNN noting how wonderful it was to see "how seamlessly they appear to slide back into these roles, 17 years later." One of the biggest talking points, apart from the highly-publicized technical issues plaguing the event, and the unpopular choice of James Corden as host, was the surprise duet between Lisa Kudrow, who played struggling musician Phoebe, and Lady Gaga.
Smelly Cat took on a whole new meaning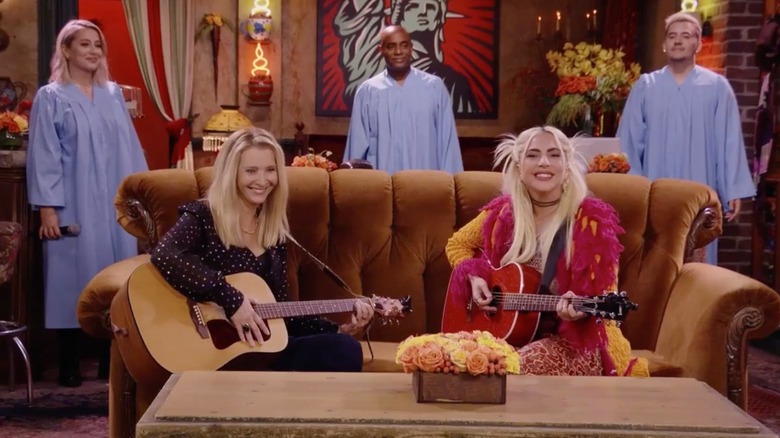 HBO Max
According to Billboard, Lisa Kudrow teamed up with Lady Gaga for a surprise duet of Phoebe's hit song "Smelly Cat." Well, hit song is a bit of a stretch, but it was popular with the other "Friends" and fans of the show alike so the track was a welcome, and indeed, expected inclusion on "Friends: The Reunion." Sitting down in her old stomping ground, Central Perk, with an acoustic guitar slung over her shoulder, Kudrow quipped, "Yeah, don't get too excited. I haven't done this in a long time," as the audience cheered her on. Midway through the rendition, Gaga, who appeared to be cosplaying as Phoebe, appeared in the doorway to offer her services. 
"I love 'Smelly Cat'! It's one of my favorite songs. You mind if I take 'Smelly Cat' for a spin?" the pop star quipped before launching into it, earning a "not bad" from Kudrow, perhaps in a nod to when The Pretenders' Chrissie Hynde struggled to play "Smelly Cat" on the show. "Don't feel bad, it's a hard song," Phoebe memorably told her (via YouTube). 
A lively duet then ensued, with a choir joining in to fill Central Perk with song. Ben Winston, who directed and produced the reunion special, told Variety Gaga was their top choice but the ladies had very little time to prepare for the performance. "We sat there with the two guitars with Lisa and her and worked it out there and then," he recalled.