The Real Reason Jamie Foxx Changed His Name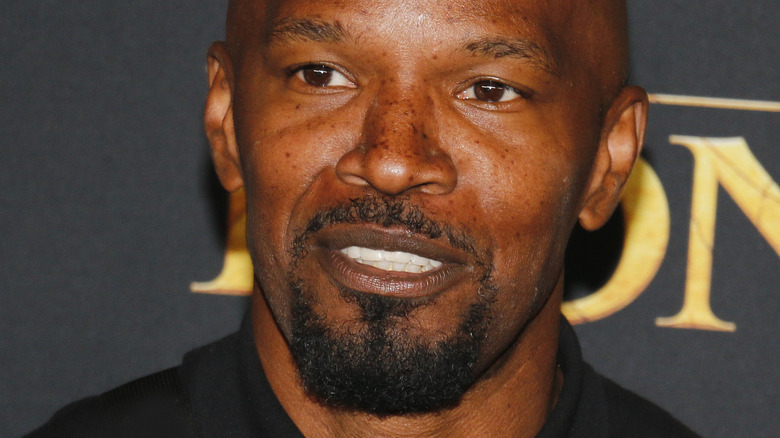 Shutterstock
Many fans are still surprised to hear that Jamie Foxx changed his name earlier in his life. That's right — the actor's real name isn't Jamie Foxx, but Eric Marlon Bishop, he revealed on "The Late Show." As it turns out, his name change was a career move.
Foxx isn't the only celebrity who took this step. Kirk Douglas, John Legend, Meg Ryan, Vin Diesel, and Charlie Sheen were all born under different names, reports People. Peter Gene Hernandez changed his name to Bruno Mars, while Olivia Cockburn became known as Olivia Wilde at the beginning of her acting career.
"Django Unchained" star Jamie Foxx decided to go under a different name in 1990, according to Texas Monthly. Back then, he performed at local comedy clubs. Soon after taking this step, Foxx got his first role in the sketch comedy TV series "In Living Color." But why did he change his name in the first place?
Jamie Foxx changed his name to land more gigs
Michael Bezjian/Getty Images
Born Eric Marlon Bishop, Jamie Foxx was the son of Darrel Bishop and Louise Annette Dixon (via Jamie Foxx News). His parents split up shortly after his birth, per Texas Monthly. The future star was raised in Terrell, Texas, by his maternal grandparents. Foxx barely knew his mother and father, but he credits his success to the support of his grandmother Esther Talley (via USA Today).
In childhood, Foxx spent his afternoons at a local Baptist church. Although he grew up poor, he was happy and dreamed of achieving success (via Texas Monthly). As he told Stephen Colbert on "The Late Show," he had a hard time getting on stage at the beginning of his career. At some point, he noticed that few comedians were women — and they would always get a spot.
The rising star started to use androgynous stage names so he would get called up earlier. He eventually chose "Jamie," a gender-neutral name, and "Foxx" as an homage to John Elroy Sanford, or Redd Foxx, his favorite stand-up comedian (via The Independent). 
The fact that Jamie Foxx changed his name was a smart career move. In the years that followed, he became famous for his performances in "Any Given Sunday," "Ray," "Django Unchained," and dozens of other films and TV shows. As he said on "The Late Show," "I've been Jamie Foxx long enough to make some money."