The Mascara That Billie Eilish Can't Live Without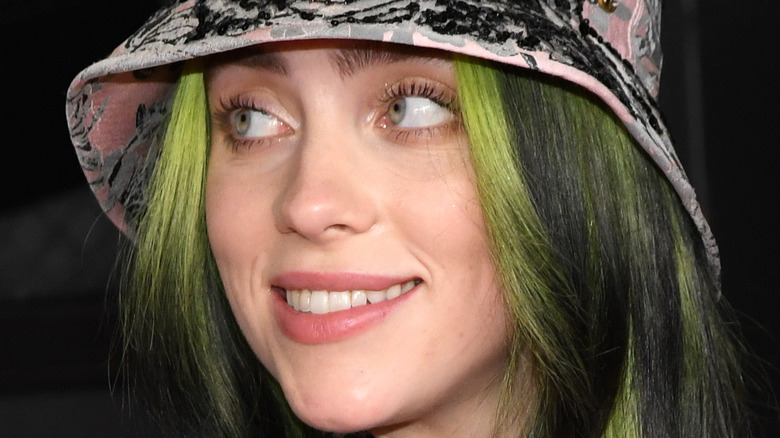 Kevin Mazur/Getty Images
If you're a fan of Billie Eilish, you know that her go-to beauty look is simple, natural, and, essentially, flawless. She can usually be seen with fresh, glowing skin, minimal eye makeup, and fluffy, natural-looking brows. Even in her recent Vogue cover shoot, in which she donned a sexy corset and ultra-glamorous hairstyle, Eilish still kept her makeup pretty minimal. Given her affinity for natural beauty looks and public veganism, it makes sense that her favorite makeup brand would have similar values.
In fact, at this year's Grammy Awards, Eilish's lashes certainly looked gorgeous in part due to the mascara she used. But her makeup artist's brilliant technique also came into play. Lucky for us, he took to Instagram to share exactly how he created Eilish's Grammys look — including the specific mascara he used to enhance Eilish's baby blues and how he kept her lashes free of clumps. As it turns out, she stunned in a full face of Milk. Get the details below.
Billie Eilish's makeup artist revevals exactly how he creates clump-free lashes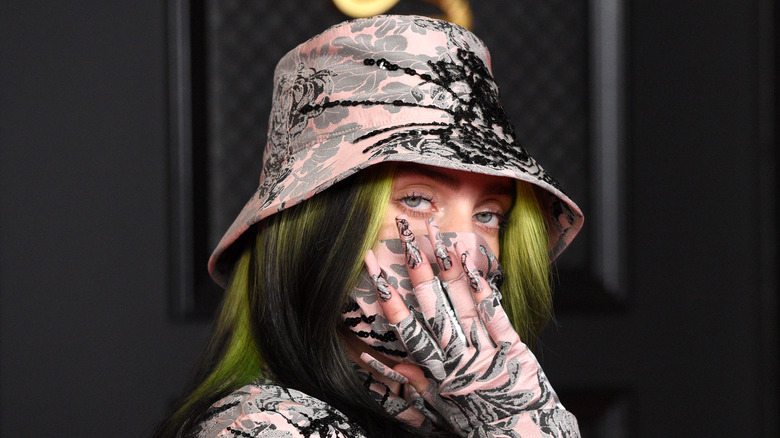 Kevin Mazur/Getty Images
If you wear makeup, you know the struggle of applying mascara without creating a clumpy mess. Thanks to Billie Eilish's makeup artist, Robert Rumsey, we now know the ultimate mascara hack for achieving long, fluttery lashes. After doing her makeup look for the 2021 Grammy Awards, Rumsey shared every single product he used on the singer, as well as some tips for application. 
In an Instagram post, Rumsey detailed exactly how he created Eilish's look. In the caption, he noted how he created the perfect lashes for the singer. He used Milk Makeup's popular Kush High Volume Mascara. "I wipe excess product off with a tissue and do two coats for a natural look," he said. It's a pretty simple trick, but clearly, it's effective. Rumsey also shared the other Milk Makeup products he used on Eilish, including their Sunshine Skin Tint, Flex Concealer (which he notes he applies with his ring finger), and Matte Cream Bronzer (Rumsey advises using the mini size for a more precise contour). 
According to the brand's website, the mascara is described as a "clean, high volume mascara formulated with unique heart-shaped fibers and conditioning hemp-derived cannabis seed oil for intense black, clump-free, fluffy lashes."