The Truth About Hannah Brown's Dating History
Shutterstock
Hannah Brown has had her fair share of relationships, both publicly and privately. The world met Brown through the spotlight of Season 23's "The Bachelor," competing for the love of Colton Underwood. But her heart was broken on national TV when Underwood revealed that no longer wanted to continue their relationship, right before the Hometown Dates (via YouTube). But before she was in the public eye, the Alabama native dated her high school sweetheart, Brandon Hall, a relationship that would continue well into her college career at the University of Alabama. After the two split, Brown then began dating Austin Williams for roughly a year, before things ultimately ended, per Us Magazine.
The world couldn't get enough of Brown, as they fell in love with her kind heart, adorable accent, and hilarious sense of humor. Indeed, she was invited to become the Season 15 lead of "The Bachelorette", which she swiftly accepted in 2019. While prospects of a future husband seemed likely due to Brown's various connections with various different men competing for her heart, she ultimately ended up standing alone in the end — but that doesn't mean she didn't accept a proposal. Indeed, Jed Wyatt got on one knee at the end of the season, which Brown accepted. But the narrative very quickly changed a few weeks after the proposal when Brown had learned from a People magazine article that Wyatt had actually been dating someone back home throughout the duration of his time on the show. Brown ultimately broke things off completely, which fans completely supported (via TV Insider).
Tyler Cameron to the rescue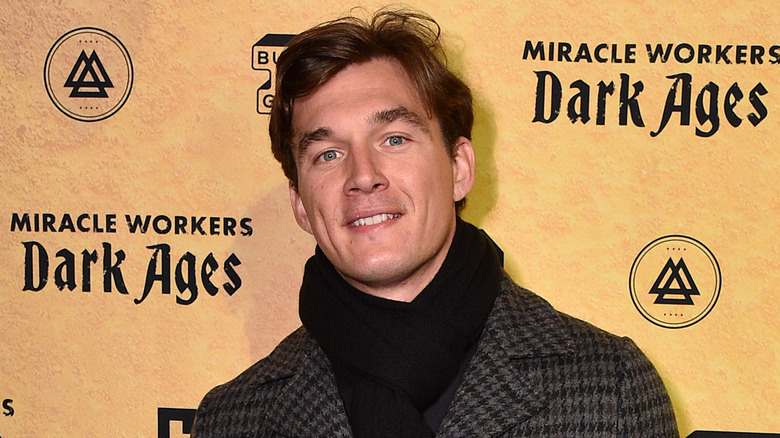 Bryan Bedder/Getty Images
After Hannah Brown's very heartbreaking, very public breakup with Jed Wyatt, she ended up turning to a familiar face: Tyler Cameron, the runner-up on her season that she ultimately turned down. The public went crazy upon hearing that Brown had asked Cameron out for a drink, and then even crazier when photos surfaced in August 2019 of him leaving her apartment one morning. Brown couldn't help gush about her relationship with Cameron, but never seemed to give it a title. Were they dating? Just friends? Who knows — but regardless, the two were incredibly fond of one another. "He constantly encourages me to lean into the strong woman that I am," she told ET. "He's a really good man, and I'm going to be his biggest fan in whatever makes him the happiest."
But then that pesky COVID-19 pandemic hit, which forced Brown and Cameron into pretty close quarters. They ended up quarantining together for two months in 2020, which led the public to question if they were dating. In an interview with Us Weekly, Cameron gave an ominous response, saying that they've "struggled" with their relationship and that they need to "learn how to be friends." In the end, however, he said that the quarantine together put them in a "better place than they've ever been in." Brown posted a video to her YouTube channel titled, "What Really Happened," in which she discussed their relationship and the happenings during quarantine. The video received nearly 2 million views.
Brown reveals she has a new boyfriend
Speaking of her YouTube channel, this space has become the hottest spot to keep up with what Brown has been up to since her "Bachelor" days. In November 2020, she posted a video called, "I'm Dating Y'all," in which she reveals that she is getting back into the dating game after many months of being single. She details some of the dates she's been on, most of which ended up failing.
Finally, in March 2021, Brown posted a Q&A answering questions about none other than her new boyfriend! His name is Adam Woolard, who allegedly has lots in common with Brown. "He's into working out, staying fit and enjoys doing a lot of sports: kickboxing, soccer, baseball, tennis — you name it," a source close to Us Weekly revealed. "He asked me out and it was a Mexican restaurant called Chulita," Brown recalled of her first date with her new man "We had margaritas." In the video, Brown shared Woolard's first impressions of her: "Effortlessly beautiful and vibrant and a little frantic, but so beautiful. Instant spark."
Brown has since posted many videos featuring her new man, including him doing her makeup, picking out her clothes, enjoying date nights, and playing Never Have I Ever. The two are simply adorable, and we couldn't be happier for Hannah Brown!