What We Know About Gwen Stefani's Surprise Party For Blake Shelton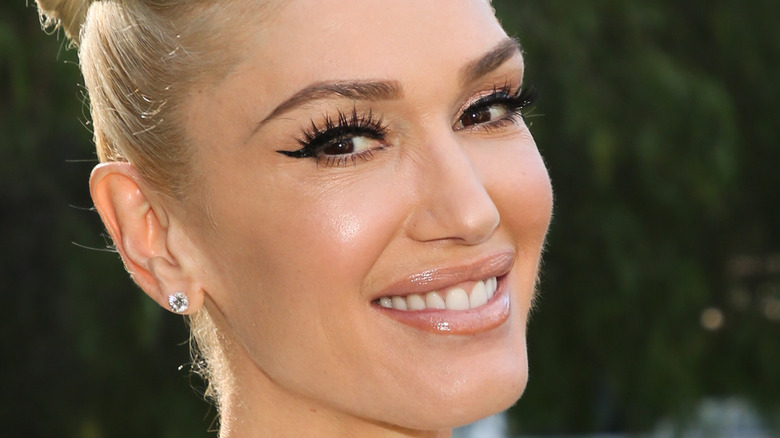 Paul Archuleta/Getty Images
Gwen Stefani and Blake Shelton are excited to get married sometime this summer. In fact, they're "ecstatic," according to People. It seems fans are just as excited to see the two say "I do," and even got their hopes up with secret wedding rumors this past week. The "Hollaback Girl" singer fueled the wedding rumors when she stepped out in Los Angeles on Tuesday wearing a diamond wedding band (via Daily Mail). However, it seems a wedding hasn't happened just yet.
The two got engaged last October, according to CMT, and have "been adamant that no wedding will happen until it's safe for family and friends to attend." As of June 15, 2021, California has reopened, according to The New York Times, which means a safe wedding can happen soon. It's been reported that Stefani "really wanted a summer wedding," and she's been planning one since the spring. But first, the happy couple had another special day to celebrate. 
Friends and family were in attendance for Blake Shelton's backyard birthday party
For Blake Shelton's 45th birthday, Gwen Stefani decided to surprise "The Voice" judge with a party in the backyard. In a video posted to Stefani's Instagram, you can see Shelton walking into the backyard as friends and family yell, "Surprise!" He's so taken aback in the video that he doesn't even realize at first that the party was for him. You can also see there is a giant balloon display that reads, "HBD 45 BLAKE." In Stefani's caption, she calls Shelton her bestie, which Carnie Wilson called out by saying, "I love that you called him your bestie." 
Stefani also celebrated Shelton by posting a few adorable throwback pics of her fiancé to her Instagram Story with "Happy Birthday, puppy" on one of them (via People). Along with the surprise video, there was also a video of a man dressed up as Superman singing "Happy Birthday," and a super sweet snap of the happy couple kissing (Page Six). If Shelton's birthday party is any indication of how the wedding will be, you can expect tons of fun and family in attendance.