Steve Irwin's Niece Raises Eyebrows With Daring Instagram Post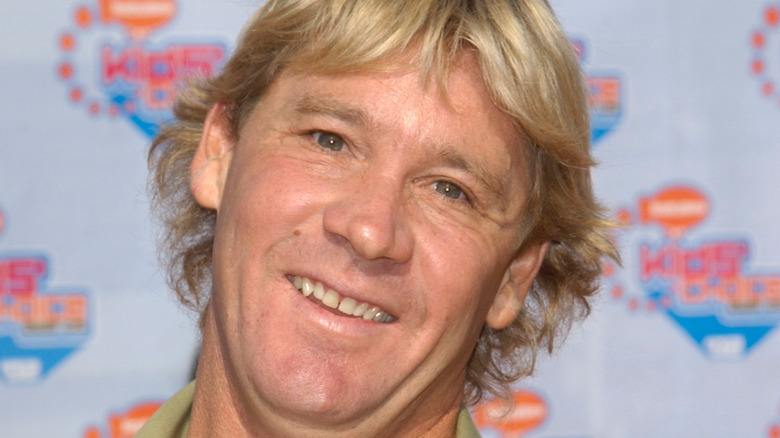 Shutterstock
The late "Crocodile Hunter" Steve Irwin was a legendary animal rights activist and conservationist, who dedicated his life to the cause and whose legacy thrives in the extended Irwin family. Wife Terri and children Bindi and Robert continue to live in and run the Australia Zoo, which Steve founded, ensuring his message is still heard. However, when it comes to niece Rebecca Lobie, her focus isn't necessarily on conservation efforts or the natural world. As Heavy notes, Lobie is a popular influencer.
Her Instagram page is hundreds of thousands of followers strong, peppered with sponsorship deals based around Lobie's twin passions of health and fitness. Her father is married to Steve's sister, Joy. Lobie previously worked at the zoo but the extended Irwin family fell out after he passed away. The mother of two is no longer close with Bindi, whom she worked with at one stage, either. Meanwhile, Lobie's raunchy social media posts consistently court controversy. The latest is no exception. 
Rebecca Lobie diverted attention away from family drama
Amidst an ongoing, and very public, family feud Rebecca Lobie took to Instagram to let fans know she was staying firmly out of it. The social media influencer took a selfie in front of the mirror in a red tartan skirt and cropped T-shirt proudly proclaiming she was going bra-less. "Just here minding my own business," the caption hilariously read. As the Daily Mail reports, the move comes after Lobie's cousin, Bindi Irwin, revealed the extent of the strained relationships within their family. Opening up about being estranged from her grandfather, Irwin revealed he "has shown no interest in spending time with me or my family" and has in fact ignored the conservationist for most of her life. "He has never said a single kind word to me personally. It breaks my heart," Irwin revealed.
Evidently, her cousin isn't getting involved with the drama. Lobie has plenty of her own to deal with anyway, with Heavy noting she previously took aim at social media trolls shaming her for posting sexy shots. "To all the people that think it's ok to post mean comments about me or worse my family IT'S NOT," she reportedly wrote in an Instagram Story. Lobie added, "Stop being Bullies," advising haters, "If you don't like me or my insta don't go on it" before thanking fans for their support.