Hailey Bieber Finally Responds Following Viral Video Drama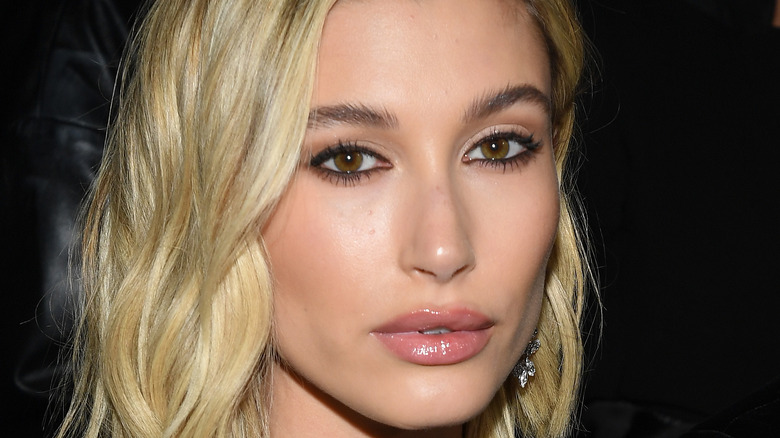 Pascal Le Segretain/Getty Images
Hailey and Justin Bieber have been open about the ups and downs of their relationship from the get-go, and ever since the young lovebirds tied the knot in a courtroom ceremony in September 2018, their marriage has truly been at the forefront of the tabloids. In an interview with Elle in March, Hailey got candid about marrying Justin at a very young age, telling the outlet, "I mean, I was married when I was 21, two months before I turned 22, which is insanely young. And sounds almost ridiculous when you say it out loud. Although I do think for somebody like me and somebody like Justin, [it's different]. We've seen a lot for our age. We have both lived enough life to know that's what we wanted."
"Do we have little fights and stuff that we have to work through sometimes?" the blonde bombshell continued. "Yeah, of course, but it really doesn't ever feel like work, because I love him so much. I see forever with him. I think any relationship can fail, Hollywood or not. Is it harder in the public eye? Absolutely ... I'm not saying it's this easy-peasy thing that doesn't take work. We talk to a therapist. We do what we have to do."
While it's no secret that marriage takes work, fans of the couple were taken aback after a video of Justin seemingly screaming at Hailey in Las Vegas made the rounds, and now, Mrs. Bieber is finally addressing the drama.
Hailey Bieber broke her silence days after the 'dramatic' video surfaced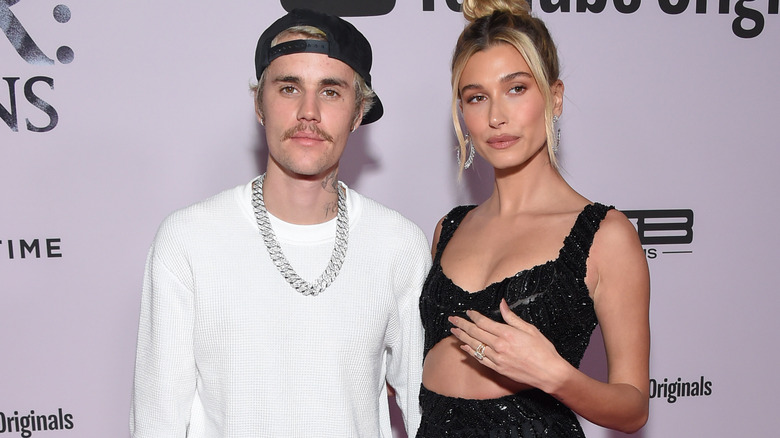 Shutterstock
Hailey and Justin Bieber, who were in Las Vegas along with a slew of other celebs for the big fight between Conor McGregor and Dustin Poirier, had fans worried after a video of Justin seemingly screaming at Hailey while they were walking through the casinos started making the rounds online. And while many social media users believed that the video was a sign that there may be trouble in paradise for the couple — who have openly spoken about the struggles of getting married — one social media user tried to set the record straight, tweeting, "He was not yelling and we were there to witness what went down. He was all adrenaline. It doesn't matter how the f*** it 'appears' to you. Don't spread false information on someone especially when you acknowledge that's just what it appears to you. That's defamation of character."
And although some Twitter users were still debating about the contents of the video days after it circulated on social media, Hailey herself seemingly set the record straight about the weekend in question. "Reminiscing on how amazing last weekend was. Had the best time surrounded by so much love," she captioned a sweet snap of her and Justin on her Instagram Story (via Daily Mail). "Any other narrative floating around is beyond false. Don't feed into the negative bulls*** peeps."
Justin Bieber's fans showed their support for him after the video surfaced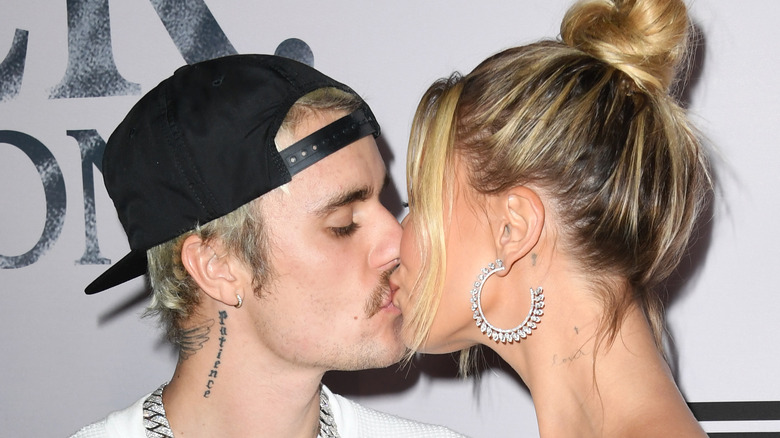 Jon Kopaloff/Getty Images
It shouldn't come as a surprise that the majority of Justin Bieber's fans defended the "Love Yourself" singer after the short video circulated on social media, with one fan writing, "But seriously let those two live, I see too many videos comparing Hailey to his ex, to saying he is mistreating her, she is old enough, she doesn't need the whole internet to speak for her. Let those two live they are married," while another chimed in with, "literally people who were standing beside him said that he was just excited and talking about the show (it was his first performance infront [sic] of a live audiences in years, so he was really happy) and people wanted to twist it."
The video drama comes a few weeks after another video of the Biebs made the rounds, in which he confronted fans waiting outside his New York City apartment. "I hear you, I hear you. But this is my home. You know what I mean? This is where I live and I don't appreciate you guys being here. You know when you come home at the end of the night, and you want to relax? This is my space to do that," the "What Do You Mean" singer told the crowd (via Page Six), adding, "So I would appreciate it if you guys could leave."