Harry And Meghan Reportedly Want This For Lilibet's Future Christening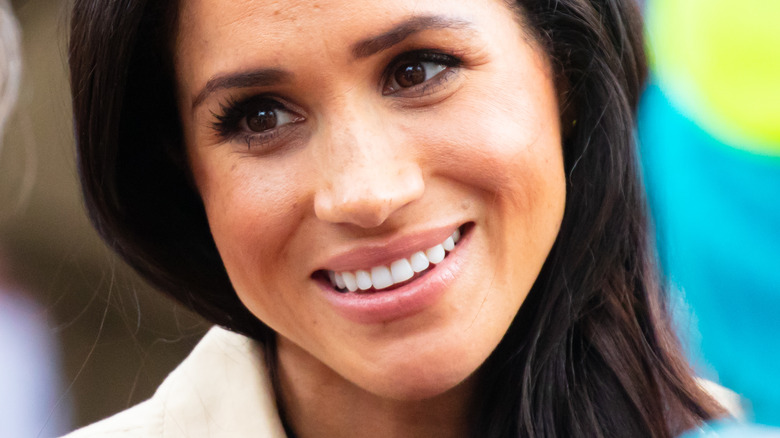 Shutterstock
Prince Harry and Meghan Markle have made it clear to their families — and the world — that they're determined to live their lives on their own terms. From their break with palace duties to the infamous Oprah interview (and all the interviews that followed), the Duke and Duchess of Sussex have set aside conventional royal life in favor of a (relatively) private one as (relatively) ordinary folks. But it seems that the couple may be upholding one particular royal tradition — for a very special reason.
As members of the Church of England, the Sussexes are expected to hold a christening ceremony for their new daughter, Lilibet Diana, just as they did for son Archie Harrison. It was widely thought that the christening would take place in California, where Harry and Meghan have set down roots. However, an inside source told the Daily Mail that the couple wants to have Lilibet baptized at Windsor Castle after all. "Harry told several people that they want to have Lili christened at Windsor, just like her brother," the unnamed source said. "They are happy to wait until circumstances allow."
That wait might take a while; as of mid-July, England was still enforcing COVID-19 protections such as quarantine for international travelers, wearing face coverings in public areas, limiting the size of social gatherings, and encouraging working from home whenever possible (via the HM Government website).
Harry and Meghan are said to want an honored guest at the christening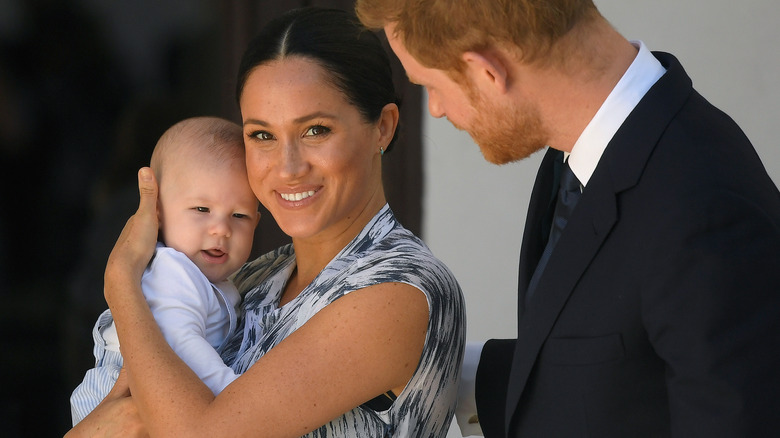 Pool/Getty Images
Reportedly, the Sussexes are willing to make the long trip to the U.K. so that Queen Elizabeth can be there in person to see her great-granddaughter christened. Despite the chilly relations between Harry and many of his family members, the prince is reportedly still very close to his granny. In fact, sources told People that the queen was one of the first people to meet little Lili (via a video call) after her birth. 
If the family does opt for a palace christening, it would no doubt take place at St. George's Chapel in Windsor Palace. The beautiful chapel has been used for a number of royal events, including the weddings of Prince Edward, Princess Eugenie, and Harry and Meghan themselves. Harry was also christened at St. George's, as was son Archie in 2019 (via St. George's website).
Having the ceremony in England would also allow Lilibet the honor of wearing the christening gown that has been used for every royal baby since 2004; it's an exact replica of the ceremonial lace dress that had been worn by the family for 163 years. If Harry and Meghan opt for a California ceremony after all, the palace probably wouldn't go to the risk and expense of shipping the gown overseas (via the Daily Express).
Lilibet Diana can't claim this honor until after she's christened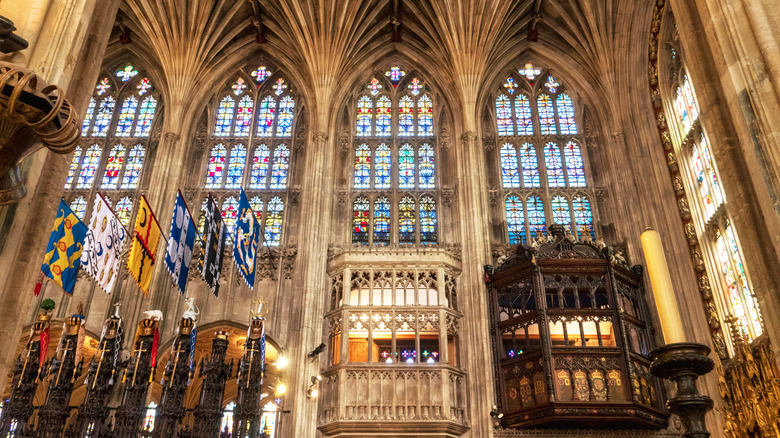 Shutterstock
A royal christening would offer another opportunity for Harry to mend fences with dad Prince Charles and brother Prince William, who are reportedly the ones most hurt by Harry's statements about the family and about palace life. It might also open the door for better relations between Markle and her sister-in-law, Catherine, Duchess of Cambridge. Certainly, all eyes would be on the royals for any sign of tension or affection, and the christening would make tabloid headlines for weeks.
On the other hand, that very scrutiny might deter the Sussexes from having the baptism at St. George's. Royal watchers have noted that the new parents have yet to release any photos of little Lili, who's now more than a month old (via News.com.au), and even their most recent pictures of Archie show him from the rear. Having a ceremony in California would give them more privacy, even if it meant missing out on introducing Lilibet to her extended family. 
Whatever the venue, the christening will be significant in more ways than one. It formalizes Lilibet's entry not just into the church, but into the royal family itself. Per the official royals website, Lilibet has not yet been added to the line of succession. The Daily Mail reports that it is "understood" that she will be given her spot as eighth in line once she is christened.