How Super Dad Taylor Calmus Got Involved With Chip And Joanna Gaines - Exclusive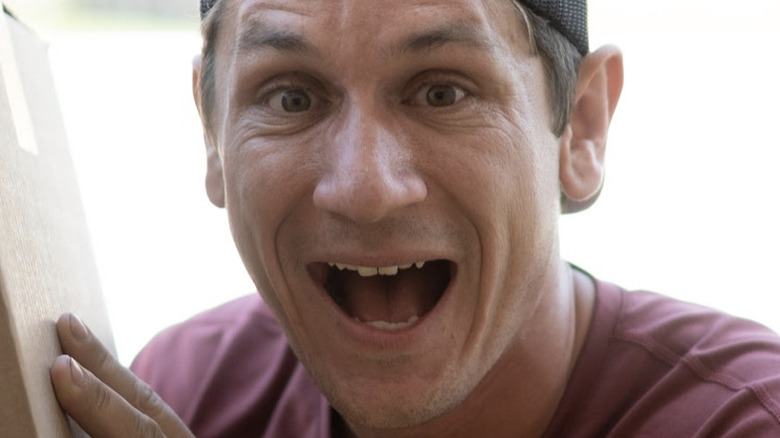 Courtesy of Magnolia Network
When we were kids, one of the best days of the week had to be Saturday. Not because of no school or sleeping in — although both were perks — but mostly because it was a chance to hang out with dad, the guy in our lives who always seemed to be mowing the grass, fixing things that weren't broken to begin with, and letting us get away with things our moms would never let happen. Taylor Calmus, a dad to young kids and a handy guy to boot, realized fairly quickly that being a father presented a world of possibilities. With creativity in one hand and a very solid understanding of construction on the other, he set off to create some wacky and amazing creations for his kids.
Calmus, who has a background in the entertainment industry, recognized that the things he was creating for his kids — including Rube Goldberg machines and picnic tables that could float (almost) — could appeal to the masses. He started a YouTube channel, Dude Dad, and thus launched his career as a Mr. Fix It with a great on-screen persona. With all that said, chances are you're not super surprised that Calmus is one of the latest creators joining powerhouse couple Chip and Joanna Gaines on their new network, the Magnolia Network. Calmus' show, "Super Dad," follows Calmus as he helps other dads engage with their kids through crazy constructions. But how did Calmus join forces with Chip and Jo, and what led the power couple to put their weight behind Calmus' on-screen career?
This charitable cause brought Taylor Calmus and Chip Gaines together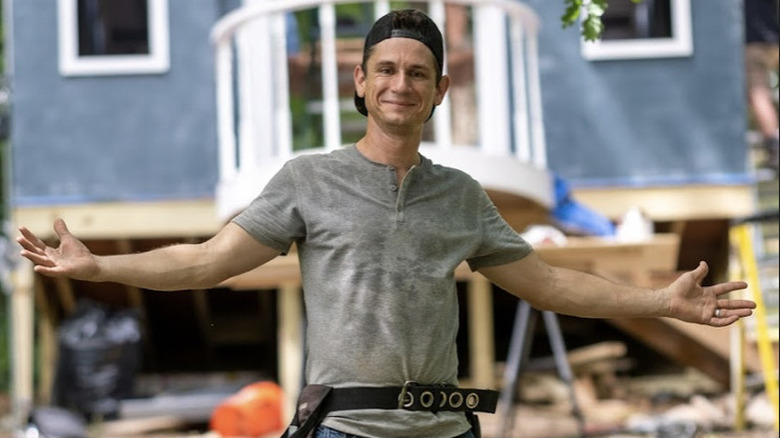 Courtesy of Magnolia Network
The launch of the Magnolia Network is something that we home improvement show fanatics have been dreaming about, and when we got the chance to sit down with "Super Dad" star Taylor Calmus for an exclusive interview, we had to ask what it was like for him to get involved with everyone's favorite reno couple, Chip and Joanna Gaines. Calmus revealed that after about three years of him making and uploading his own content to YouTube under the "Dude Dad" name, he came up with the idea to "challenge Chip" to a competition. This was not just any competition, however, but a playhouse building contest where all the proceeds went to St. Jude Children's Hospital. Talk about a heartwarming cause. 
Calmus told The List that he had been a fan of Chip and Jo for years, and that he was always taken by the work they did on "Fixer Upper," so challenging Chip for such a worthy cause seemed like a great idea. "I saw [Chip] and Joanna and all the similarities between them and me and my wife — a very kind of straight-laced mom and then the goofy dad who likes to build things," Calmus said. "And I was like, 'Oh, cool. This could be an opportunity ... It would be really fun to work with them.'" With that in mind, Calmus put the challenge together, and Chip accepted. Together, the pair raised $1.5 million for St. Jude.
One moment shared with the entrepreneurs changed Taylor Calmus' life on screen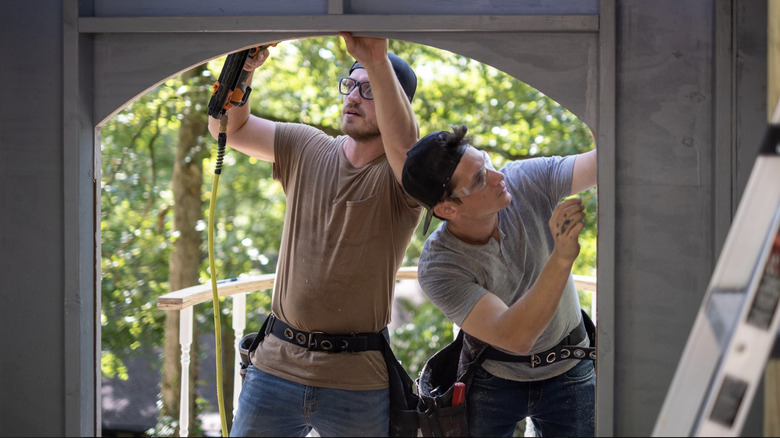 Courtesy of Magnolia Network
By getting involved with the couple for such a good cause, Calmus found himself in an amazing position — he was poised to star in his own television show. 
As Calmus told The List, the Magnolia Network wasn't even a thing when he initially asked Chip to compete in his challenge. By the time their head-to-head construction came to fruition, the network was in its infancy. "I caught wind that they were getting their own network and I was like, 'Oh, this could be really cool,'" Calmus said. Thinking to himself that he was just putting himself "in front of" Chip and Jo to see what could happen, Calmus found himself in an amazing position. 
"It was at St. Jude that Chip pulled me aside into this little room with Joanna and my wife and a couple of their production people," Calmus shared with The List. "And he was like, 'Did anybody tell you yet? ... I'm going to make you famous. I'm going to put you on TV.'" And just like that, Calmus was involved with one of television's most influential couples. Bringing his skillset from "Dude Dad" and his heartwarming personality to the screen, it's no wonder that Chip and Jo wanted to share Calmus with the world.
Magnolia Network's slate of original programming launched July 15 on discovery+ and inside the Magnolia app.