What Does Carrie Underwood And Jason Aldean's If I Didn't Love You Mean?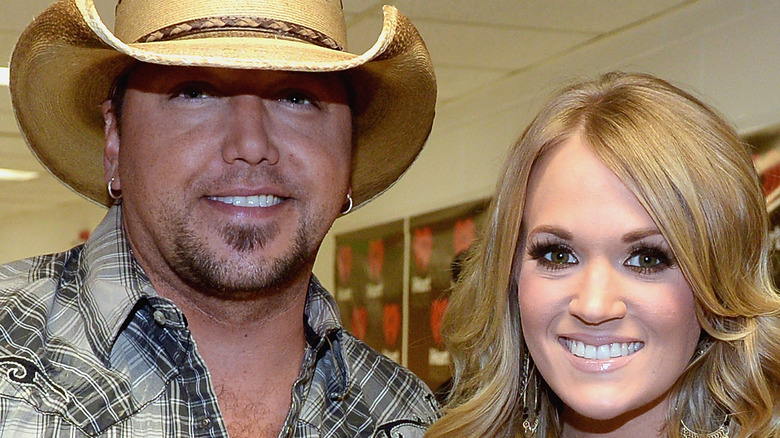 Rick Diamond/Getty Images
While Carrie Underwood is country music's golden girl, with 27 No. 1 singles and seven platinum albums (via U Music), the Grammy Award winner just seems to make every song better. Lending her voice to Brad Paisley's gorgeous "Remind Me" and John Legend's prayer-filled "Hallelujah," the country songstress has even jumped on unexpected tracks like David Bisbal's Spanish-English "Tears of Gold" and the uptempo "The Fighter" with Keith Urban. In short: Underwood knows how to make a good song that much better with her sparkly, pitch-perfect vocals, and her new collaboration on "If I Didn't Love You" with Jason Aldean is no exception.
Jason Aldean is another country mega-hit maker, with his 2009 album "Wide Open" establishing him as a bonafide star, followed by countless platinum hits and country chart No. 1's (via All Music). A multiple-time ACM award winner, Aldean is known for anthems like "She's Country," "Burnin' It Down," and more recently, "You Make It Easy," which he dedicated to wife Brittany Kerr (via Wide Open Country). 
After a divorce scandal with ex-wife Jessica Ussery back in 2013, with allegations that Aldean cheated on her with current wife Brittany, the country star eventually married Brittany in 2015 (via Distractify). Telling the "Velvet Edge" podcast that he "wouldn't change the outcome of it at all," it's clear from several Instagram posts that Aldean and his wife are head-over-heels in love. So it only makes sense that Aldean and Underwood's "If I Didn't Love You" could be inspired by real-life feelings.
The meaning behind If I Didn't Love You is a heartwarming ballad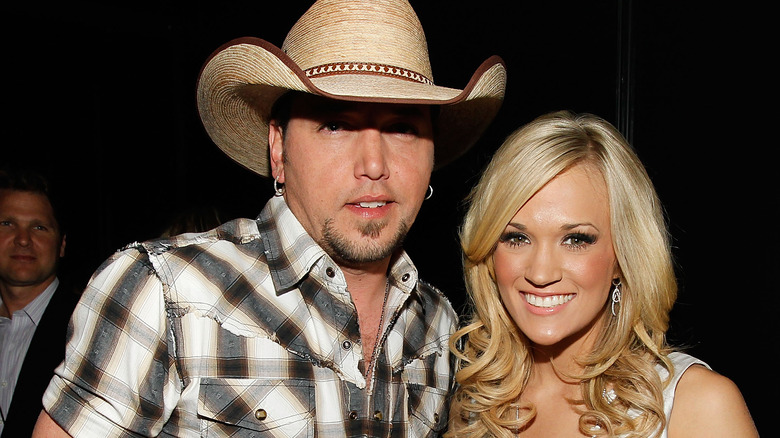 Christopher Polk/Getty Images
"If I Didn't Love You" is an emotional, powerful ballad that's all about heartbreak. As Taste of Country puts it, this mid-tempo track is about how "both sides of this former relationship are having trouble moving on — because each still loves the other." Describing two people who just can't imagine living without one another, this song starts out with a verse that depicts the things they could do if they weren't so heartbroken. Aldean sings, "I wouldn't mind being alone / I wouldn't keep checking my phone / Wouldn't take the long way home/ Just to drive myself crazy" (via Genius). Singing about "losing sleep," "remembering everything," and reminiscing on that person's words, it's clear the George-born crooner's track is meant to evoke a heart-wrenching, unwanted breakup.
In a press statement, Aldean described how this song came at last minute, written by his longtime songwriters. "We were pretty close to finishing up this album, but this song came in and we knew we had to record it" (via American Songwriter). Quickly connecting to the song's meaning, the country star said that "it's a really special song to start this album." In fact, after the first verse, Aldean's ties to the song become even clearer, singing with deep emotion: "you wouldn't be all, all that I want." So much so, that we can't help but think if he was channeling his love for wife Brittany while he recorded it – we can only wonder!
The duo pulled up real-life inspiration for the track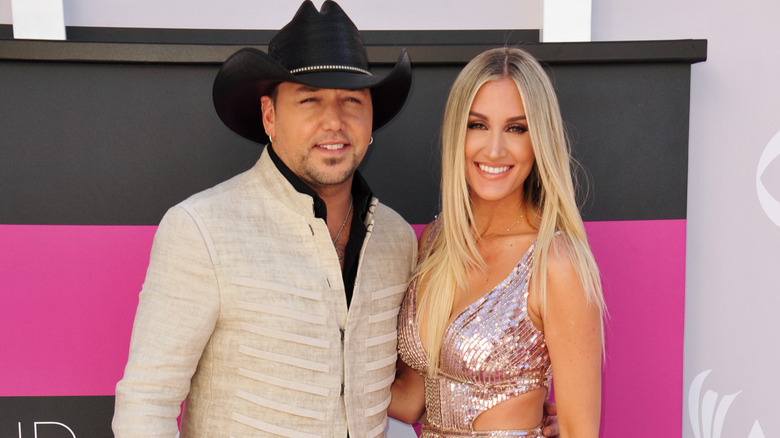 Shutterstock
Once Aldean recorded the track, his first choice for a collaborator was country-queen Carrie Underwood. And it sure worked out as he noted "Luckily she loved the song and it was kind of like a rocket from there" (via American Songwriter). 
The songstress enters "If I Didn't Love You" by the chorus, singing, "If I didn't love you I'd be good by now/ I'd be better than barely, getting by somehow/ Yeah, it would be easy not to miss you/ Wonder about who's with you" (via Genius). The duo describes how it's impossible to "turn the want you off," if only they "didn't love" that person. As Aldean explains, Carrie "made it sound even better than what we expected," giving this "heart-torn" piano ballad a passionate emphasis.
While Underwood has been smooth-sailing with ice hockey player hubby Mike Fisher since meeting backstage at a concert in 2008 (via Country Living), we can imagine she also channeled her real-life love into the track. In a lyric video that shows Carrie and Jason passionately singing their new ballad, it's clear there's tons of true-to-life emotion here. Even then, Aldean's whirlwind romance with wife Brittany has definitely been far more controversial, and difficult. In 2015, Brittany said, "we've been through so much, and we always wanted this to be the outcome... that we get to spend the rest of our lives together is... breathtaking" (via Distractify). There's no doubt Aldean channeled almost losing his now-wife into the track, and the emotion shines through!