Inside A Day In The Life Of Taylor Calmus' Magnolia Show - Exclusive
If you're anything like us, you've been consuming all things Magnolia Network since July 15, 2021. When the channel dropped on the discovery+ streaming service, it was as if the world stopped (in a good way), and all we've been doing is watching home improvement, renovation, and gardening shows. Of course, anything that Chip and Joanna Gaines get their hands on is bound to be amazing, and that certainly applies to breakout star Taylor Calmus' new show, "Super Dad."  Stemmed from Calmus' popular YouTube channel, "Dude Dad," "Super Dad" follows construction enthusiast and father Calmus as he helps fellow dads create amazing projects for their kids.  
Whenever we watch a show — whether it's "Fixer Upper: Welcome Home," "Restoration Road," or "Super Dad" — we're always wondering what it takes to make the program leap off the screen in such a lively way. "Super Dad" is all about connecting with families, and so when The List got the chance to sit down with Calmus for an exclusive interview, we had to ask him about the filming experience. Of course, there's a lot that goes on behind the scenes when it comes to production, marketing, setting to stream, and all the nuts and bolts, but what did a day on set look like for Calmus? How was he involved and what did he learn from his experience? We asked all the questions so you can get all the answers. This is inside a day in the life of Taylor Calmus' Magnolia show, "Super Dad."
Taylor Calmus wears a lot of different hats while filming Super Dad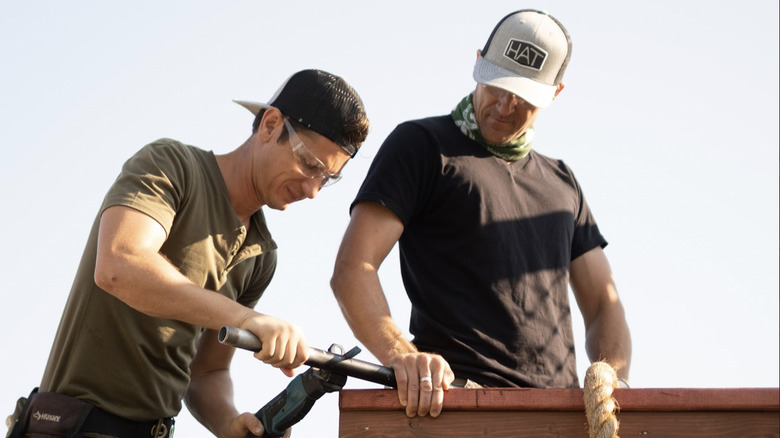 Courtesy of Magnolia Network
First and foremost, "Super Dad" had a "really small, tight crew," described by Taylor Calmus as "the best." It was certainly an "all hands on deck" situation to get the show up and running, and Calmus gave a ton of credit to the production team and carpenters who were on hand and stepped up to the plate. Shouting out the show runner as well, Calmus made a point of highlighting just how much "Super Dad" was a group effort. 
As for Calmus himself, he wore a number of hats while on set to ensure that "Super Dad" was as successful as possible. Despite uncontrollable aspects — such as rain three out of the five days of a week on set — Calmus did everything he could to serve as everyone from "host, to carpenter, to designer, to producer." 
"We only had a few builders, so it wasn't like I could just stand back and not actually do any work," Calmus shared about the experience. "But that was something that was important to me too, that if I'm going to be on camera working, I want to make sure that I'm putting in as much time as I can." While he conceded that he couldn't do everything, Calmus said that "lots of sweat equity" went into every project on "Super Dad."
This is what Taylor Calmus told every dad featured on his Magnolia show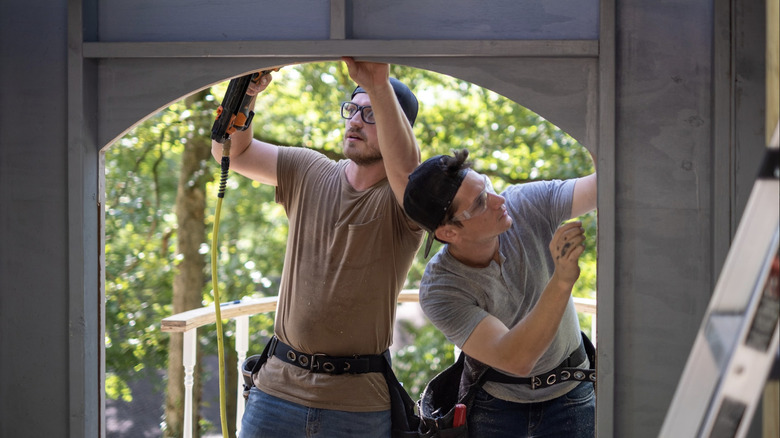 Courtesy of Magnolia Network
When you flip through DIY and home improvement shows and see a host wearing a tool belt that looks brand new, you can pretty much tell right away that she or he doesn't get their hands dirty. That is certainly not the case for Taylor Calmus, who alongside different fathers featured during his show "Super Dad," put together some pretty incredible projects. In his sit-down with The List, Calmus shared that not only did he get as involved as he could in multiple aspects of the show, but he worked hard to motivate every dad during each episode. 
In his dedicated attempt to keep the show as "authentic as possible," Calmus revealed that he took it upon himself to inspire the dads to do the best they could for their own kids. "One of my main jobs that I put on myself is making sure that the dad also puts in a ton of sweat equity on every project," Calmus said. "And I tell them that on camera, and then off camera I'm like, 'No, seriously ... you're going to work hard. You're going to have to do a bunch of this because we need you and it's yours.'" Calmus shared that viewers will see him "drenched in sweat" pretty much throughout the whole show, but that authenticity is one of the many reasons we tune in.
Magnolia Network's slate of original programming launched July 15 on discovery+ and inside the Magnolia app.