The Best Blue Shampoos For Brunettes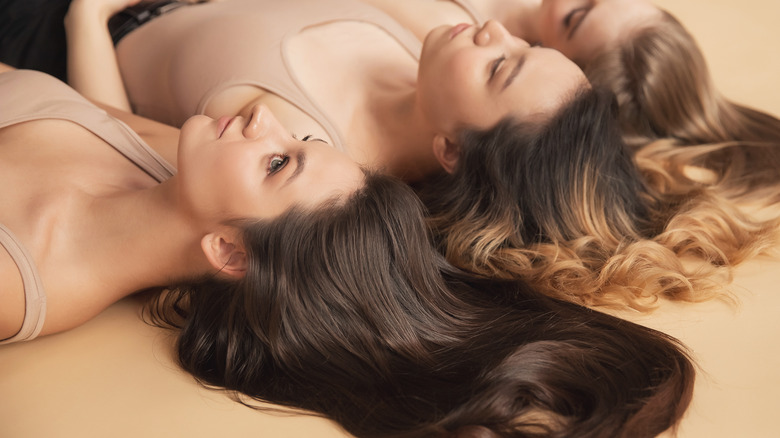 Shutterstock
Brunette hair seems like a low-maintenance hair color. And while it is relatively easier to care for when compared to pink hair or platinum blond hair, brunette hair is not impervious to the elements. According to the New Look Institute, brunette hair can especially be affected by chlorine in swimming pools. Because chlorine can strip away the sebum that coats hair strands, it can leave hair dry, frizzy, and dull. For brunettes, that means chlorine can cause your rich brown hair to become washed out and suffer from a green cast. Lighter brunette hair can also be more susceptible to sun damage as there's less melanin, per Color Wow.
Luckily, there is a simple solution for brunettes who are dealing with dullness or washed out color: blue shampoo. Based on color theory, blue shampoo helps neutralize orange (via Marie Claire). While brown hair is a combination of every color, red and orange tones primarily make up the base color. That's why brunette hair can look ruddy or brassy after being color-treated or going through damage, per Refinery29. Jaxcee, color director at Hair Rules, told Refinery29, "Dark hair has lots of natural red tones, so when you strip it there's a lot of warmth underneath." So the theory behind blue shampoos is that the blue pigment can help neutralize this brassiness and restore your brown hair to a bolder brunette.
Blue shampoos that are tried and tested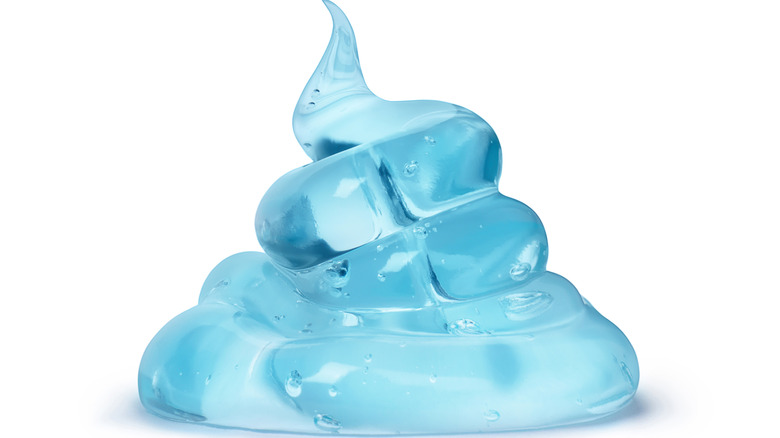 Shutterstock
When you think of color-reviving shampoos, you might instantly think of John Frieda. John Frieda's Brilliant Brunette line was a 2000s cult-favorite at the drugstore that helped revive dull hair. Now John Frieda has a blue shampoo called Blue Crush for Brunettes. The shampoo features crushed blue pigments to help "neutralize stubborn orange tones for cooler, brighter brunette." So if you are new to color-correcting shampoos, this John Frieda product might just be your best bet (via Harper's Bazaar).
For those who like natural products, you might want to splurge on the Aveda Blue Malva Shampoo, which contains the blue malva herb (and naturally blue pigments). But if you want an affordable option that is under $10, and available at Walmart, try the Not Your Mother's Triple Threat Brunette Blue Treatment Shampoo which contains blue tansy oil and pigments. One of the longest-lasting options is Redken Brownlights Blue Toning Sulfate-Free Shampoo. The color-depositing system works over time to restore and retain your vivid brunette color. The good news is that it makes your hair care regimen more manageable, too.
Blue shampoos for color-treated or damaged hair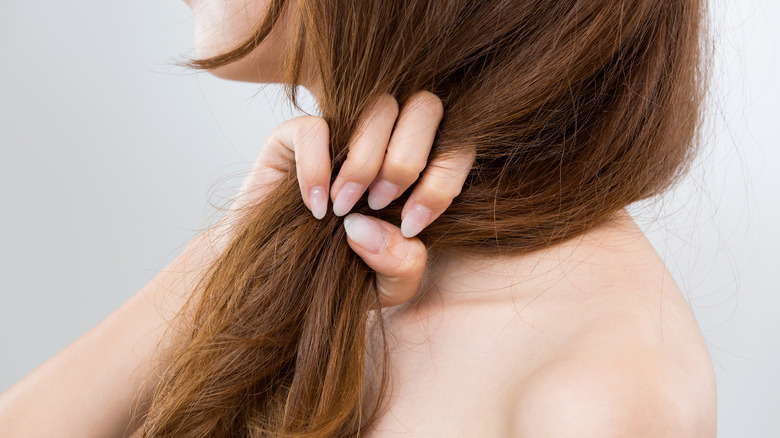 Shutterstock
If you have brunette hair with color-treated strands, The Perfect Brunette Toning Shampoo by Pravana may just be a life-saver. The toning shampoo will brighten every color in your hair, whether you have a hot pink balayage or a purple ombre. For those who lighten their brunette hair, Matrix Total Results Brass Off Shampoo can help keep your caramel highlights from going brassy. Hair that needs serious color correction can benefit from Fanola No Orange Shampoo. The shampoo packs a vivid blue pigment that will immediately cancel majorly orange hair. 
Oligo Professionnel Blacklight Blue Shampoo works great on damaged hair due to the argan oil and 11 amino acids in the formula. If you have naturally light-brown hair, then brassiness may especially be a problem for you this summer. The Cool Brunette Shampoo by dpHUE uses silk proteins and hibiscus extract to specifically target orange and red undertones in lighter brown hair that leads to washed-out color. To treat dullness and restore shine to your hair, Joico Color Balance Blue Shampoo will add a glossy finish to your hair with rosehip oil for results that will last roughly three months (via Marie Claire).