The A-Lister Who Almost Starred In The Mighty Ducks
The "Mighty Ducks" trilogy is one of most beloved kid's sports movies of all time, and for good reason. From the quirky rag-tag group of characters that make up the championship-winning team to the funny one-liners, mischievous high jinks, and inspiring come-from-behind victories, "The Mighty Ducks" has been a fan-favorite ever since the first installment of the film series premiered in 1992.
Additionally, "The Mighty Ducks" helped propel some of the actors' careers forward, including stars like Joshua Jackson, who went on to famously star in "Dawson's Creek," "Fringe," "The Affair," and "Little Fires Everywhere" (via IMDb); Keenan Thompson, who is the longest-running "Saturday Night Live" cast member of all time (via Deadline); Elden Henson, who's had roles in "Castaway," "The Butterfly Effect," "Lords of Dogtown," "The Defenders," and "Daredevil" (via IMDb); and of course, Emilio Estevez, who recently reprised his role of Gordon Bombay in Disney Plus' reboot series, "Mighty Ducks: Game Changers," which also stars "Parenthood" alum Lauren Graham.
While the cast of "The Mighty Ducks" remains one of the most iconic ensembles in Disney sports movies to date, one award-winning, Oscar-nominated actor almost starred alongside Jackson, Thompson, Estevez, and the rest of the brood — but missed out on the audition for a very relatable reason.
Jake Gyllenhaal's missed opportunity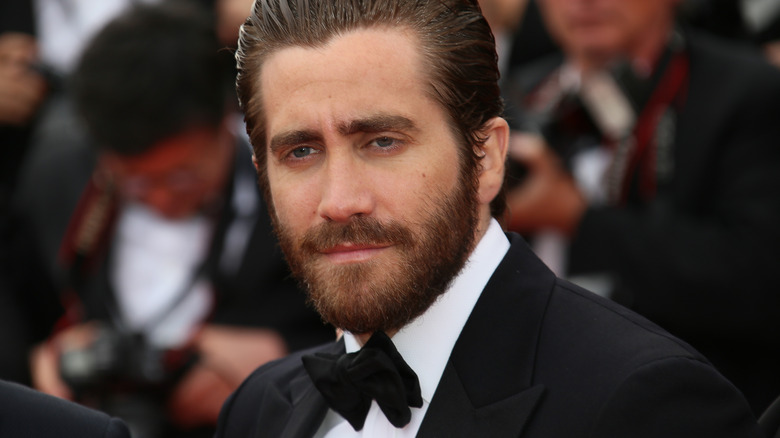 Shutterstock
During an appearance on Bravo's "Inside the Actors Studio," Jake Gyllenhaal revealed that he could've been one of the stars of "The Mighty Ducks" — if it weren't for his parents telling him he had to miss the audition because of school. "I remember them saying, 'No.' That I was applying to junior high schools and that I had to apply," Gyllenhaal revealed to host James Lipton (via ET). "I remember crying on the kitchen counter, telling them that I hated them." Gyllenhaal then turned to his mom, who was in the audience, and added, "'Mighty Ducks' is a good movie. But ... whatever."
Although Gyllenhaal didn't get the chance to star in the iconic hockey trilogy, his career took off years later when he starred in the 1999 hit "October Sky," following up with a stunning performance in 2001's cult classic, genre-bending sci-fi drama "Donnie Darko" (via IMDb). From there, Gyllenhaal skyrocketed to A-list fame, appearing in "Brokeback Mountain" opposite the late Heath Ledger, which earned him his first-ever Oscar nomination (via Indiewire); "Zodiac;" "Love & Other Drugs;" "Nightcrawler;" "Everest;" and "Spider-Man: Far From Home." He's even dabbled in Broadway, something that he's always loved and felt confident about from a young age.
"I do love acting in movies and I have had great luck, but really I feel at home when I'm acting and singing simultaneously," he said (via Project Casting). "It's been that way since I was very young."