The Leggings You Can Wear To The Office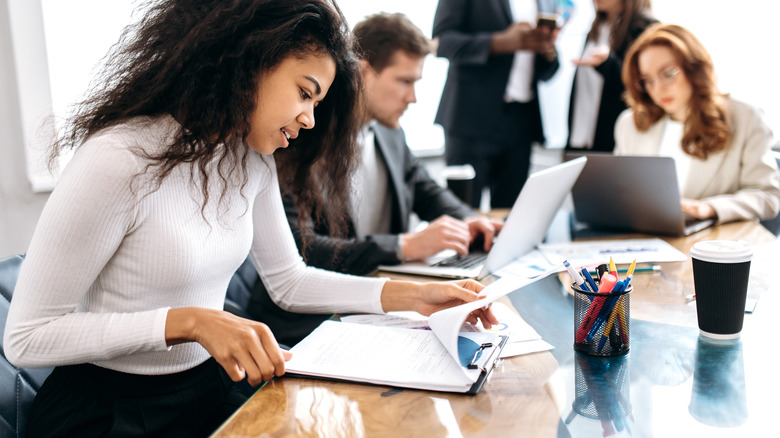 Shutterstock
With the world trying to reopen once again and part of the labor force returning to the office after what feels like forever, people are starting to loathe the idea of getting dressed up again for work. For the last year and a half, we've all been working from home, mostly rocking sweatpants and pajamas from the waist down. I mean, who needs to be wearing suit pants when your boss can only see your blouse on Zoom, am I right?
Now, with the return to the office coming upon us all, there is no better time to invest in some work clothing that is both professional and comfortable. Without a doubt, leggings are the best way to do this (via InStyle). Not only are they super comfy, they're also versatile and can be styled in so many ways, your boss will never know they're really just spandex gym pants. 
Leggings are perfect for all seasons, as long as you style them right. For the winter, you can go with an oversized sweater and boots. In the summer, you can pair them with a sleeveless blouse and pumps. In the fall, go for a chic blazer up top and some heeled booties. And, in the spring, you can grab a wrap tie, T-shirt blouse, and flats. Seriously, leggings are incredible for every occasion.
But, in order to rock them in the workplace, you have to be sure you get the right ones.
The best leggings to rock in the office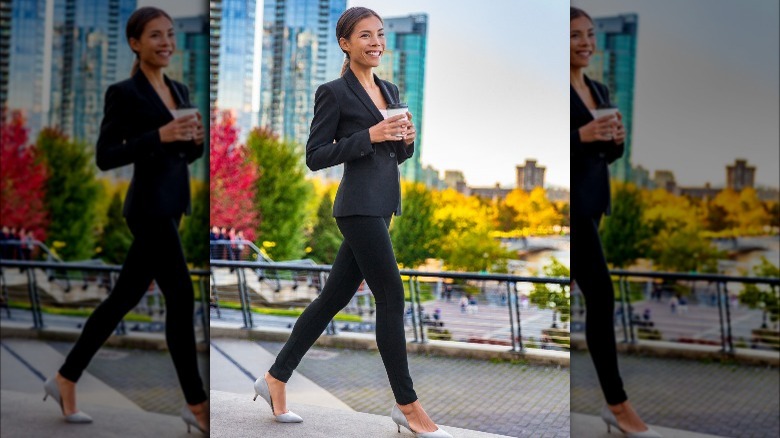 Shutterstock
When it comes to leggings you can wear to the office, the choices are varied. From leggings you can wear to a meeting or for a presentation to leggings that will look (and more importantly, fit) right for Casual Fridays — which may be more common and expanded to Mondays, Tuesdays, etc., now that dress codes are getting an update, too, post-pandemic. 
First up, you are definitely going to want to invest in these Velvet Kick Crop Leggings from The Loft. The crop style gives it a bit more flair than your average pair of leggings and the fact that they're velvet brings them up an entire class in itself. Cropped leggings look amazing with a tucked in, sleeveless blouse and a pair of chic pumps.
In addition, Uniqlo's Denim Cropped Leggings are perfect for when you want to throw on jeans but also don't want to throw on jeans. These denim leggings look just as good as jeans, but give you that stretch we all know and love. They're made of 100% cotton, so they look like denim but they really just stretch out like your favorite PJ pants. 
And, for an easy pair of black leggings that will get the job done, grab a pair of A New Day's High Waist Pointe Leggings from Target. These leggings are affordable and comfortable, plus they are totally easy to throw together with any look. Dress it up with a button down shirt and pumps, or you can go a bit more casual with a T-shirt and flats, depending on the day.