Why This Royal Expert Thinks Meghan And Harry's Baby Will Be Christened In California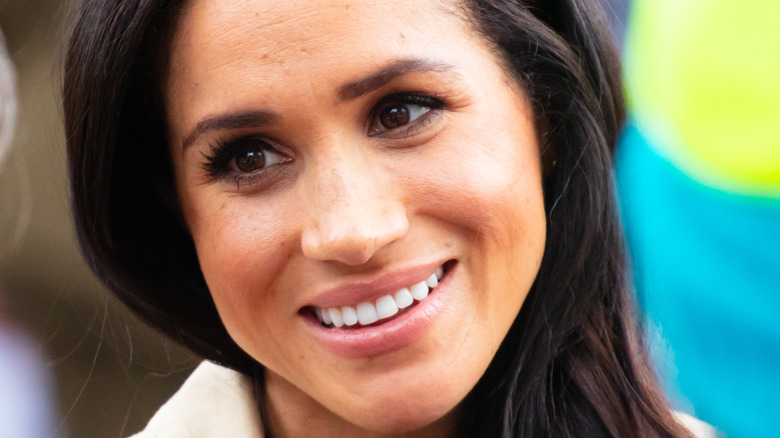 FiledIMAGE/Shutterstock
Prince Harry and Meghan Markle have been noticeably outspoken about many things — their lives as royals, their many media projects, and most recently, their reactions to the events in Afghanistan and Haiti (via Daily Mail). But one topic they've been quiet about is their new daughter, Lilibet Diana. The only glimpse the public has seen has been a blurry family photo on Markle's desk during her 40th birthday video. Nor have they spoken about her since Harry's comment to Ed Sheeran that being a father of two is a "juggle" and that Lili is "very chilled" as opposed to her active brother (via Town & Country).
Currently, the buzz about little Lili regards the details of her christening. No date has been announced yet, but since children are usually baptized as infants, fans are keeping a sharp eye out for details. This is a big deal in more ways than one: A christening is a child's formal entrance into the church (in this case, the Church of England) and sets the stage for the rest of their religious life. Another major issue is exactly where the baptism will take place. One royal expert has already declared that the Sussexes want to hold it at Windsor Castle so that Lilibet's namesake, the queen, can attend in person. 
Another expert, Richard Fitzwilliams, has a very different opinion on the matter. He told the Daily Express, "It must be likely that she will be christened in California, though there were rumors of a possible christening at Windsor."
Harry and Meghan may want to avoid repeating the past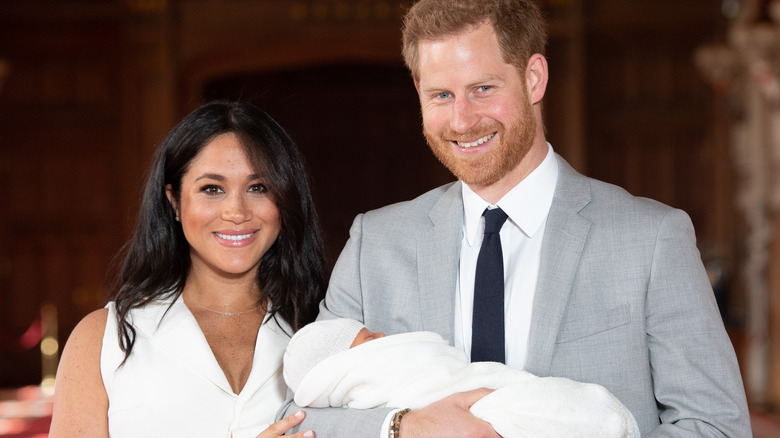 Wpa Pool/Getty Images
Fitzwilliams went on to say that Harry and Meghan may simply want to avoid the same flak they got the last time they planned a christening. When Archie was christened at Windsor in 2019, the couple opted to have a closed-door ceremony, keeping the public and press in the dark about such details as the baby's godparents. Only after all was said and done did they pose for photos like the one above. This didn't go over well, since the royal family is expected to be more transparent about life events like these. "Harry and Meghan's relations with the British press went badly downhill when Archie was christened in private and the names of the godparents were not released," Fitzwilliams said.
The Sussexes committed another faux pas by holding the ceremony during the General Synod, the most important event in the church's year. The Archbishop of Canterbury was forced to change his plans in order to officiate, inconveniencing both him and his fellow bishops (via Daily Mail). A U.S. baptism would presumably be a less complicated affair.  
The bottom line, said Fitzwilliams, is that Harry and Meghan are determined to live their post-royal life on their own terms. Having Lilibet christened at Windsor might please her great-grandmother, but it might cost her parents some of the independence they value so highly.