Why This Video Of James Corden In A Rat Suit Has Twitter Fuming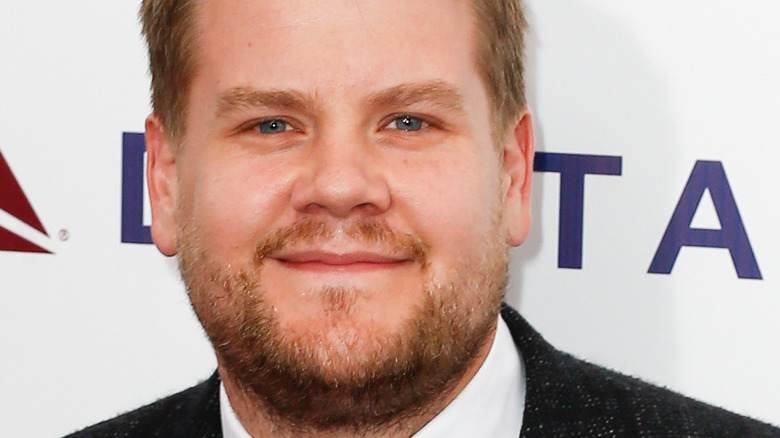 Debby Wong/Shutterstock
Think what you'd like about James Corden, but you can't deny that the late-night host knows how to stop traffic — both IRL and on Twitter. This latest Twitter storm comes after Corden, accompanied by Camila Cabello, Billy Porter, and Idina Menzel, broke into a flash mob in Los Angeles to generate publicity for their upcoming movie "Cinderella" (via Twitter). Need context? "The Late Late Show" host is producing the movie. Yes, Camila Cabello will play Cinderella, while Billy Porter is Fab G — a fairy godparent — and Idina Menzel plays the stepmother (via Play Bill).
Cabello insisted to Pedestrian that she had fun during the stunt — although she apparently almost "crushed" her hand. Menzel, for her part, told the news source that "I burned myself getting up on the car." The question of safe working conditions aside, Twitter has watched and rewatched James Corden dance while dressed as a — rat-mouse hybrid, perhaps? — and the social media platform is not amused.
Twitter can't get over the way James Corden dances
Is Twitter's fury merited? Feel free to watch James Corden gyrating in front of the driver's side window of a parked car to JLO's "Let's Get Loud" and decide for yourself (via Twitter). Jennifer Lopez has not commented on the peculiar use of her anthem. But then, last time we checked her Twitter feed, the pop goddess was busy in Venice, hanging with Zoe Saldana and Doja Cat.
Jenny from the Block may not have been bothered by the stunt — but, well, pretty much everyone else on Twitter was. "Trying to eat my lunch but can't stop thinking about James Corden thrusting in a rat costume," wrote one Twitter user (via Twitter). "Everytime I see the video of James Corden hip thrusting in a rat costume I lose 5 years off my life," tweeted another. "LA is actually the devil," concluded a third via tweet. "Like imagine driving to work and James Corden dressed as a rat is blocking the way."
What's the takeaway? Perhaps it's time to hand the mic to James Corden, himself, who once (prolifically?) wrote in his autobiography "May I Have Your Attention Please," that "the difference between doing something and not doing something is doing something." If the goal was to do something, Corden certainly achieved at least that.