Here Are The Famous Names That Reached Out To Jojo Siwa After Her Public Coming Out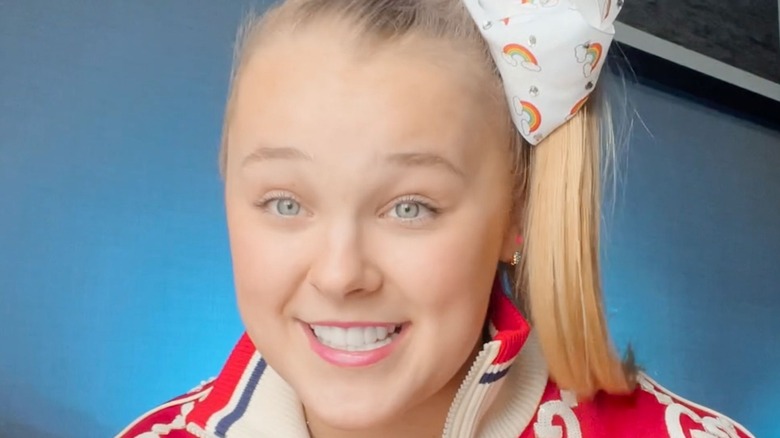 The 32nd Annual Glaad Media Awards/Getty Images
Though she's only 18 years old, Jojo Siwa has been in the public eye for nearly a decade, and, in a sense, we've all watched her grow up. Siwa got her start on the hit show "Dance Moms" at the age of nine, and her career absolutely catapulted from then on. She became a YouTube sensation, has released music and music videos, launched her own brands, appeared on award and television shows, and was even named one of TIME's "100 Most Influential People of 2020" (via People).
But out of all of these accomplishments, Siwa says that the most significant step she's taken in her life thus far has been coming out as pansexual in January of this year. "I like queer," she told People of how she would describe her sexuality. "Technically I would say that I am pansexual because that's how I have always been my whole life is just like, my human is my human." Siwa said that coming out has made her more content than she's ever been before, and that she feels like the happiest person in the world (via The Cut).
This is what initially pushed Jojo Siwa to come out to the world
Jojo Siwa was never sure of when she would come out publicly, but always planned to. She ultimately was inspired to do so after receiving a special request from The Pride House LA, a group of queer content creators on TikTok, who asked her to perform a dance with them to Paramore's "Ain't It Fun" (via Pink News). It was at that moment that Siwa realized people might catch on about her hidden sexuality, saying she believed doing the video would "out her." She decided to do the video anyway and come out to the world shortly after (via Entertainment Weekly). She did so, with the permission and support of her girlfriend, Kylie Prew, with a shirt that read: "Best. Gay. Cousin. Ever." 
She had originally posted the photo to her Instagram Stories for only her Close Friends list to see, but was encouraged by Prew as well as Mollee Gray, a member of The Pride House LA, to post the previously private photo to Twitter, per Entertainment Weekly.
This one celebrity in particular supported Siwa like a friend
Unsurprisingly, the news absolutely shook the world, and Siwa said that "literally everyone on planet Earth" reached out to her. In addition to friends, family, and supporters who messaged her nothing but love, she was also contacted by a number of celebrities who wanted to express their support as well. 
Joe Jonas, Iggy Azalea, Kim Kardashian, Lil Uzi Vert, and Lil Nas X were just some of the celebs that showed their love through social media posts as well as text messages to the young star (via Entertainment Weekly). Siwa even recounted when Azalea texted her, saying it was an especially meaningful moment for her. "The night that I came out, Iggy Azalea actually texted me. She was like, 'Oh, my God, I'm so happy for you. This is amazing,'" she revealed. She said that she and Azalea ended up talking for a while, and that Siwa got to "tell her everything" and that Azalea was "there as a friend" for her.