AJ McLean And T.R. Knight Share The Importance Of Children's LGBTQ Shows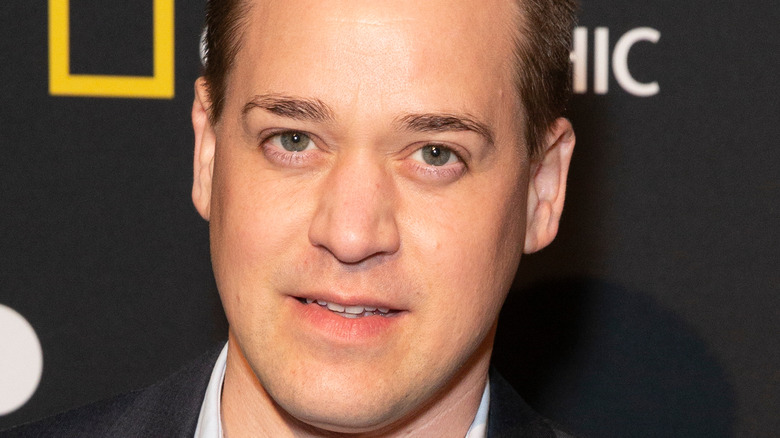 lev radin/Shutterstock
Exposing children to LGBTQ culture is still, sadly, considered highly inappropriate in certain quarters. Consider the fact lively drag queen story sessions continue to be canceled on both sides of the Atlantic (via NBC Boston and BBC). As EW reported in 2019, an episode of long-running animated show "Arthur," which featured elementary school teacher Mr. Ratburn getting married to his partner in a same-sex ceremony, was pulled by Alabama Public Television due to fears broadcasting it would be "a violation of trust." Although many different strides have been made for queer representation in children's television, there's still a long way to go.
Hulu's "The Bravest Knight" attempts to redress the balance, particularly given the freedom the streaming platform provides. Based on a kids' E-book by Daniel Errico, entitled "The Bravest Knight Who Ever Lived," the series follows Sir Cedric (voiced by T.R. Knight, of "Grey's Anatomy" fame), his loving husband Prince Andrew (Wilson Cruz), and their precocious daughter Nia (Storm Reid), who strives to be a knight just like her father. As producer Shabnam Rezaei explained, "We're teaching life lessons." She envisions the show as "an adventure about how to be a great knight, which translates into how to be a good human." 
"The Bravest Knight" is one of the first of its kind to feature a gay protagonist. As far as Knight and Backstreet Boys alum AJ Mc Clean are concerned, it's not a moment too soon. 
Teaching kids about kindness is the most important thing
In a chat with ET Canada, Backstreet Boys breakout AJ Mc Clean admitted signing on to play a fairy named Lucy, in ground-breaking cartoon "The Bravest Knight," was a total no-brainer. Particularly as a father himself, it's hugely important for the pop star to show his children just how diverse and special the world is, with McClean enthusing, "It's such a beautiful thing and I wish more people would be this way." However, he acknowledged, "I'm excited that this [show] is kind of the first of its kind." He added, "I hope this sets a domino effect for more children's shows [and] more education on the LGBTQ community." For Knight, meanwhile, "The Bravest Knight" represents something that was crucially lacking in his own childhood.
As the "Grey's Anatomy" alum explained, not seeing yourself and your own family represented onscreen is "completely damaging." In fact, Knight reckons he would be a totally different person nowadays if he'd had the opportunity to truly see himself as a child. He pointed to homophobic jokes in "Three's Company," in particular, and "how terrible" they made him feel, with Knight admitting that being part of something that's "entertaining" and "imaginative" while also, hopefully, preaching a message of tolerance and kindness is very special. As writer Daniel Errico, who penned the original E-book as well as the first season of the show, told EW, "The Bravest Knight" aims to share life lessons alongside a compelling story.