How AJ McLean Was Almost Brainwashed Into Scientology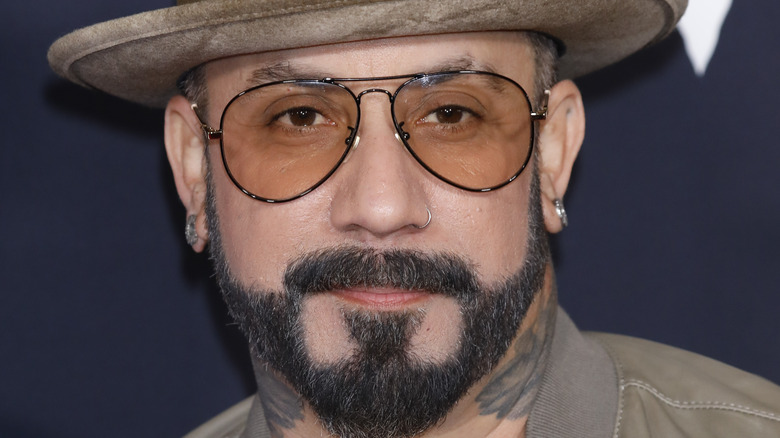 Kathy Hutchins/Shutterstock
The Backstreet Boys are synonymous with the '90s and early '00s, as they were undoubtedly one of the most popular boy bands of the decade. And with certified bops like "Larger Than Life," "Everybody," "Quit Playing Games With My Heart," and more, it's hard not to break into song and dance every time you hear a BSB song on the radio (via Billboard). Although the band, which consists of members Nick Carter, Kevin Richardson, Brian Littrell, Howie Dorough, and AJ McLean, went on a hiatus in the mid-2000s (via Paste), fans of the group were elated when they eventually came back together and released "In A World Like This" in 2013, and followed up six years later with their ninth studio album, "DNA."
And while it shouldn't come as a surprise that a lot has happened in the personal lives of the band members since the group burst onto the pop music scene — everything from marriages and kids (via PopSugar) to arrests and run-ins with the law (via People) — McLean shared a story on his and Cheryl Burke's podcast, "Pretty Messed Up," that probably no one had on their Backstreet Boys bingo card, and it all had to do with Scientology.
AJ McLean revealed how he was almost 'brainwashed' into joining the controversial church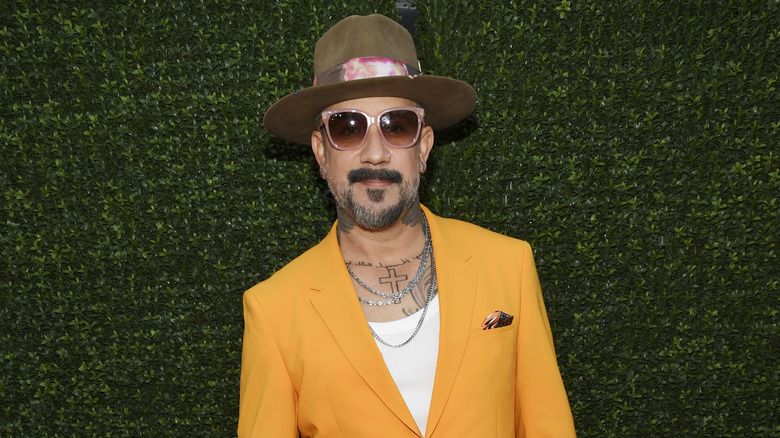 Kevin Mazur/mtv Vmas 2021/Getty Images
During a February episode of AJ McLean and Cheryl Burke's podcast, "Pretty Messed Up," which guest-starred "King of Queens" alum and former Scientologist Leah Remini, the Backstreet Boy opened up about the time he almost got "brainwashed" into joining the controversial church in 2002. McLean revealed that he was living in Los Feliz (a neighborhood in Los Angeles) at the time, and happened to live down the street from the Church of Scientology's Celebrity Center. The former "Dancing With the Stars" contestant then told Burke and Remini that it was curiosity that brought him through the doors of the church, and that he took a friend with him to go check it out.
"They brought us to this media room and they sat us down and they said 'Would you mind watching this short film?' And we watched this short film, it was about 15 minutes long, and then I said 'OK, well, that was interesting,' and we went to leave and the door was locked," McLean said (via OK! Magazine), adding, "They wouldn't let us out and they replayed the same film again ... they played it three times until someone heard me knocking."
AJ McLean admitted that he 'got close' to joining Scientology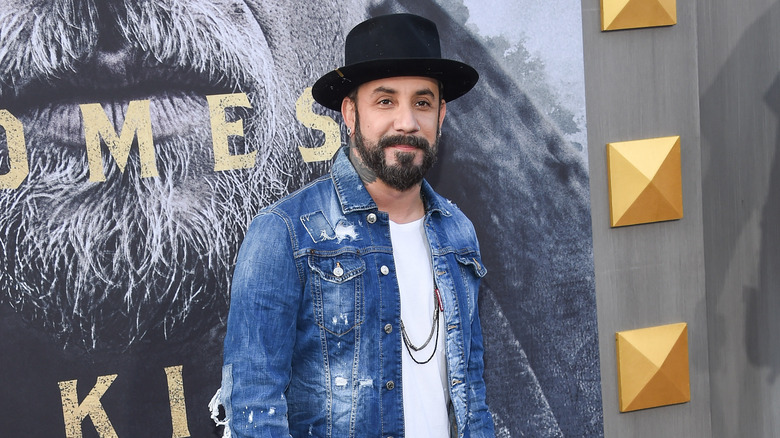 DFree/Shutterstock
AJ McLean then revealed that he was totally "freaked out" after being locked in a room and forced to watch the same film over and over, adding that the whole experience was "like a brainwashing technique," and it did not "seem normal" (via OK! Magazine). The "Everybody" singer also admitted that while he ended up not joining the church, he "got close" but "never would have."
Leah Remini, who guest-starred on the "Pretty Messed Up" podcast episode in which McLean talked about his experience with Scientology and is a notable ex-member of the church — her A&E docuseries, "Leah Remini: Scientology and the Aftermath," has won two Emmys and has been nominated for four times (via Emmys) — has been open about her experience with the church since she left in 2013.
"At the end, I mean I don't regret what I've been through," Remini said during an exclusive interview with 20/20 news in 2015 (via ABC News). "I don't regret spending my life there, because it really did teach me a lot ... and because we've all survived it, we're all surviving it and living life and it's kind of like we have a gift of second chance of life."