The Real Reason Justin Bieber Wants To Pick His Own Media Pictures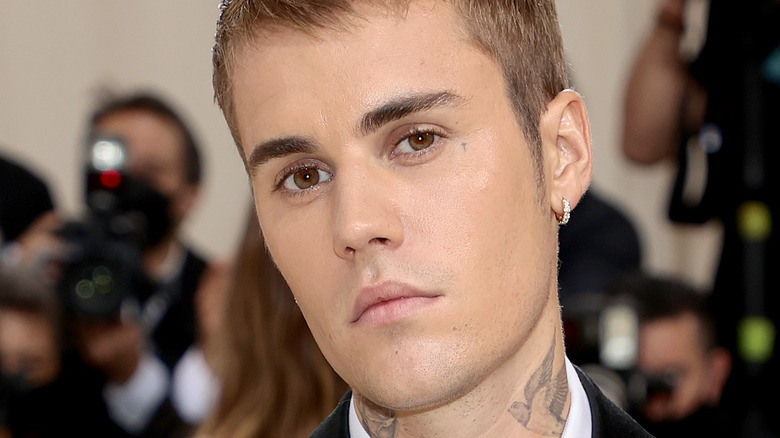 Dimitrios Kambouris/Getty Images
Justin Bieber has been in the spotlight for nearly half of his life, having been catapulted into the limelight when he was just a young teenager. Ever since, he's endured some of the most ruthless scrutiny from the media and from his fans, as his every move has been dissected under a microscope for over a decade. In a lengthy Instagram post written in 2019, the "Peaches" singer got candid about his past behaviors, including his issues with substance abuse and every "terrible decision" he's ever made, and how going from a small town kid to an international superstar overnight turned his world completely upside down.
"I went from a 13-year-old boy from a small town to being praised left and right by the world, with millions saying how much they loved me and how great I was," he wrote. "You hear these things enough as a young boy and you actually start believing it. Rationality comes with age."
On top of his every move being tracked by Beliebers and reporters everywhere, the 27-year-old "Love Yourself" crooner has dealt with the media constantly picking apart his looks. Whether it's his fashion choices at events or when he's out and about around the city, what his hair looks like, or the condition of his skin, it seems as though people everywhere have had something to say about The Biebs.
Justin Bieber revealed his battle with Lyme disease in 2020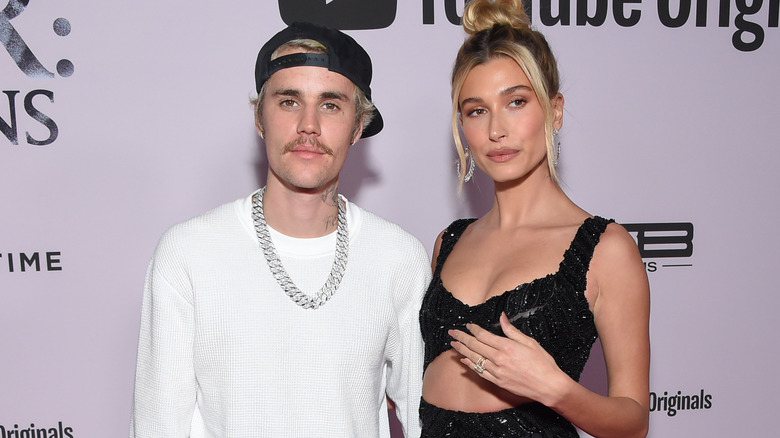 DFree/Shutterstock
In a since-deleted Instagram post from January 2020, Justin Bieber revealed to his followers that he had been battling Lyme disease, which is caused by an infection commonly carried by ticks. "While a lot of people kept saying Justin Bieber looks like s***, on meth etc. they failed to realize I've been recently diagnosed with Lyme disease, not only that but had a serious case of chronic mono which affected my skin, brain function, energy, and overall health," Bieber wrote (via CNN), adding that he'd explain more in his YouTube docuseries, "Seasons."
Per TMZ, Bieber's Lyme disease went undiagnosed for the majority of 2019, but he was of course, photographed incessantly during that time — after all, he is one of the most famous singers in the world, and it's hard to hide from the paps when all eyes are on your every move 24/7. However, in an Instagram Story from August, Bieber pleaded with the media to stop using photos of him from that time period, writing in part, "I'm still in shock we are still using these photos of me, I'm telling you media wants to pick bad photos of me to make it look like I'm not okay" (via Page Six).
Here's why Justin Bieber wants to choose his own media pics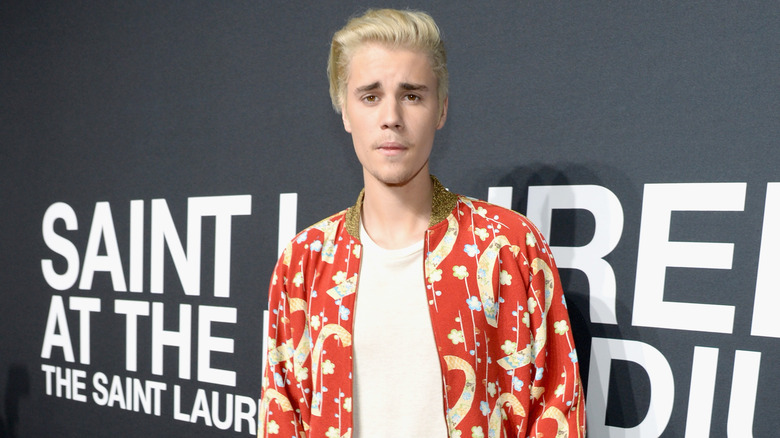 Kevin Mazur/Getty Images
In his extensive Instagram post, Justin Bieber continued to ask the media to stop using unflattering pictures of him from when he was going through some of the roughest months of his life, when there are many more options to choose from. "There have been countless photo shoots and oppertunities [sic] for media to pick up other photos but they still run with this one to make me look sick and unwell, its [sic] not right," he wrote (via Page Six), adding, "This was a time where I was really unhealthy. I was battling Lyme disease, right?"
The "Intentions" singer then posted a collage of photos from the height of his battle with Lyme disease, writing that it was obvious that he was going through a "tough time" and he's continually disappointed in the media's choices of photos of him. Bieber also noted that he asks outlets to swap out the old pictures of him.
"Understand that there are people in your life that don't want you to thrive, and sometimes that is a hard pill to swallow," he added. "Sometimes the people you love the most will be jealous of you. All we can do is forgive them and set the appropriate boundaries."