How A North West Parody Account Is Roasting Kourtney And Travis' Engagement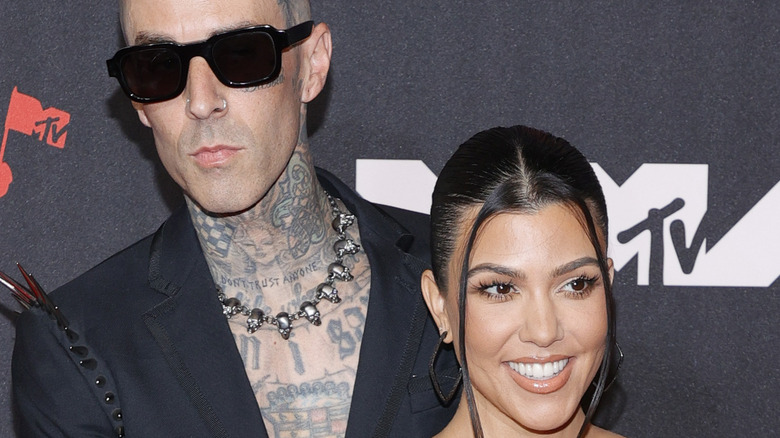 Jason Kempin/Getty Images
Just how epic was the engagement announcement of Kourtney Kardashian and Travis Barker? So epic that we don't even use their last names anymore — we just refer to "Kourtney and Travis." So epic that they now have a couple-name: "Kravis." So epic that we've been spending time watching the reactions of everyone in the couple's social circle. (Thrilled: Kardashian's mom and sisters and Barker's children, says Entertainment Tonight. Not so thrilled: exes Shanna Moakler and Scott Disick, per Hollywood Life.) So epic that we're already speculating about the wedding itself. According to E! News, they're already discussing a big bells-and-whistles wedding, and the fact that bridal designer Monique Lhuillier posted her congratulations could be a big hint about the selected attire.
But you know your relationship has become truly iconic when your own eight-year-old niece starts posting about you. Well ... sort of. The parody Instagram account known as Nori's Black Book posts news and often-witty commentary in the imagined voice of North West, daughter of Kim Kardashian West and Kanye West. Of course, the real Nori is too young to have her own social media presence, but creator Natalie Franklin has done a great job of taking on the job in the meantime. 
Franklin started the account not long after North was born, and it now boasts more than a million followers. It also caught the attention of none other than Ye (or Kanye West, as he was then known), who shared one of the Nori's Black Book posts. That eventually led to Franklin being invited to a FaceTime call featuring Nori and her mom (via Metro). 
'North' threw shade on Kourtney Kardashian's ex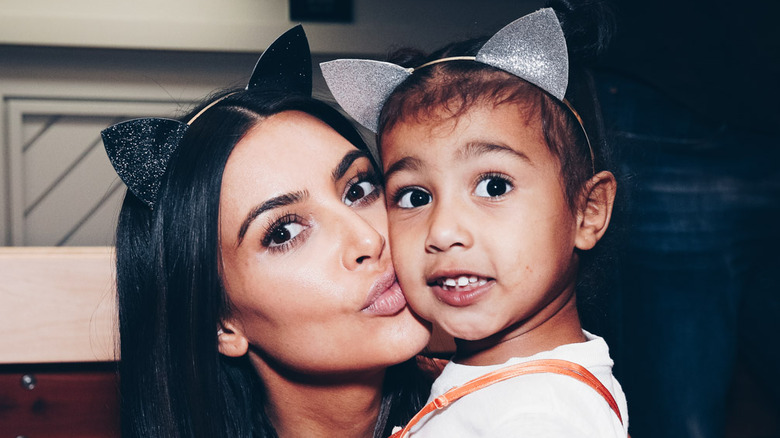 Handout/Getty Images
Many of the "North" posts are her fictional reactions to family photos or articles about her family. For instance, after People quoted Kim Kardashian West saying North "still wants to be an only child," the Nori account commented, "I, and I cannot emphasize this enough, want these kids out of my house."
Most recently, Nori's Black Book has been teasing about the Kourtney-Travis engagement. For instance, she posted a soundless video clip of Kris Jenner appearing to babble, with a caption explaining that this was her reaction to the question of whether the proposal would be shown on Hulu. 
Other posts have taken some not-so-subtle digs at Kourtney's ex Scott Disick, with whom she shares children Mason, Penelope, and Reign. Though Disick isn't hurting for money, his odd employment history has raised eyebrows in the past. (He has a number of business ventures, and also gets paid gigs hosting at clubs, per In Touch Weekly). To a photo of Barker and Kardashian making out on an office couch, "Nori" wrote, "Jesus. It's like she's never dated anyone with a real job before." And when the engagement was first announced, the parody account sent greetings: "Congrats are in order! Congratulations to the Disick Kids. They're finally going to live in a dual-income household."
Don't expect Franklin's Nori to stop with the jokes any time soon. As she told Metro, "I feel the good thing about NBB is that she's commenting on stuff that's already out there. I'm not going to stop if it's right there anyway."