The Law And Order: SVU Episode You Forgot Starred Martha Stewart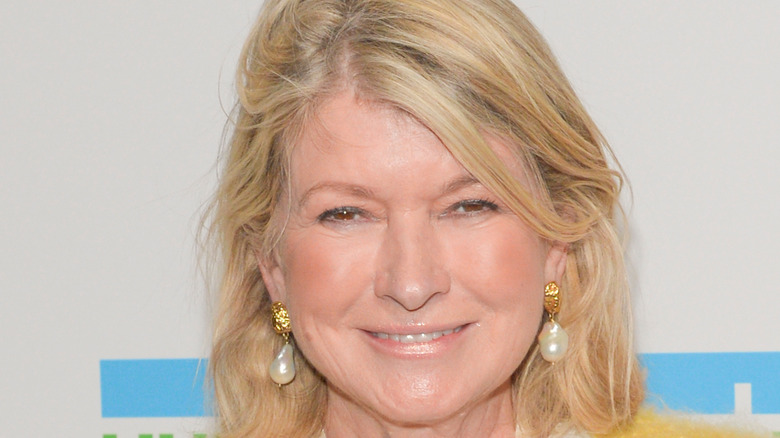 lev radin/Shutterstock
Given the fact that "Law and Order: SVU" is the longest-running primetime drama on television, it stands to reason that many celebrities have made surprise appearances on the show throughout its history. A-list personalities like Bradley Cooper, Robin Williams, Alec Baldwin, Carol Burnett, John Ritter, John Stamos, and many more appeared on "Law and Order: SVU" throughout its impressive run, according to Esquire.
Back in 1992, Martha Stewart made her own debut on television with her show, "Martha Stewart Living." From that point on, Stewart has been teaching audiences how to use fitted sheets and create immaculate family dinners on numerous shows of her very own, per her website. This past summer, Stewart taught celebrities like Kim Kardashian, Seth Meyers, Tiffany Haddish, Al Roker, and Paris Hilton how to tend to dirtier tasks, like gardening, on her 150-acre farm in Bedford, New York. "I've lived on this farm for almost 20 years — don't let the manicured lawns and picture-perfect gardens fool you — there's always SO much to do," Stewart said in a press release, per People. "I'm going to take you behind-the-scenes as I get my hands dirty around my property, as well as help my celebrity friends and surprise some unsuspecting callers." Over the years, Stewart has also appeared in other television shows — like "Law and Order: SVU."
Stewart appeared in a Law and Order: SVU episode in 2012
One decade ago, in 2012, Martha Stewart displayed her acting abilities on an episode of "Law and Order: SVU." On the episode "Learning Curve" in the 13th season of the show, Stewart portrays the headmistress of a girl's school. "I'm really a teacher on TV, the host of a show," Stewart told Huffington Post at the time. "So it's kind of always invigorating and yet nerve-racking to play a dramatic part. This is my first time on 'Law & Order.' They called and I accepted. I've been a big fan of Dick Wolf and the entire 'Law & Order' series ever since he started it. Dick's actually a friend." Tony Hale also stars in the episode that is about a string of hate crimes against gay men.
Longtime "Law and Order" star Kelli Giddish also spoke to Huffington Post about what it was like to work with Stewart. "She was great!" Giddish told Huffington Post. "She came in and took a crapload of pictures of everybody — the crew and the cast. And she was really happy to be there," Giddish said. "Your eyes kind of brighten when you hear that someone kind of off the wall is in the episode. You're like, "Great! I can't wait for that day!" She was very gracious and very happy to be there."
As "Today" reported, Stewart had previously showcased her acting chops by portraying herself on other shows like "All My Children," "The Simpsons," and "Ugly Betty."