Mike Pence Opens Up About Where He Stands With Donald Trump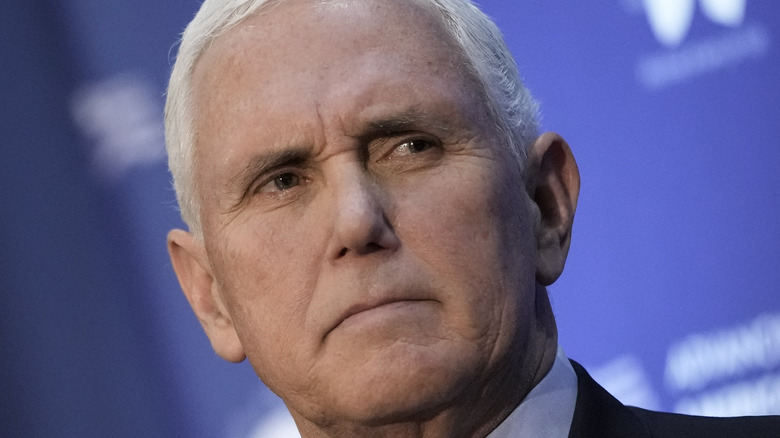 Drew Angerer/Getty Images
Just hours after a violent mob came rushing through the Senate Chamber in the United States Capitol building, the former Vice President Mike Pence certified the 2020 election results. As USA Today reported, the certification confirmed President Joe Biden and Vice President Kamala Harris' election victory and took place despite former President Donald Trump's claim that the election results were fraudulent and could be blocked.
Throughout the insurrection that took place on January 6th, 2021, demonstrators made threats against Pence, chanting "Hang Mike Pence" in support of Trump's claim that the 2020 presidential election was stolen. "Well, the people were very angry," Trump told Jonathan Karl of ABC News, per People. "It's common sense. It's common sense that you're supposed to protect. How can you — if you know a vote is fraudulent, right? How can you pass a fraudulent vote to Congress?"
During a press event with the former Fox News personality Bill O'Reilly in December 2021, former President Trump spoke about how he was still "disappointed" in Mike Pence's decision to certify the 2020 election results, CNN reported. "I was disappointed in one thing, but it was a big thing," Trump said during the event, adding, "Mike should have sent those crooked votes back to the legislatures and you would have had a different result in the election, in my opinion. I think Mike has been very badly hurt by what took place in respect to January 6. I think he's been mortally wounded, frankly."
Mike Pence hasn't spoken to Donald Trump for a while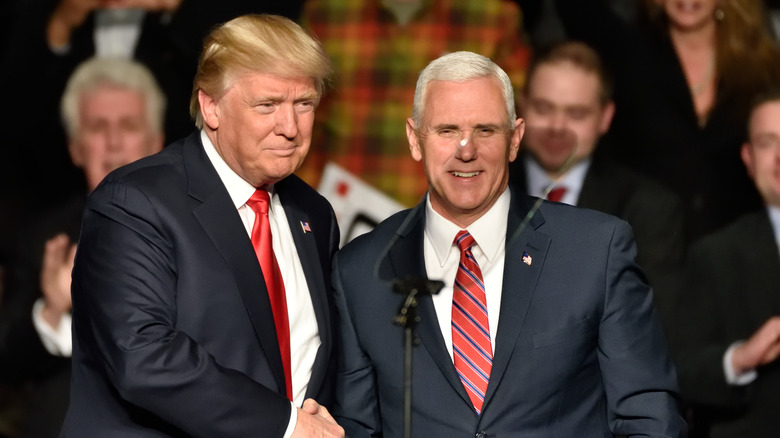 Evan El-Amin/Shutterstock
While speaking to Fox News host Jesse Watters on January 27th, former Vice President Mike Pence admitted that he hadn't spoken to former President Donald Trump since summer 2021. "We talked last summer," Pence revealed, per People. "And you know I've said many times, it was difficult, January 6 was difficult. It was a tragic day in the life of the nation. I know I did my duty under the Constitution of the United States, but the president and I sat down in the days that followed that, we spoke about it, talked through it, we parted amicably."
Since leaving the White House, rumors have abounded regarding Pence's potential run for the presidency in 2024. For the past few months, Pence has been paying visits to key primary spots, like New Hampshire — though he has still not revealed whether or not he plans to run in 2024. Many experts believe that Pence might be a favorable option for Republicans who don't want to vote for Trump. "Pence's political stock continues to rise every month while Trump relitigating his loss to Biden makes him look smaller in the rearview mirror," Scott Reed, a Republican operative, told Vanity Fair. 
Apart from his potential presidential campaign in 2024, People reports that Pence launched a political podcast and has plans to release an autobiography at some point in 2023.