The Most Expensive Items You Can Get At Abercrombie And Fitch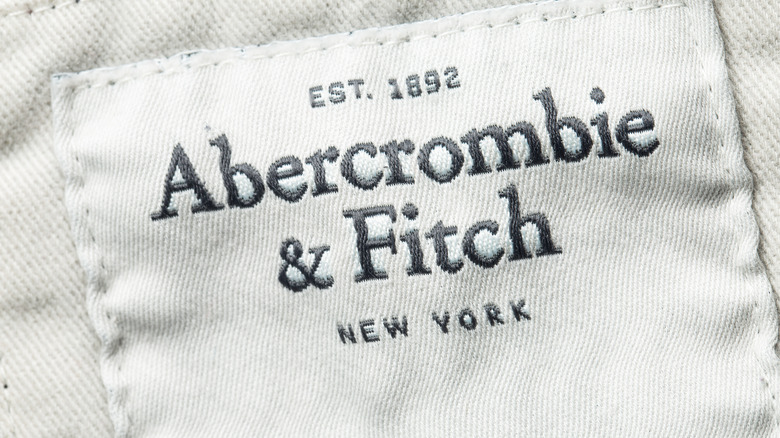 DeymosHR/Shutterstock
Gone are the days of walking into a dimly lit store saturated with perfume and shirtless models. According to Business Insider, Abercrombie & Fitch has gotten a modern makeover, and Gen Z, as well as millennials, are eating it up. The brand somehow found a way to pair its nostalgia with timeless styles that suddenly fit more body types than they did back in the day. While the brand isn't totally inclusive, it has made a serious turnaround, and people are noticing.
Of course, with a leveled-up look also comes an expensive new price tag. Abercrombie & Fitch knows that the people who remember it the best are making "adult" money nowadays, and the prices reflect that. Actually, it might even be more expensive than you're thinking. When you see some of the price tags at the new and improved Abercrombie & Fitch, you'll remember why this was a "cool kid" brand.  
Here are all the most expensive categories, and items, available at Abercrombie & Fitch to show you just how far the brand has come since its days of embroidered hoodies and tees. 
Abercrombie & Fitch jackets have the highest price tag
Let's just get right to it: The highest priced items at Abercrombie & Fitch are without a doubt the coats and jackets. We're not talking trendy puffer jackets and fur-lined zip-ups anymore. The brand offers a ton of modern and timeless styles that are absolutely gorgeous. Unlike the trendy items they once capitalized on, these jacket styles are ones that will sit in your wardrobe for years to come.
With an investment like that comes a price, of course. The highest priced item on the Abercrombie & Fitch website, at the time of publication, is the Genuine Leather Biker Jacket. It's got stunning details like zipper sleeves and a belt around the bottom hem, and it has a longer length to it, making it the ultimate statement piece. There's only one catch — this cool-girl item is a whopping $420. 
This isn't the only pricey jacket on the brand's website, either. Abercrombie & Fitch offers a handful of other moto jackets at similar prices. But the truly timeless jackets are the wool-blend blazer coats. The jackets are the classic winter staple you've likely been looking for your whole adult life. From long styles to short ones that combine the chicness of a blazer and the warmth of a coat, several stunning styles are available for purchase. Unfortunately, they range from $200 to $240. 
A&F shoes and dresses cost a pretty penny
Jackets are not the end of timeless fashions the brand has available. Abercrombie & Fitch also offers a variety of shoes that are much more impressive than its early 2000s flip-flops. The brand offers everything from classic heels and fur slippers, to boots that will set you back a pretty penny — though they'll look great paired with leggings. The most expensive pair of shoes on the website are the Agra Tall Leather Boots that are a cool $200. 
Abercrombie & Fitch have also traded out denim miniskirts for dresses that are way more grown up and stylish. Again, the classic styles will now cost you some of that adult money you now earn. While there are some affordable items on the websites, some of the most stunning dresses are, in fact, the most expensive. The gorgeous Asymetrical One-Shoulder Maxi Dress is a whopping $150, which is the same price of some of the more fun-printed dresses as well. 
Needless to say, Abercrombie & Fitch is not exactly how you remember it in your mall days. There are tons of grown-up styles with the same fun, trendy feel that you remember. We don't know how the brand did it, but it's back on the map.