How To Use A TikTok Filter To Get Perfect Eyeliner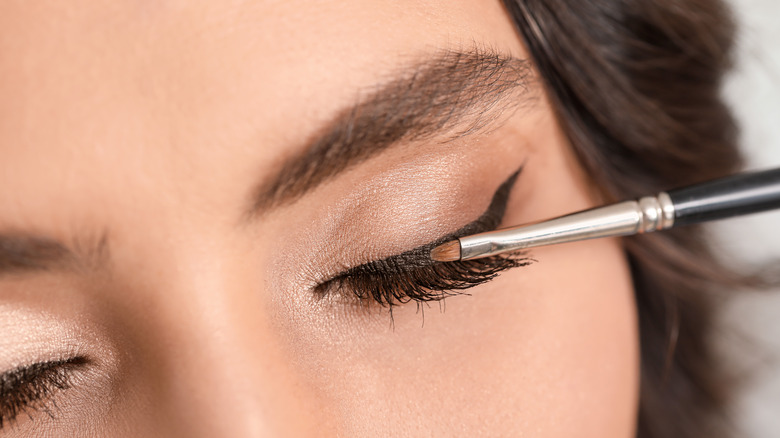 Pixel-Shot/Shutterstock
Beauty TikTok is filled with tons of different videos. From creators sharing their favorite products from the month to full-on TikTok tutorials, there's a whole lot to love. Now you can add beauty challenges to the list as well. The latest challenge is to put on the winged eyeliner filter and to use it as a stencil for your own makeup, because, let's be honest, we all need as much help as we can get when it comes to liquid liner.
While some TikTok filters are made just to be fun, the eyeliner filter is actually pretty useful. All you do is open to create a new TikTok video, tap the "Effects" at the bottom of the screen, select the "Eyeliner" filter, and set your phone someplace so that you can see yourself. After that, grab your eyeliner and trace the filter by looking at the phone instead of the mirror. After you remove the filter, you can see how you did. It's fun and functional all in one. 
Whether you're using this filter as a fun challenge or just need a real-time stencil for your face, you really can't go wrong. Here's everything you need to know about the filter and how people are using it, so you can nail your liner look on or off TikTok. 
The TikTok eyeliner filter is the perfect stencil
There is no beauty product quite like liquid liner. Whether you're drawing on a thin line or going full-blown cat eye, it takes a whole lot of practice to get it right. Well, until now that is. TikTok's eyeliner filter draws on eyeliner for you. If you're into the thick eyeliner look, all you have to do is trace it to get the perfect shape.
TikTok creator Mirta Miler shows exactly how it's done. In her video, she puts on the filter and carefully traces it exactly like she sees it — inside liner and all. When she removes the filter and shows her real life liner, you almost can't tell that she took the filter off. It's incredible.
Of course, it always helps to have some experience with liquid liner before you do the challenge, but the filter is a great way to learn how to draw the shape. Not to mention that you'll also be able to see exactly how you'll look when you're finished. 
You can do the trend with eyeshadow as well
If you're not completely comfortable with winged liner, don't worry. There's still a way for you to get in on the trend. As TikTok creator Jess Adams found, the TikTok eyeliner filter also works for eyeshadow. In fact, eyeshadow actually worked out better for her. 
The idea is exactly the same: You turn on the filter and trace the eyeliner. Just use eyeshadow instead of liquid liner. You'll get the exact same shape because, well, that's the shape of the shadow you're tracing. If you're looking for a cleaner line, there's a hack for that too. According to Glamour UK, all you have to do is take a makeup wipe to the look after you're done to get a perfectly straight line. 
Anyone that's played with makeup knows that practice makes perfect, but this TikTok trend helps you skip a few steps. You can't go wrong with using the stencil as a guide, whether you're looking to save some time or you need some help as a beginner.