Inside Prince Harry's Latest Legal Battle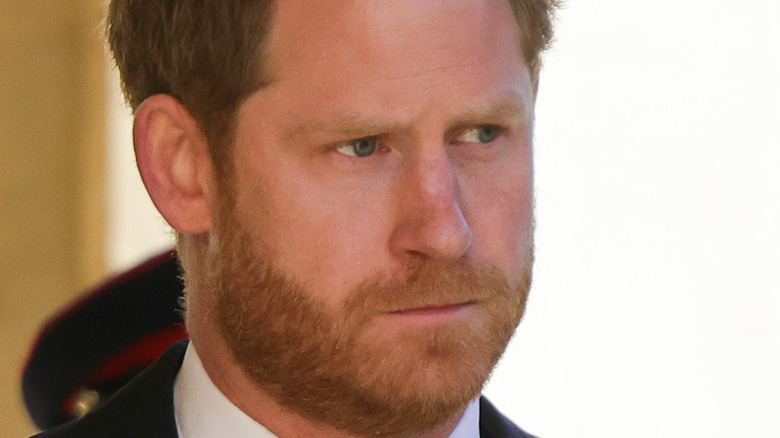 Chris Jackson/Getty Images
Since leaving his royal duties behind and moving to Montecito, California, Prince Harry has only made it back to the United Kingdom twice — once in April 2021 for Prince Philip's funeral and again in July 2021 for the unveiling of a memorial statue of Princess Diana at Kensington Palace, per Marie Claire. His wife, Meghan Markle, and children, Archie and Lilibet Mountbatten-Windsor, have yet to return to the United Kingdom. In fact, Lilibet, who was born in the United States, has yet to even meet most of her relatives.
Recently, Prince Harry began making preparations to visit the United Kingdom around March 29, when the Service of Thanksgiving will be held for Prince Philip. Prince Harry also wants to bring Markle, Archie, and Lilibet along, according to Daily Mail. Royal experts, per Marie Claire, have also assumed that the family will be traveling back to the United Kingdom for the Invictus Games, which Prince Harry founded, in late May and early June. They also might be attending events to celebrate Queen Elizabeth's Platinum Jubilee, which takes place around the same time frame. Ahead of his visits, Prince Harry has been busy setting up security protection for his young family.
"The very fact he has made this noise with the British government to secure protection suggests to me that he is going to make a real effort to come back here," Ken Wharfe, Princess Diana's former guard, said during a panel discussion for the Daily Mail. "I think we will see him return this year, for the Platinum Jubilee."
Prince Harry is waging a legal battle against the British government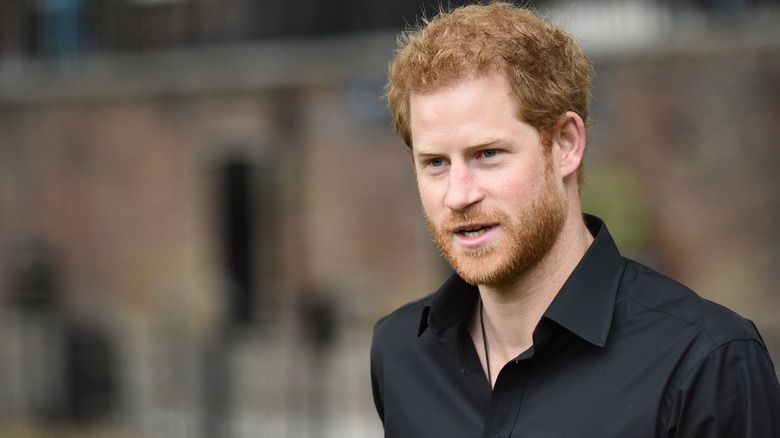 Bart Lenoir/Shutterstock
In September 2021, Prince Harry made a legal challenge to a decision made by the British government, which ultimately prevented him from personally paying for security protection for himself, Meghan Markle, Archie, and Lilibet during his upcoming visit to the United Kingdom (via Marie Claire). Originally, Prince Harry had offered to pay for his own security detail after worrying that he and his family would not be safe in the United Kingdom. "The UK will always be Prince Harry's home and a country he wants his wife and children to be safe in," a statement by Prince Harry's legal team stated in September, per CNN. "With the lack of police protection, comes too great a personal risk. Prince Harry hopes that his petition — after close to two years of pleas for security in the UK — will resolve this situation."
As the BBC reports, the decisions involving Prince Harry's personal security while in the United Kingdom fall to the Executive Committee for the Protection of Royalty and Public Figures. Upon leaving his royal duties behind, the committee placed Prince Harry in an "exceptional" category, meaning that his security while visiting the United Kingdom would be based upon each unique circumstance. According to Prince Harry, his private security team is not equipped to handle the threats that the family could face during their visit, and he requires instead a more formal police presence. On Friday, the first hearing regarding Prince Harry's security while visiting the United Kingdom was heard in a UK court, according to the Daily Mail. At this point, no decisions have been made regarding Prince Harry and Markle's security detail.
Prince Harry has reason to fear his safety while visiting the United Kingdom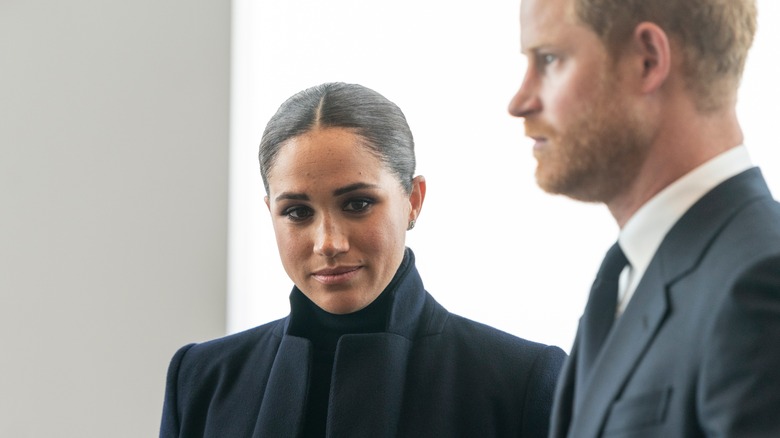 lev radin/Shutterstock
Given the amount of attention that Prince Harry, Meghan Markle, and their children, Archie and Lilibet, have received over the past few years, it makes sense that they would have more reason to seek out a heightened security presence while visiting the country in which they are frequent tabloid fodder. According to Marie Claire, there is a clear example of Prince Harry's security being compromised, and it actually took place during his last visit to the United Kingdom to visit his mother's memorial statue in July 2021. "During his last visit to the UK in July 2021 — to unveil a statue in honor of his late mother — his security was compromised due to the absence of police protection, whilst leaving a charity event," a statement by a spokesperson for Prince Harry reads.
A separate statement by Prince Harry's legal team also states that, given his spot in the direct line of succession to the British throne and previous military service, he is especially in need of large security detail. It also made reference to the fact that Prince Harry and Markle have received several threats related to her skin color from outsiders in the past few years. "Prince Harry inherited a security risk at birth, for life," Prince Harry's lawyers said, per The Mirror. "He remains sixth in line to the throne, served two tours of combat duty in Afghanistan, and in recent years his family has been subjected to well-documented neo-Nazi and extremist threats."