The Law & Order: SVU Episode You Never Knew Questlove Appeared In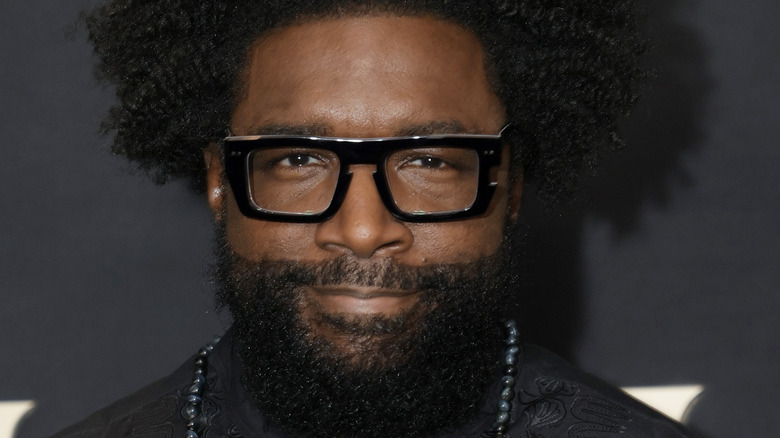 Michael Loccisano/Getty Images
Given the fact that "Law & Order: SVU" is the longest-running primetime drama on television, it stands to reason that many celebrities have made surprise appearances on the show throughout its history. A-list personalities like Bradley Cooper, Robin Williams, Alec Baldwin, Carol Burnett, John Ritter, John Stamos, and many more appeared on "Law and Order: SVU" throughout its impressive run, according to Esquire.
Though he is an accomplished musician, Questlove has also pursued other ventures throughout the years. One of Questlove's first foray into the acting and comedy worlds came in 2005 when he appeared in skits on "Dave Chappelle's Block Party," per The Ringer. Since then, Questlove has tried his hand at acting in multiple television shows and films, including "Empire," "The Jim Gaffigan Show," "Parks and Recreation," and "The Cleveland Show," according to his IMDb page. Perhaps one of Questlove's most surprising roles that the accomplished musician has taken on was during an episode of "Law & Order: SVU" back in 2014.
Questlove portrayed a dead body in an episode of Law & Order: SVU
Prior to his appearance on "Law & Order: SVU," Questlove revealed that he had always wanted to portray a dead body on "Law & Order" while penning an article containing a list of 25 things the public may not know about him for Us Weekly, back in 2013. "It's my fantasy to play a dead body on 'Law & Order,'" Questlove wrote in the article. This confession was one of many in the article. Questlove also confessed to owning 700 neck pillows, had not consumed tap water in 30 years, and has a certain affection for Google Doodles.
It appears as though the producers on "Law & Order: SVU" read Questlove's confession in the Us Weekly article, since, just a year later, Questlove got his wish. In 2014, the musician appeared as an uncredited corpse on an episode of "Law & Order: SVU" called "Video Killed the Radio Star," per Rolling Stone. "Law & Order: SVU" star Ice-T actually posted a photo of Questlove portraying the corpse on his Twitter page. "SVU Behind The Scenes: This corpse looks strangely familiar..." Questlove captioned the image. If you look closely at the picture Ice-T posted, even in his fake death, Questlove was still rocking an afro pick.