Britney Spears Opens Up About Her Newfound Freedom During Las Vegas Trip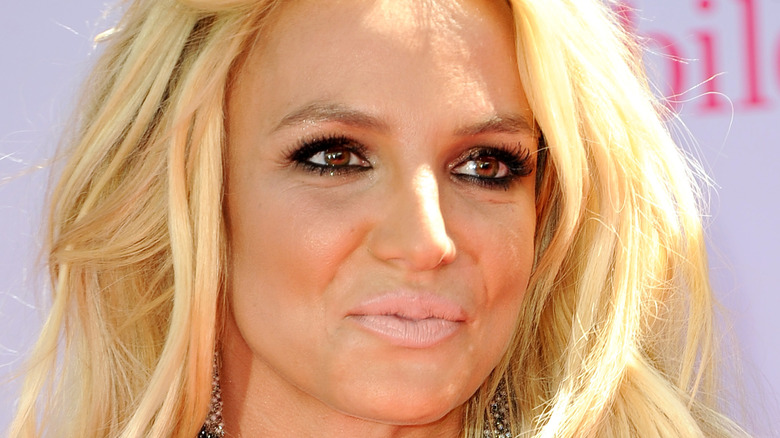 Tinseltown/Shutterstock
Britney Spears' conservatorship started in 2008. As fans know, the arrangement that saw every aspect of her life being controlled only recently ended in November of 2021. During the 13 years that the singer remained under the conservatorship, she spent four years performing 250 shows as part of a residency at Planet Hollywood Resort & Casino in Las Vegas (via Newsweek).
But as we have learned in Spears' recent Instagram posts, she enjoyed very limited autonomy while in Sin City. The star's wardrobe was tightly controlled and she was not allowed to see friends or go to the spa. Now, the 40-year-old is back in Las Vegas, but under very different circumstances. In fact, Spears is embracing her newfound freedom and updating fans about how this trip is going versus the time she previously spent there.
Spears shared a reel of photos of her outfits for the trip, and captioned the fun-loving post, "The only thing I've known when I used to go to Vegas was hour long meet and greets with 40 people every night getting the worst pics of me and then a two hour show !!!!" She added, "Let's just say THIS TIME visiting it gave me a whole new perspective on what it means to live !!!!"
Britney Spears claims she does not want to be loved
In her post sharing what time in Las Vegas is like without her father or lawyers breathing down her back, Spears told her fans, "Being able to go to the spa was a highlight as well ... and you know what ??? Don't ever pity me like my masseuse does .... 'People do love you!' .... Huh ???? Huh ????"
"I don't want to be loved ..." the pop star proclaimed, adding, "I want to be feared !!!" Spears went on to explain her reasoning behind this declaration, writing, "Being loved and being nice got me taken advantage of ...... so take your pity and go f**k yourselves."
In a subsequent video showcasing the same Vegas-ready outfits, Spears shared more insight into how controlling her family was during the conservatorship. "I asked my brother at least 15 times like a loser for some of his jack and coke ... ONE TIME he said yes in 4 years !!!!" she shared. "Guess it's because he's 7 years older than me and he's older than Jamie Lynn ... who knows maybe that's why."
Indeed, it's been well documented that Spears' brother Bryan benefited financially from his sister's conservatorship staying in place — until it ended last year.